Wednesday, August 27
The Top 100 Simpsons Episodes Of All-Time: #30-21.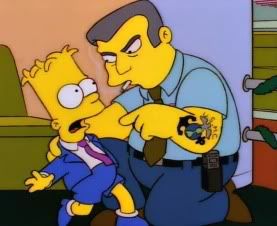 #30 – '

Marge Be Not Proud

'
Season 7 – Episode 11 (Episode 139 Overall)
Synopsis
– Bart attempts to shoplift a popular video game at the local Try-N-Save but is caught by the security guard. The guard tells Bart to never set foot in the store again and leaves a message on the Simpson family's answering machine. Bart manages to stop Homer and Marge from finding out, but is later dismayed when he finds out that the entire family is going to Try-N-Save for the family's Christmas photo.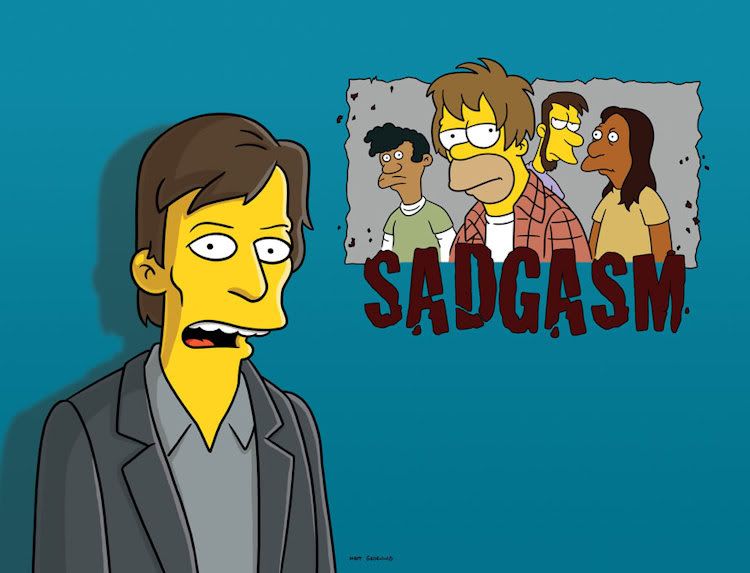 #29 – '

That 90's Show

'
Season 19 – Episode 11 (Episode 411 Overall)
Synopsis
– After discovering Marge's diploma, Homer recounts the story of how he gave up his dreams of being a musician so Marge could attend Springfield University. However, after she became attracted to one of her professors, Homer started focusing his emotions into music and formed the first Grunge band.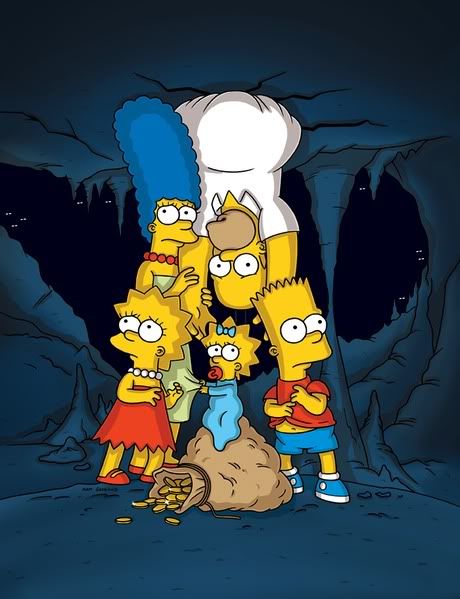 #28 – '

The Seemingly Never-Ending Story

'
Season 17 – Episode 13 (Episode 369 Overall)
Synopsis
– While cave exploring with his family, Homer causes the cave to crumble and finds himself stuck upside down in the ceiling. Marge and Bart search for help while Lisa passes the time by telling Homer a story, which turns into a chain of narrated tales that, bit by bit, explain why The Simpsons are spending the day at Carl's Dad Caverns.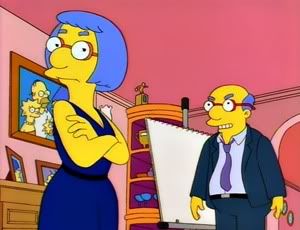 #27 – '

A Milhouse Divided

'
Season 8 – Episode 6 (Episode 159 Overall)
Synopsis
– Kirk and Luann Van Houten's marriage is in trouble and at a dinner party at the Simpson house Luann announces that she wants a divorce. Homer is confident that it will never happen to him, but Kirk tells him how quickly things can change. He realizes that he has taken his marriage for granted and overcompensates by smothering Marge. Deciding that their marriage is finished, Homer secretly files for a divorce from Marge.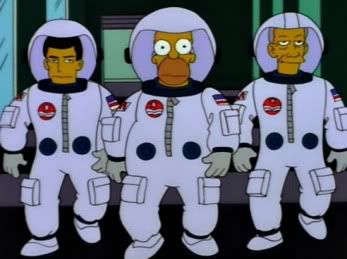 #26 – '

Deep Space Homer

'
Season 5 – Episode 15 (Episode 96 Overall)
Synopsis
– NASA decides that they need to hire average joes in order to get higher television ratings. They recruit Homer and Barney to train to be the first average American in space. Homer, who wants to be respected, is the winner by default, and goes into space with Buzz Aldrin.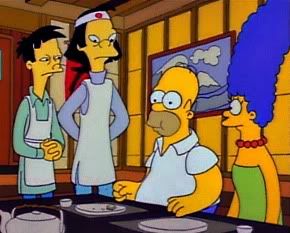 #25 – '

One Fish, Two Fish, Blowfish, Blue Fish

'
Season 2 – Episode 11 (Episode 24 Overall)
Synopsis
– The Simpsons go to a new Sushi bar, where Homer takes a liking to the food and decides to try Fugu, which is poisonous if not cut properly. Homer's fugu is not, and he is taken to the hospital where he is told he has 22 hours to live.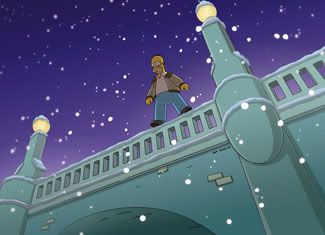 #24 – '

Eternal Moonshine Of The Simpson Mind

'
Season 19 – Episode 9 (Episode 409 Overall)
Synopsis
– Homer wakes up in the snow with no memory from the night before, and Moe informs him he drank a "Forget-Me-Shot," a drink powerful enough to rid the previous 24 hours from a user's mind. With his family missing, Chief Wiggum and Ned Flanders tell him of a domestic disturbance from the night before, prompting Homer to worry he may have done something awful and tries to regain his memories with help from Professor Frink. After gaining portions of his memory, Homer believes Marge cheated on him.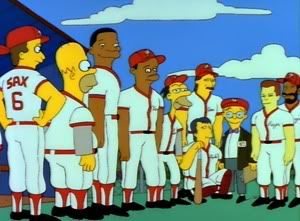 #23 – '

Homer At The Bat

'
Season 3 – Episode 17 (Episode 52 Overall)
Synopsis
– The Springfield Nuclear Power Plant softball team proves to be a huge success with Homer as their official star player. But after Mr. Burns makes a bet with Shelbyville Nuclear Power Plant owner Aristotle Amadopoulis, he hires nine professional baseball players to fill out the team. However, eight of those ringers fall victim to separate misfortunes, and Burns is forced to turn to his regular employees.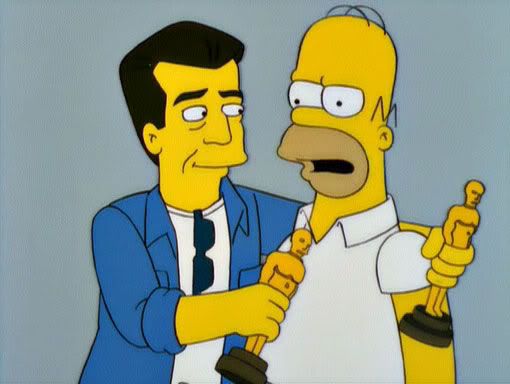 #22 – '

Beyond Blunderdome

'
Season 11 – Episode 1 (Episode 227 Overall)
Synopsis
– Mel Gibson admires Homer's brutal honesty during a test screening of Gibson's latest movie (a remake of
Mr. Smith Goes to Washington
) and hires him to create a better ending. However, when the ending proves to be too controversial, Mel and Homer end up on the run from studio executives while Marge and the kids see the sights of Hollywood.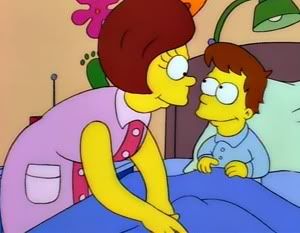 #21 – '

Mother Simpson

'
Season 7 – Episode 8 (Episode 136 Overall)
Synopsis
– Homer fakes his death in order to get out of working on a Saturday and is later forced to go to the records office to verify that he is alive. The clerk reveals that Homer's mother is still alive, and he takes her home to meet his family, but she remains silent as to where she was for the past 27 years. The family finally forces her to reveal her secret: she was part of group of Hippie radicals in the 60s and is on the run from Mr. Burns and the FBI.
Tuesday, August 26
The Top 100 Simpsons Episodes Of All-Time: #40-31.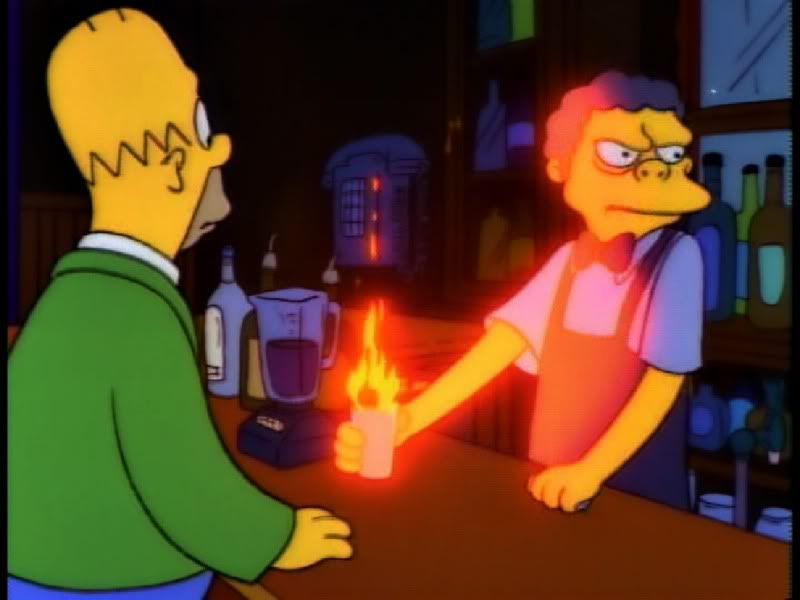 #40 – '

Flaming Moe's

'
Season 3 – Episode 10 (Episode 45 Overall)
Synopsis
– One night at Moe's Tavern, Homer tells Moe of a secret alcoholic cocktail made with cough syrup and fire that he calls "Flaming Homer." When Moe tries Homer's recipe in the bar, he finds it boosts his business and patronage, so Moe steals the recipe from Homer.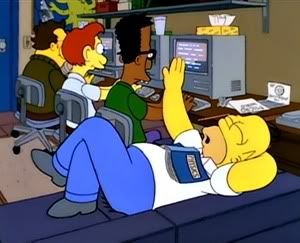 #39 – '

Homer Goes To College

'
Season 5 – Episode 3 (Episode 84 Overall)
Synopsis
– After failing a test at the nuclear plant, Homer's lack of a college degree is revealed and he is sent back to pass a nuclear physics class. Homer, having seen too many bad
Animal House
knock-off movies, goofs off, so he is sent to a group of boys for tutoring. They steal Springfield A and M's mascot, but his friends are caught and expelled. Homer invites them to live with him, but his family soon become angered by their new housemates, so Homer decides to try to help them get back into college.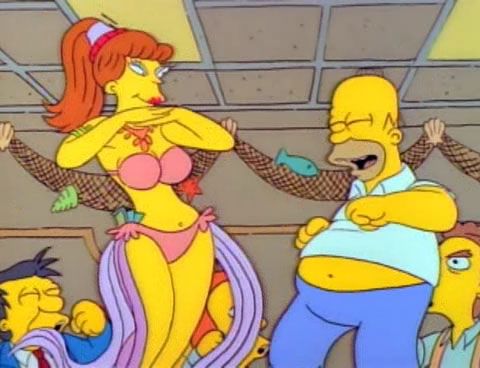 #38 – '

Homer's Night Out

'
Season 1 – Episode 10 (Episode 10 Overall)
Synopsis
– Bart purchases a mini spy camera and manages to take a picture of Homer dancing with a belly dancer named Princess Kashmir at a co-worker's bachelor party. He gives copies of the picture to his friends, and eventually the picture starts to circulate around until eventually Marge sees it. She kicks Homer out of the house, but the next day explains that she is not upset about him dancing, but rather that Bart saw it. She demands that he take Bart and go apologize to Princess Kashmir.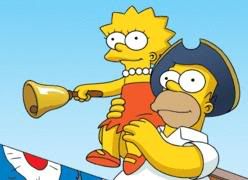 #37 – '

Lisa The Iconoclast

'
Season 7 – Episode 16 (Episode 144 Overall)
Synopsis
– While doing research for an essay, Lisa finds a confession written by town founder Jebediah Springfield revealing that he was a murderous pirate named Hans Sprungfeld who never cared about the people of Springfield. Homer decides to help Lisa get the message out, but they are arrested by the town council.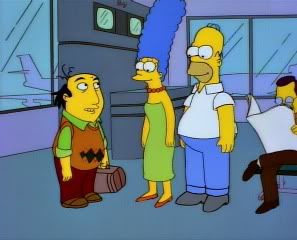 #36 – '

A Star Is Burns

'
Season 6 – Episode 18 (Episode 121 Overall)
Synopsis
– Springfield adopts Marge's suggestion of a film festival, in which any of the townspeople can enter a short film. To help her judge, Jay Sherman comes from New York to stay at the Simpsons' house. Homer feels threatened by Jay, and so Marge puts him on the panel as well.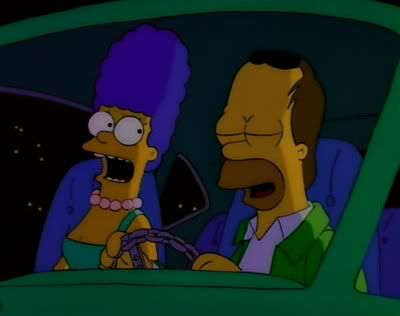 #35 – '

I Married Marge

'
Season 3 – Episode 12 (Episode 47 Overall)
Synopsis
– After worrying that she may be pregnant again, Marge and Homer drive to Dr. Hibbert's office. While anxiously waiting, Homer begins to tell Bart, Lisa, and Maggie about how he and Marge got married, and how he attempted to prove to Marge's sisters that he can provide for their upcoming child.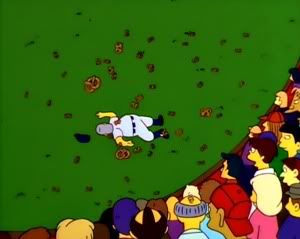 #34 – '

The Twisted World Of Marge Simpson

'
Season 8 – Episode 11 (Episode 164 Overall)
Synopsis
– Marge starts a new pretzel franchise after being voted out of the Springfield Investorettes for being too conservative. The Investorettes see this and strike back by getting a falafel van. Homer helps Marge with her business by asking Fat Tony for assistance. Fat Tony attempts to collect all of Marge's profit, but she refuses.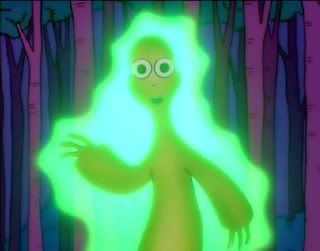 #33 – '

The Springfield Files

'
Season 8 – Episode 10 (Episode 163 Overall)
Synopsis
– Homer opts to walk home one night from Moe's Tavern. On his way he sees an eerie glowing creature. The next day Homer's story is printed in the local newspaper. FBI agents Mulder and Scully read the story and go to Springfield to investigate the X-file.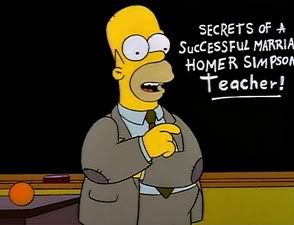 #32 – '

Secrets Of A Successful Marriage

'
Season 5 – Episode 22 (Episode 103 Overall)
Synopsis
– Tired of being called "slow," Homer signs up to teach a class on keeping a successful marriage at a learning annex. He is an unsuccessful teacher and finds that the only way he can keep the class interested is to tell racy secrets about Marge and their bedroom antics. Marge soon gets fed up with Homer telling their secrets and kicks him out.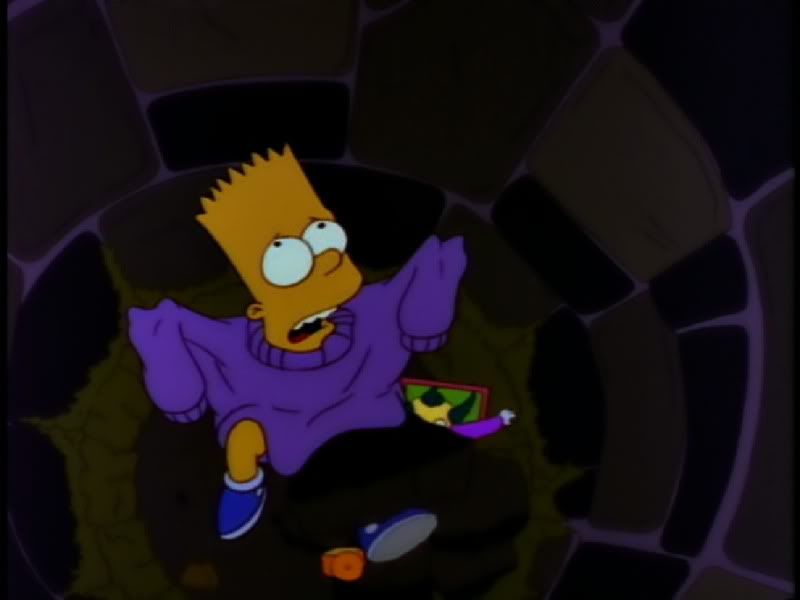 #31 – '

Radio Bart

'
Season 3 – Episode 13 (Episode 48 Overall)
Synopsis
– When Bart's birthday party turns into a disaster, Bart uses an AM radio microphone Homer gave him to play pranks. He decides to throw a radio down an old well and tricks the town into thinking a little boy is stuck in it. At first he is successful, but he realizes that he left a "property of Bart Simpson" label on the radio and goes to retrieve it. Bart becomes trapped in the well himself and the town decides to leave him there.
Monday, August 25
The Top 100 Simpsons Episodes Of All-Time: #50-41.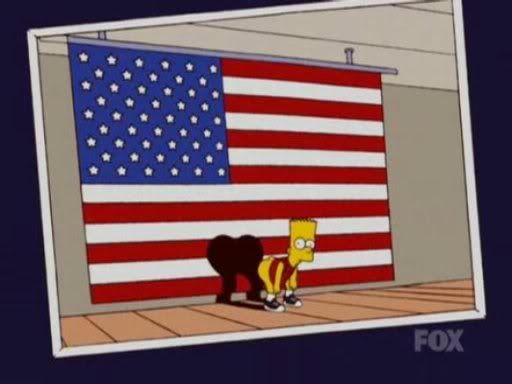 #50 – '

Bart-Mangled Banner

'
Season 15 – Episode 21 (Episode 334 Overall)
Synopsis
– After receiving an injection from Dr. Hibbert, Bart becomes deaf, which makes him impervious to being bullied...until he accidentally moons the American flag during a donkey basketball game, prompting everyone in town to accuse The Simpsons of being unpatriotic.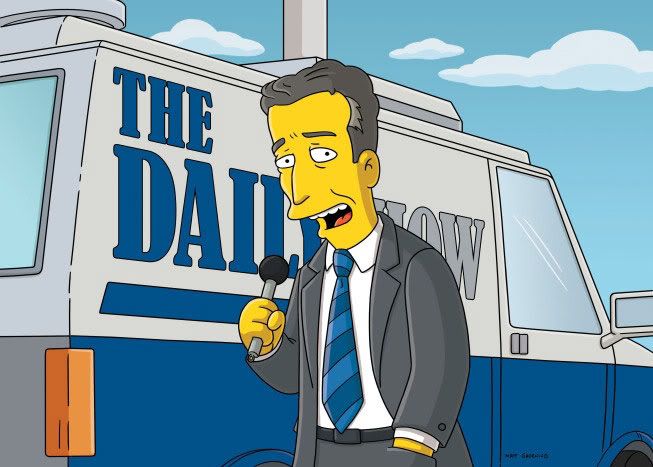 #49 – '

E Pluribus Wiggum

'
Season 19 – Episode 10 (Episode 410 Overall)
Synopsis
– Homer burns down Springfield's fast-food restaurants. In order to rebuild them, Mayor Quimby moves up election day, making Springfield's primary election the first in the nation. The candidates in the election are not compelling and voters instead write in "Ralph Wiggum" on the ballot and he wins. As a result, both candidates embrace Ralph, even though it is not known which party he is running for.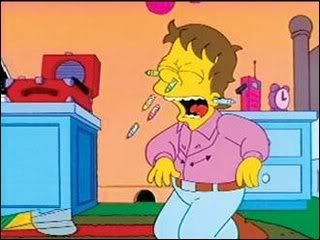 #48 – '

HOMR

'
Season 12 – Episode 9 (Episode 257 Overall)
Synopsis
– While working as a human guinea pig (to pay off the family's lost savings after making a bad investment), Homer discovers the root cause of his subnormal intelligence: a crayon that was lodged in his brain ever since he was a kid. He decides to have it removed to increase his IQ, but discovers that being smart does not necessarily equal being happy.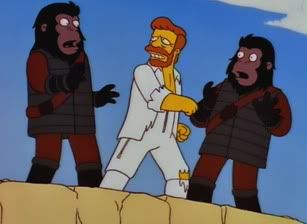 #47 – '

A Fish Called Selma

'
Season 7 – Episode 19 (Episode 147 Overall)
Synopsis
– Troy McClure tries to save his dying career and debunk the rumors of his bizarre sexual life by marrying Marge's sister, Selma. Selma discovers that the marriage is a sham but decides that being a sham wife is okay. However, Troy decides that becoming a father will help his career even more but Selma refuses to bring a child into their loveless marriage.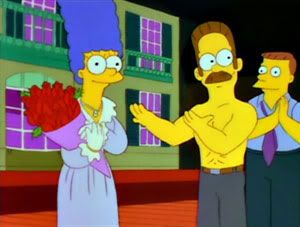 #46 – '

A Streetcar Named Marge

'
Season 4 – Episode 2 (Episode 61 Overall)
Synopsis
– Marge is cast in a musical production of A Streetcar Named Desire as Blanche DuBois after the play director sees Marge's deep-seated depression when dealing with an uncaring Homer. Meanwhile, Maggie is sent to the Ayn Rand School for Tots where she attempts to retrieve her pacifier from a strict daycare attendant.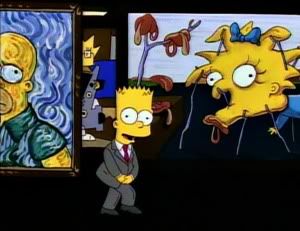 #45 – '

Treehouse Of Horror IV

'
Season 5 – Episode 5 (Episode 86 Overall)
Synopsis
– In a parody of
Night Gallery
, Bart tells three scary stories based on paintings:
'The Devil and Homer Simpson' – Homer sells his soul to the Devil (Ned Flanders) for a doughnut.
'Terror at 5½ Feet' – While riding the bus to school, Bart discovers that there there is a Gremlin on the side of the bus.
'Bart Simpson's
Dracula
' – The Simpsons are invited to a dinner with Mr. Burns, where Bart and Lisa discover that Mr. Burns is a vampire.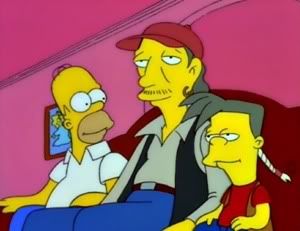 #44 – '

Bart Carny

'
Season 9 – Episode 12 (Episode 190 Overall)
Synopsis
– While the family is at a traveling carnival, Bart accidentally crashes Adolf Hitler's car. To pay off the debts, Homer and Bart get jobs at the carnival by helping with the booths and exhibits, where they befriend Cooder and Spud, a father-and-son carny team. Unfortunately, Homer causes their booth to get shut down, and decides to allow the two carnies to stay at his home.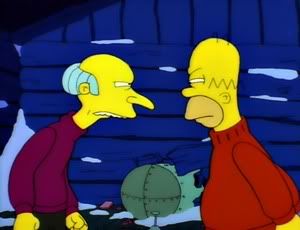 #43 – '

Mountain Of Madness

'
Season 8 – Episode 12 (Episode 165 Overall)
Synopsis
– To encourage teamwork, Mr. Burns takes all of his employees to a corporate retreat in the mountains. The employees pair up and Homer becomes Burns's partner. The challenge is to find a cabin on the snowy mountainside, and the pair to finish last will be fired. Burns and Homer cheat by using a snowmobile and make it the cabin before everybody else, but an avalanche buries the cabin. Homer and Burns proceed to go insane in the cold and plot to kill one another.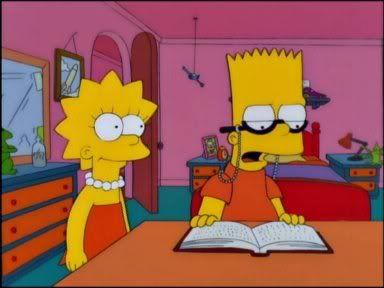 #42 – '

Brother's Little Helper

'
Season 11 – Episode 2 (Episode 228 Overall)
Synopsis
– After getting in trouble for flooding the school gym during Fire Prevention Day, Bart is diagnosed with Attention Deficit Disorder and prescribed a Ritalin-esque drug called Focusyn. At first, the drug makes Bart well-behaved and intellectual, but soon, Bart becomes paranoid and descends into madness.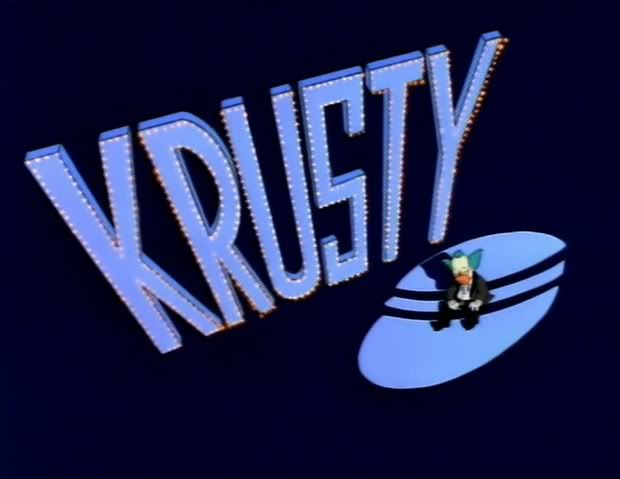 #41 – '

Krusty Gets Kancelled

'
Season 4 – Episode 22 (Episode 81 Overall)
Synopsis
– A new show about a ventriloquist dummy named Gabbo becomes the hottest show in Springfield and Krusty's show is cancelled due to low ratings. Krusty is at first downfallen at the cancellation of his show, but Bart and Lisa manage to convince him to stage a comeback special and invite his celebrity friends to take part.
Sunday, August 24
The Top 5 Worst Simpsons Episodes Of All-Time.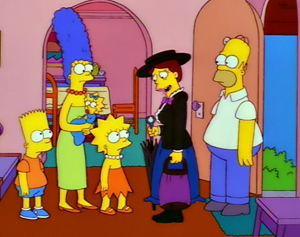 #5 - '
Simpsoncalifragilisticexpiala(Annoyed Grunt)cious
'
Season 8 - Episode 13 (Episode 166 Overall)
SYNOPSIS
- Marge is stressed by the demands of motherhood and the Simpsons get a magical British nanny (Sherry Bobbins), who floats down from the sky holding an umbrella. The nanny is a miracle worker, who teaches Bart and Lisa how to clean and charms everyone. However, the Simpsons cannot stop living their messy ways and the nanny's spirit gets crushed. She leaves the family realizing that she has taught them nothing.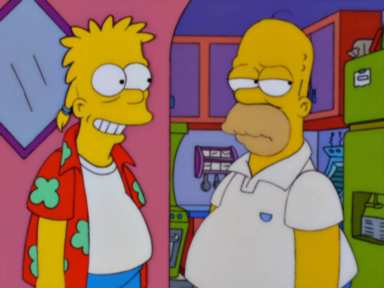 #4 - '
Bart To The Future
'
Season 11 - Episode 17 (Episode 243 Overall)
SYNOPSIS
- After their vacation in the woods is cut short due to a mosquito infestation, The Simpsons stop by at an Indian casino, where Bart tries to sneak in and ends up in the office of an Indian mystic who shows Bart's future in the year 2030 as a washed-up rock star living with Ralph Wiggum, while Lisa is the President of the United States trying to get the country out of financial trouble.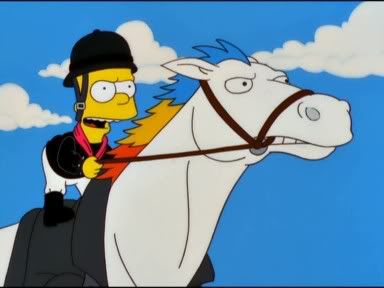 #3 - '
Saddlesore Galactica
'
Season 11 - Episode 13 (Episode 239 Overall)
SYNOPSIS
- The Simpsons rescue a diving horse named Duncan from abuse and keep it as a pet, but when the cost of upkeeping the horse rises, Homer and Bart train Duncan to be a racing horse and meet the ire of jockeys. Meanwhile, Lisa is upset over her school losing the band competition to Ogdenville unfairly at the state fair and writes a letter to Bill Clinton in protest.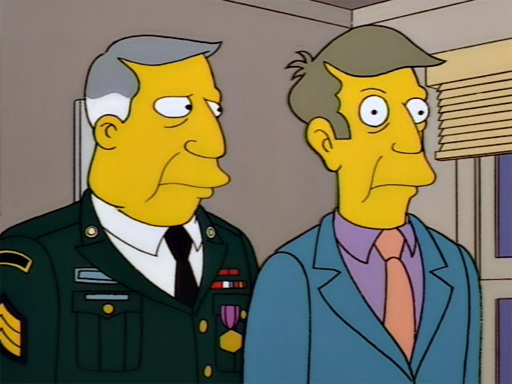 #2 - '
The Principal And The Pauper
'
Season 9 - Episode 2 (Episode 180 Overall)
SYNOPSIS
- When a celebration is held at Springfield Elementary to honor his 20 years as principal, Seymour Skinner is revealed to be an impostor when the real Seymour shows up. The principal's real name is revealed to be Armin Tamzarian, an orphan from Capital City. Armin soon leaves to return to Capital City, and Sgt. Seymour Skinner takes over as principal. However, many, including Agnes Skinner, soon decide they preferred the old Seymour. After persuading him to come back from Capital City to be Principal Skinner again, the townspeople send the real Sgt. Skinner out of town on a railroad.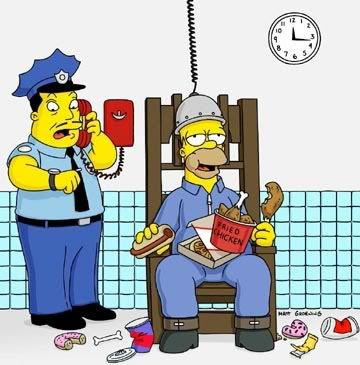 #1 - '
The Frying Game
'
Season 13 - Episode 21 (Episode 290 Overall)
SYNOPSIS
- Homer begins delivering Meals On Wheels to an elderly woman, Mrs. Bellamy, who takes a shine to him. She subtly guilts Homer and later, Marge, into becoming her personal servants. When Mrs. Bellamy turns up dead, having been stabbed with a pair of scissors, Homer and Marge are the prime suspects in the murder, even though they witnessed a man with braces leaving the murder scene, with Mrs. Bellamy's necklace. The people of Springfield are very suspicious of Homer and Marge, and Chief Wiggum does not believe their story. During an inspection of the house, Maggie is found with Mrs. Bellamy's stolen necklace, presumably given to her by the Man with the braces. Bart, Lisa and Maggie are adopted by Cletus Spuckler, who decides to change their 'city names.'
Despite no lie detector or DNA test given, the two are sentenced to Death Row. In a successful bid to spare Marge, Homer confesses it was all him. As he is sitting in the electric chair, it is suddenly revealed to Homer that he is on a reality TV show,
Frame Up,
that airs on FOX along with
No Pants Island
and
Fart Date
. The whole thing was part of an elaborate hidden camera scheme, the "man with the braces" was the show's host, and Mrs. Bellamy is guest host Carmen Electra in disguise.
Saturday, August 23
The Top 100 Simpsons Episodes Of All-Time: Honorable Mentions.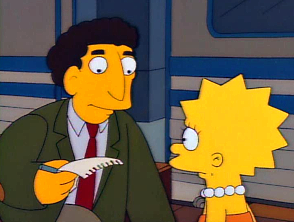 Hey there, kids. I sincerely hope you've been enjoying the countdown of our 100 favorite
Simpsons
episodes of all-time. If you've been following along with us from the beginning, there's no doubt that you have your arguments as to why my particular list was completely wrong from start to (eventual) finish. Today, before we launch into our Top 50 next week, I wanted to briefly talk about how I took my favorite television series ever, and managed to handpick my 100 personal favorites (and 5 least-favorites, which you'll see tomorrow).
First off, it goes without saying that this is a 100% opinion-based countdown. If you want to take the time to explain to me in detail why no episode produced in the last decade should have made the countdown, I implore you to create a list of your own, print that list out, tightly roll it up and shove it deep within the black recesses of your anal cavity, because nobody cares.
It would have been easy, sterile and boringly similar to every other
Simpsons
list to go that route. Therefore, I made it a point to feature a certain amount of episodes from all 20* seasons thus far. If there was a recent episode that I quite enjoyed, it took a certain amount of precedence over an episode I may have enjoyed a decade ago. I find certain 'classic' episodes overrated. I find certain 'recent' episodes underrated (Seasons 19 and 20 have been arguably the best of the new millennium). I haven't seen that 'Mr. Plow' episode in forever, so it got lost in the shuffle when it came time to sift through over 220 hours of landmark TV. Stuff like that.
(*This countdown is a re-post from 2009, if you didn't already know. Seasons 21-25 are not represented in this list.)
I stand by my countdown, but for a show with as many good episodes as
The Simpsons
, I can't spotlight them all. Therefore, here is a compendium list to my Top 100; a list of 35
additional
episodes that
did not
make my Top 100. There is at least one episode from each season here, and they all could have arguably made the Countdown. Maybe this will cork the cryholes of some of the more vocal critics out there. Enjoy!
Season 1
"Moaning Lisa" (Episode 6 Overall)
"The Telltale Head" (Episode 8 Overall)
Season 2
"Dancin' Homer" (Episode 18 Overall)
"Dead Putting Society" (Episode 19 Overall)
"Lisa's Substitute" (Episode 32 Overall)
Season 3
"Mr. Lisa Goes To Washington" (Episode 37 Overall)
"Bart's Friend Falls In Love" (Episode 58 Overall)
Season 4
"Kamp Krusty" (Episode 60 Overall)
"Itchy & Scratchy: The Movie" (Episode 65 Overall)
"Marge Gets A Job" (Episode 66 Overall)
"Mr. Plow" (Episode 68 Overall)
"Whacking Day" (Episode 79 Overall)
Season 5
"Lisa vs. Malibu Stacy" (Episode 95 Overall)
"Bart Gets An Elephant" (Episode 98 Overall)
"Burns' Heir" (Episode 99 Overall)
Season 6
"Grampa vs. Sexual Inadequacy" (Episode 113 Overall)
"Bart's Comet" (Episode 117 Overall)
Season 7
"Radioactive Man" (Episode 130 Overall)
"The Day The Violence Died" (Episode 146 Overall)
"The Curse Of The Flying Hellfish" (Episode 150 Overall)
Season 8
"Hurricane Neddy" (Episode 161 Overall)
"The Itchy & Scratchy & Poochie Show" (Episode 167 Overall)
Season 9
"The Trouble With Trillions" (Episode 198 Overall)
Season 10
"Kidney Trouble" (Episode 211 Overall)
"Homer To The Max" (Episode 216 Overall)
Season 11
"Eight Misbehavin'" (Episode 233 Overall)
Season 12
"Hungry, Hungry Homer" (Episode 263 Overall)
Season 13
"Half-Decent Proposal" (Episode 279 Overall)
Season 14
"I'm Spelling As Fast As I Can" (Episode 303 Overall)
Season 15
"Marge vs. Singles, Seniors, Childless Couples And Teens And Gays" (Episode 321 Overall)
Season 16
"Midnight Rx" (Episode 341 Overall)
Season 17
"The Italian Bob" (Episode 364 Overall)
Season 18
"You Kent Always Say What You Want" (Episode 400 Overall)
Season 19
"Mona Leaves-a" (Episode 419 Overall)
Season 20
"Mypods and Boomsticks" (Episode 427 Overall)
Boom. Ass covered; argument averted. Sound off in the comments section and enjoy your weekend. The Top 50 arrives next week, and my list of the 5
worst
Simpsons
episodes of all-time is up tomorrow.
Friday, August 22
The Top 100 Simpsons Episodes Of All-Time: #60-51.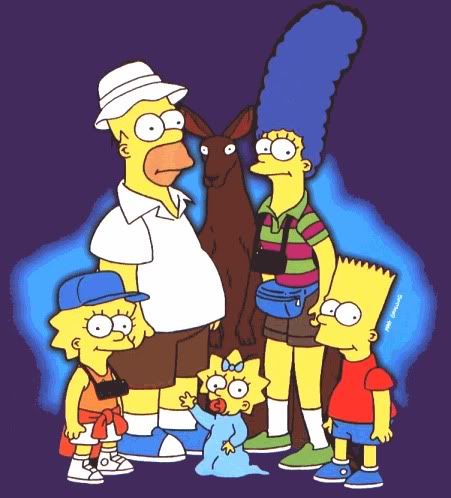 #60 – '

Bart vs. Australia

'
Season 6 – Episode 16 (Episode 119 Overall)
Synopsis
– In order to prove Lisa wrong about the Coriolis Effect, Bart collect calls Australia, but the call lasts six hours and costs $900.00. After the call's recipient complains, Australia indicts Bart for fraud. The United States State Department negotiates a settlement, with Bart having to publicly apologize in Australia. There, after Bart apologizes, the parliament wishes to give him the additional punishment of a booting.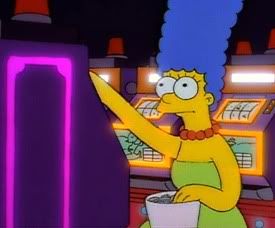 #59 – '

$pringfield (Or, How I Learned to Stop Worrying and Love Legalized Gambling)

'
Season 5 – Episode 10 (Episode 91 Overall)
Synopsis
– After the local economy stalls, everyone in town votes for gambling to be legalized, prompting Mr. Burns to open a casino. Homer becomes a blackjack dealer, and Marge to become so addicted to gambling that she forgets about her family life. Meanwhile, Bart opens up his own casino, and Lisa struggles to create a costume for a school pageant.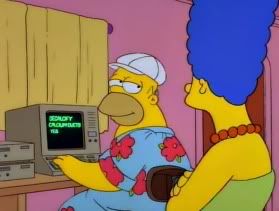 #58 – '

King-Size Homer

'
Season 7 – Episode 7 (Episode 135 Overall)
Synopsis
– Unhappy with the Springfield Nuclear Power Plant's new exercise program, Homer decides to get on workman's comp by purposely gaining 61 pounds. He succeeds in his goal and is able to work at home, but finds that a nuclear meltdown is about to take place at the plant.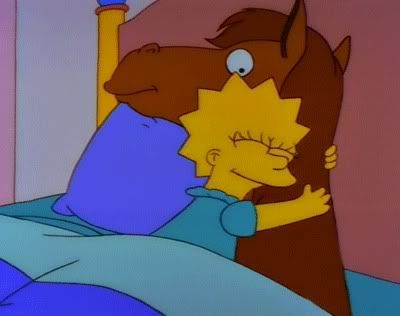 #57 – '

Lisa's Pony

'
Season 3 – Episode 8 (Episode 43 Overall)
Synopsis
– When Lisa requires a new saxophone reed for her talent recital, she asks Homer, who immediately promises to buy her one. Though when Homer breaks his promise, he makes up for it by giving Lisa the one thing she had always wanted, a pony named Princess. With a new pony in the house, Homer struggles with two jobs to cover the cost.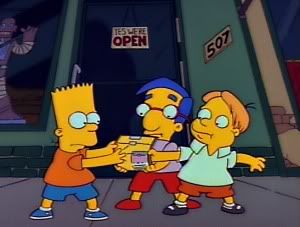 #56 – '

Three Men And A Comic Book

'
Season 2 – Episode 21 (Episode 34 Overall)
Synopsis
– Bart, Milhouse and Martin Prince pool their money together to buy the first
Radioactive Man
comic from Comic Book Guy. They discover that they are unable to share the comic and due to their mistrust of each other, end up destroying it.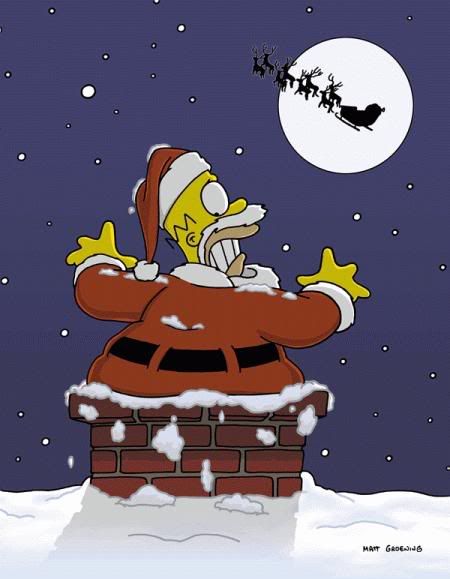 #55 – '

Grift Of The Magi

'
Season 11 – Episode 9 (Episode 235 Overall)
Synopsis
– When Springfield Elementary goes bankrupt after blowing all their funds on a system of shoddy wheelchair ramps (to help Bart after he is confined to a wheelchair following an injury to his coccyx), a toy company takes over the school with a marketing scheme in mind.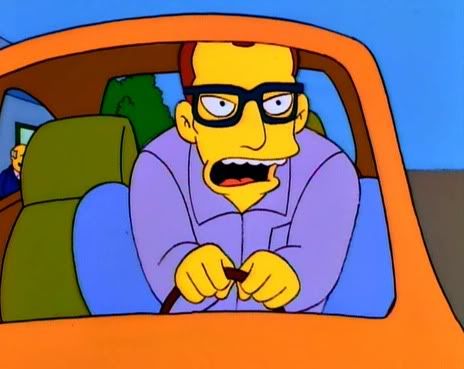 #54 – '

22 Short Films About Springfield

'
Season 7 – Episode 21 (Episode 149 Overall)
Synopsis
– Bart and Milhouse wonder if anything interesting happens to the citizens of Springfield, which leads to a chain of vignettes about the lives of Springfielders including Apu, Mr. Burns, Dr. Nick, Moe, Principal Skinner, Chief Wiggum, Bumblebee Man, Reverend Lovejoy, Cletus and Comic Book Guy.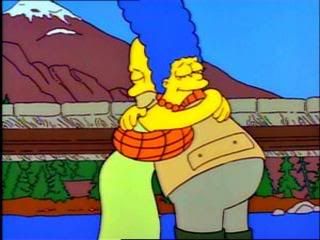 #53 – '

The War Of The Simpsons

'
Season 2 – Episode 20 (Episode 33 Overall)
Synopsis
– After Homer gets drunk at a party, Marge decides to sign them up for a marriage counseling retreat. Homer finds out that the retreat will be held at Catfish Lake and packs his fishing equipment, despite Marge telling him that all they will be doing is resolving their differences.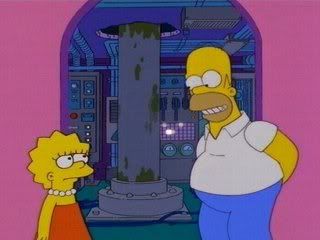 #52 – '

Make Room For Lisa

'
Season 10 – Episode 16 (Episode 219 Overall)
Synopsis
– When Homer uses Lisa's room as a cellular phone transmitter to pay off damages done to the Bill of Rights at a Smithsonian exhibit, Lisa begins developing stress-related stomach aches and fears that she and Homer will never be close because of their clashing personalities. Meanwhile, Marge uses Maggie's baby monitor to listen in on phone calls.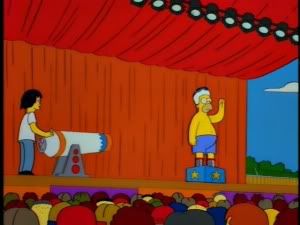 #51 – '

Homerpalooza

'
Season 7 – Episode 24 (Episode 152 Overall)
Synopsis
– In an attempt to show his kids how hip he is, Homer takes Bart and Lisa to the Hullabalooza music festival where Homer is hired as a sideshow freak who can withstand the force of cannonball blasts.
Thursday, August 21
The Top 100 Simpsons Episodes Of All-Time: #70-61.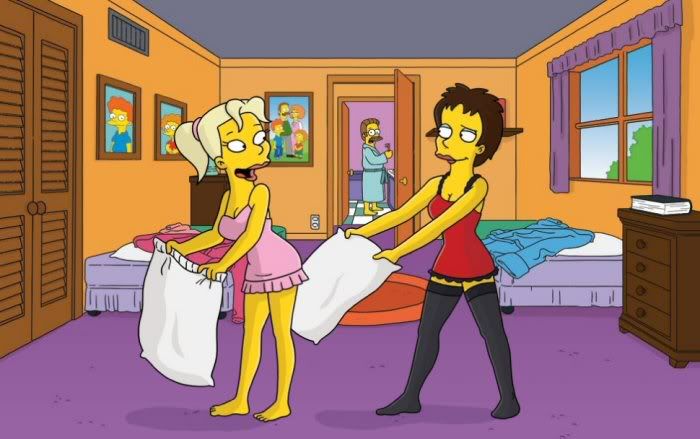 #70 – '

Home Away From Homer

'
Season 16 – Episode 20 (Episode 355 Overall)
Synopsis
– Ned rents a room to two college girls who, without his knowledge, use the spare room to broadcast live softcore pornographic videos of themselves. Upset that no one in town told him this, Ned moves to the seemingly perfect town of Humble, Pennsylvania, while a brash coach moves into Flanders' house and begins harassing Homer the same way Homer harassed Ned.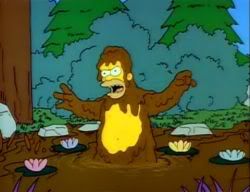 #69 – '

The Call Of The Simpsons

'
Season 1 – Episode 7 (Episode 7 Overall)
Synopsis
– Homer becomes envious of Flanders' new RV and goes to "Bob's RV Round-up" to buy one of his own. Settling on a dilapidated camper, he takes the family camping and in the process destroys the RV. Leaving Lisa and Marge behind, Bart and Homer try to find their way back to civilization, but have little luck. Later on, Homer is mistaken for Bigfoot and captured.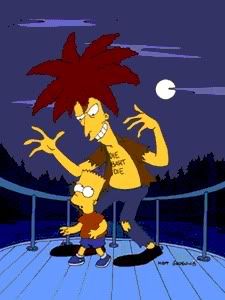 #68 – '

Cape Feare

'
Season 5 – Episode 2 (Episode 83 Overall)
Synopsis
– Bart starts receiving threatening letters in the mail and it is soon revealed that they were sent to him by Sideshow Bob. Bob is released from prison, so Bart is placed in the Witness Relocation Program and the Simpson family is moved to Terror Lake. However, Bob follows the Simpsons there and sneaks onto the family's house boat to kill him.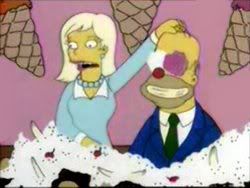 #67 – '

It's A Mad, Mad, Mad, Mad Marge

'
Season 11 – Episode 21 (Episode 247 Overall)
Synopsis
– Otto dumps his fiancee, Becky, at the altar, leaving her to become the Simpsons' latest houseguest, prompting Marge to go insane when Patty and Selma scare Marge with thoughts of Becky replacing Marge as a wife and mother.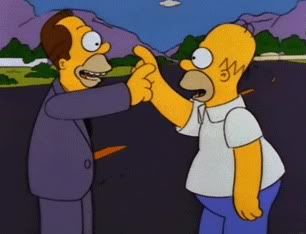 #66 – '

Oh Brother, Where Art Thou?

'
Season 2 – Episode 15 (Episode 28 Overall)
Synopsis
– Grampa confesses that Homer has a half-brother, who immediately tries to track him down. Homer eventually discovers that his half brother is Herbert Powell, the head of a car manufacturer in Detroit. Herb immediately starts to bond with Bart and Lisa and he invites Homer to design his own car. Homer's car design is a disaster, causing Herb to become bankrupt.

#65 – '

Alone Again, Natura-Diddily

'
Season 11 – Episode 14 (Episode 240 Overall)
Synopsis
– Maude Flanders is killed in a freak accident during a stock car race, devastating Ned and prompting Homer to find a new woman for his grieving neighbor.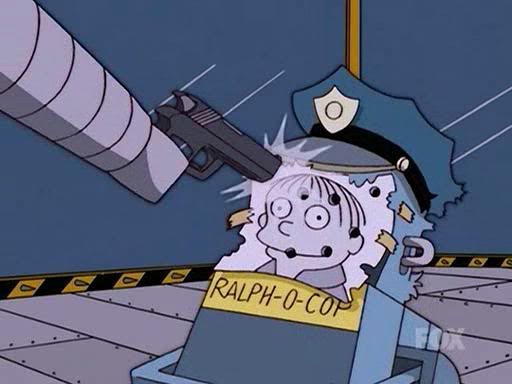 #64 – '

I (Annoyed Grunt)-Bot

'
Season 15 – Episode 9 (Episode 322 Overall)
Synopsis
– Homer builds a battle robot to win Bart's respect, and places it in a tournament against other robots. What Bart does not know, though, is that the robot is actually Homer in costume. Meanwhile, Snowball II dies and Lisa tries to find a replacement cat.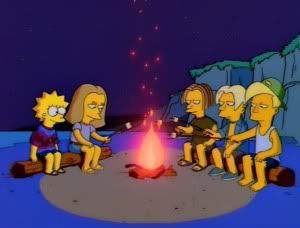 #63 – '

Summer Of 4 Ft. 2

'
Season 7 – Episode 25 (Episode 153 Overall)
Synopsis
– At the start of summer, Ned Flanders asks Homer to take care of his beach house in Little Pwagmattasquarmsettport. The family decides to go there and Lisa, realizing that she is not as cool as she thinks, uses the new locale as a chance to rid herself of her nerd image and becomes a surfer girl.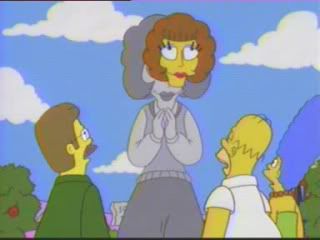 #62 – '

I'm Goin' To Praiseland

'
Season 12 – Episode 19 (Episode 267 Overall)
Synopsis
– After finding a sketchbook belonging to his late wife Maude, Ned Flanders opens a Bible-themed amusement park to honor her memory.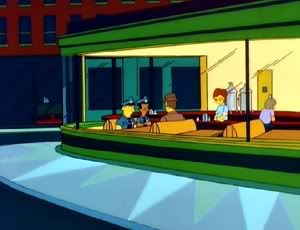 #61 – '

Homer vs. The Eighteenth Amendment

'
Season 8 – Episode 18 (Episode 171 Overall)
Synopsis
– Alcohol is banned from Springfield after Bart accidentally gets drunk at a town parade. Rex Banner is appointed to replace Chief Wiggum as police chief to enforce the new laws and stop Fat Tony from smuggling. Rex is successful, but then Homer starts to smuggle alcohol.