Monday, December 6
Communist Cuddle Party.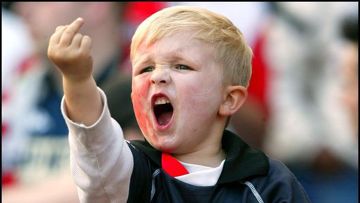 I've got a bug up my ass the size of a car battery, and I'm pointing fingers.
The terrible weather, getting raped by
bureaucracy
at work, the
de-evolution of man
. These are just a smattering of the hundreds of things today that made me want to stick my unit in the
paper folding machine
and end it all. For me, bad moods are few and far between. When they hit me, however, I shut right the hell down. I will not speak to you, and I will not be spoken to. In this case, I don't want to bother you with my bad mood anymore. I believe I've done enough damage in the last few days to get me kicked right off of Santa's "good" list. Just know that I'm pissed.
Speaking of Santa, here's my Christmas list for this year:
Well, that's 10 gifts. That's more than enough for you all to chew on. Be sure to get in contact with everyone else so I don't get 2 of any gift. And keep the receipt! By the way, I got these links from Amazon.com, but I don't endorse the page one bit. They screwed me out of hundreds of dollars several years ago, and I never quite got over it. Do NOT do your Christmas shopping through them, they will ruin your day.
Now, what do YOU want for Christmas? I want interaction, people! Let us know in the comments section what's on your list. Who knows, maybe someone will see it and buy it for you. I highly doubt that, but it doesn't hurt.
COMING SOON! - The Best of 2004...The Worst Christmas Ever...CDP Year in Review...5 Year Insomnia...Much, Much More!
Comments:
Honey, I'm pretty sure that you meant that GOOD moods are few and far between for you.
I want a bagless vacuum and that's all. Oh, and a Coop. And some angel to drop down and pay off all of our fricken debt. That would rule!
<< Home