Saturday, December 18
Fingers Touching Knees Through Holes Of Ripped Jeans.
Okay, time for the big, tiny surprise.
But first, the cartoons on
Boycott Unity
will start again on Monday. I hope you're enjoying them, because I enjoy making them. I'm taking the weekend off, though. Tonight I'm going to the
Benjamins
reunion show, then Ben and Sherry are spending the night. The show is 21 and over, so if the people at the door give Sherry any crap, I guess we're going home. My hope is that we can run into one of the Benjamins and have them hook us up. We'll have to see. I'll let you know all about it on Monday.
So, here's the big news....
I'M PREGNANT!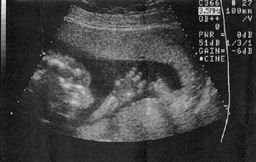 This is little Tanner Dakota. I'm due in late June, but you could never tell by looking at me. I've stopped smoking, eat lots of fruits and veggies, and drink lots of Tang. I consider this my little miracle, because me and Celia were on the verge of divorce before this little guy came along.
Sorry. I'll tell you the real news now.
As of last Wednesday, I became a contributing writer to Madison's very own Core Weekly newspaper. Core Weekly is a new arts & entertainment paper published by Capital Newspapers, who publish the Capital Times. It's specifically designed for college folk, ages 18-25. I had been in contact with the director for a few weeks now, and finally met with him a few days ago. We hit it off, and I signed on the dotted line. I'll be reviewing CD's mostly, but he's down with almost anything I want to pitch to him. It's a paid position, which is always nice, and Core Weekly is read by over
60 THOUSAND
people every week. Once their web page gets up, it will be read by a lot more. Their offices are on State Street, and I'm working on reviewing my first CD as I type this.
I got to this position through a few phone calls, a ton of e-mails, and a few sample reviews I sent to them. Eventually, I got put on a list of people who do the same thing as me, and went from there. Initially, I was worried that this paper would just disappear after a while. That was when I found out they were funded by the Capital Times, which means wide distribution and plenty of cash and promotion. You can't go anywhere in Madison without seeing a Core Weekly. Last night at Noodles, I saw people reading them at 4 different tables.
So, I'm working for the most widely circulated hipster newspaper in the state. Once the ball gets rolling, I'll obviously keep you in touch with how things are going. I have it worked out with them so I can put my CD reviews on here, as well as in Core Weekly. Who knows? I might either get a lot more work at this, or I'll get canned after one terrible review. I'm excited as hell, and pretty proud of myself. As you can tell, I spend every chance I get writing stuff. I write stories, screenplays, hundreds of Blog posts and songs, cartoons and a children's book in the works. My idea is quantity over quality. I just flat out like to do this, and it never mattered to me if anyone else thought it was worth a damn. I'm not a very talented writer, but I always want to do more and try different things. Just the thought that someone would pay me even a quarter for something I wrote makes me pretty content. Thanks a million.
Oh, I know what you're thinking. "But Ryan, I don't live in Madison. How will I ever be able to read such a lovely paper that's showcasing your work?" I've got that taken care of. When an issue comes out that I'm in, I'll snag an extra 10 or so to give to friends and relatives. You look out for me, and I'll look out for you. (I don't have to pay for them.)
I guess that's all I wanted to share with you today. If I do get pregnant though, you'll be the first ones to know. Any questions? Hit me up in the comments section.
Comments:
Woah, I didn't even see this comment until now. I wasn't trying to ignore it, I just overlooked it. I'm sure this person won't be around to read this, but what the hell.
I'd write for "Baby Killer Weekly" as long as they paid me to do it. Core Weekly never made any secrets about marketing, bottom lines or who they pandered to. My generation was chopped up, bought and sold a long time ago, and I've come to terms with it. Most people are smart enough to see through the bullshit, and anyone who honestly thinks that Core Weekly is trying to be underground or anything other than what you see in the pages needs to take a step back. I don't see the big shock in this.
I was wrong about the Wisconsin State Journal vs The Capital Times. Or maybe I'm not, I don't feel the need to look it up again. Just because they print 60k issues, it doesn't mean it's read by 60k people. That's pretty obvious. Just because a CD "sells" a million copies, that doesn't mean that a million people own the album. It's just a number.
If Core Weekly lasts for 6 more months, I'll try to write as much as I can for 6 more months. Then I'll continue to write, because I couldn't give less than a shit about who I write for. That's not a cut against Core Weekly, I just like to write is all.
This guy had to have searched for "Core Weekly" to get to my page, so he must have some sort of beef with them. He doesn't sound like a casual viewer of my page. Seems like he just dropped in to give his 2 cents, and that's fine with me. Hell, anyone who dislikes Core Weekly should come here to vent. While you're at it, check out my essays and cartoons, because they frickin' rule.
<< Home