Sunday, December 19
Just Like Heaven.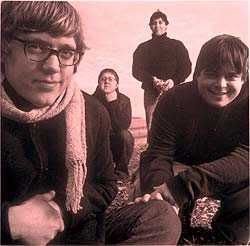 I know someone's going to take my spot
I know that you're going to be a star.
On Saturday evening at about 5:30, Ben and Sherry came over to our place. We ate at the Olive Garden, and headed down to
Mad Planet
in Milwaukee for the big Benjamins reunion show. It was about 4 degrees out, and the snow was whipping around with the 30mph wind. It was hard to keep the car on the road, and there were patches of ice here and there. I was pretty happy once we finally got to park.
Once there, we met up with Lindsay, who I owed an apology to.
The Saltshakers
got the night going. They sounded good enough, but the whole time I was secretly worrying that the bass player's pants were going to fall off at any minute. This paralyzing fear sort of took away from the mood.
The Etiquette was up next. I had never heard of them before, and they rocked pretty hard. The singer did a spot-on Billy Idol impression for a cover of Rebel Yell to close the set. That's all you need to know.
You're not so sure about me, I can tell
But you know me better than anyone
And I'm just lame
You're so great, you know
A total shooting star
I think you're wonderful
You're wonderful, you're wonderful.
The Benjamins took the stage as if 3 years never passed. I snagged their setlist, and here it is, in almost correct order:
Couch
Wonderful
Weather's Here, Wish You Were Beautiful
Sophia On The Stereo
Clover
Dr. Frank Was Right
Boxcar (Jawbreaker)
Riverwest Creeps
Gave It Away
Just Like Heaven (The Cure)
3,720 To 1
It's The End Of The World As We Know It (R.E.M.)
Little Tin Heart
My Name Is Jonas (Weezer)
I have never seen a crowd of people so happy to see a band in my life. Every word of every song was screamed right back at the Benjamins, sometimes overpowering the PA. I was having my own private bliss as well, enjoying myself without bothering anyone else, I hope. Mad Planet was packed with swaying bottles of Blatz, the screaming didn't let up for a second, and they sounded as tight as they ever did, considering that they're all almost full-blown alcoholics.
A stack of mixtapes brought me closer
And I know that it's a modest melody
That sent you out to find the perfect guy
But found you crashing into me.
They played just about every song they had ever done, peppered with covers of some of my favorite songs. I think that in order to be in a good Wisconsin band, you have to learn Boxcar by Jawbreaker. It's a law. Just Like Heaven pretty much sealed the deal for me, and there was nothing that was going to bother me for the rest of the night. Not the sasquatch in front of me with a swaying girl under each arm, not the drunk chick in front of Sherry with her shirt off, not even the insanely loud PA that's still ringing in my ears as I type this. I flat out had a blast.
Let's not blow it right now
Let's not do something we'd both regret
Never is a long time to wait for you
And I'm not getting any younger.
It should also be noted that I had not one drink that night. I had a Bellini at the Olive Garden, but that was it. I drank water at the show, keeping with my solemn vow to never have more than one drink in a single day ever again. Or at least until something else comes up. I mean it.
When the show was over, we quickly said hi to Ben, the bass player, and headed out the door. Lindsay had left about 10 minutes before us, and we thought she was as good as gone when we stepped outside into the -20 degree wind chill. We then saw her standing on the streetcorner, waiting for her ride. When I realized that she had been standing there for over 10 minutes, I almost started bawling. We stood shivering with her until Anthony showed up, and started the long trek back home.
I had a dream that I wrote a song for you
And you just sat back and laughed
I can't sleep to save my life
I guess that's what I get for...
The snow was patchy, and there were sheets of glare ice on the highway. The road salt had covered the lines, so people were all over the place. We had to go about 45 most of the way home. By this time it was 3am, so staying awake wasn't the easiest thing in the world. Me and Celia passed the time with a mature discussion on parenting. Surely, it's easier to philosophize about children when you don't have any of your own. It's nicer that way right now. At about 3:30 we got home, and enjoyed our desserts from the Olive Garden. We incoherently babbled to each other until about 4:30, when we realized that we should probably go to sleep. Sherry had to work a full day on Sunday, and they had to be out of our house by 11:30.
I am an angel
And quite the rock star, too
Did you ever in your life
Think you'd end up with someone like me?
That pretty much brings you up to speed. I plan on milling around in my pajamas all day, watching football and eating random things. I have a 3-day work week starting on Monday, and then I'm off for Christmas. Boycott Unity will have more cartoons next week, and you can expect more things here at the CDP, as Sweeps Month enters the home stretch. Have a good one, I'm going back to bed.
The show was fantastic.
Comments:
Sorry honey, but that Jawbreaker song sucks a big wang-o-tron, as do all the other songs I've ever heard by them. HA!
<< Home