Wednesday, December 29
We Got A Winner!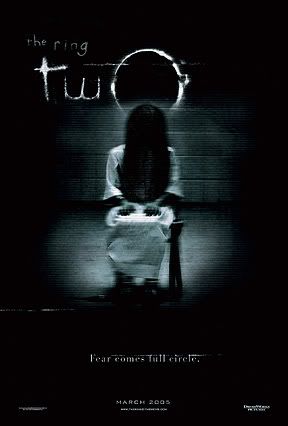 As excited as I am about
White Noise
, I'm really looking forward to
Ring Two
, which will be released in March 2005. Sure,
The Ring
has been sequeled into oblivion in Japan, but I still think that the American remake was the best yet. The
new director
(replacing
Gore Verbinski
) was the same guy who did
Ringu
and
Ringu 2
in Japan, so you've got to trust his vision. It might be a shot-for-shot remake or something completely original, and the studio's not talking.
As Sweeps Month draws to a successful close, I want to thank you for making December the biggest month EVER here at the CDP. We had
2100 visitors
this month, which is pretty damn nice as far as I'm concerned. Hopefully, we can keep it that way, or maybe even more. Maybe if I actually got some dry hump movies up and running, we could really reel in the kids. Based on the search terms, that's what they want. I wonder who would be willing to make such a film.
On New Year's Eve, I'll be spending a quiet evening with the
Missus
, then we're heading up to Green Bay on Saturday to spend some quality time with Benjamin & Sherry Jenkel. Celia and I took next Monday and Tuesday off, so we're looking ahead to a nice 5-day vacation. We shall accomplish nothing.
Since we're on the subject, will people stop bitching about the
Packers
, for God's sake? We must be the only fans in the nation who complain about our team even after they win the Division for the 3rd year in a row, and are heading for a 10-win season. They have a #3 spot in the Playoffs, they get a first-round home game after losing 4 of their first 5, and they're capable of beating any team in the league. Give me a break. The Packers are NFC North Champions again, and even if they lose in the first or second round, cut them some Goddamn slack. Brett Favre has had a year that would push most men to suicide, instead he's thrown 28 touchdowns. I'm sick of this crap. If you don't care about football, that's fine, but don't complain about your favorite team when they play well. If you want to coach the team, fill out an application.
So, I got a Game Boy Advance for Christmas (The
Retro Classic NES Design
that was super-limited edition), and I also got the original
Metroid
game to play on it. In 1988, I was a Metroid master at the age of 6. Now, I might as well be a paraplegic. I can't play it to save my life, and it's embarrassing. What happened in the last 16 years that would make me suck at a classic video game? I shake my head in disgust every time poor Samus explodes into pieces, thinking that there was a more simpler time when I could have saved her. Maybe it's because I'm married now, or that there's a war going on or something. I'll be buying Super Mario Bros. 3 for it very soon. (In case you're wondering, I don't play my GBA when I could be spending that time with Celia. I know better.)
I'll be back before the end of the year with "
The Top 10 Of Everything - 2004
", and don't forget to check out the offensive comic masterpiece that is
Boycott Unity
. Until then, here's Bat Boy: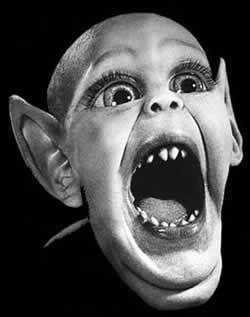 AAB-A-GAH-DAH!
(Have a good day.)
Comments:
Who knew that a little 8-bit video game could cause so many profanities to come from the mouth of a 22 year old?
Heh heh, yeah. I can assure you that the same profanities were coming out of my mouth as a 6-year old as well.
It's never fun to admit that your abilities are slipping, no matter what those abilities may be.
Hey, you know what? I don't think I was EVER any good at Metroid. I'm buying a new game. I also saw that those Classic NES Advances were going for $180 used on Amazon.com. Makes me feel good.
<< Home