Friday, December 3
Yesterday Is My Day.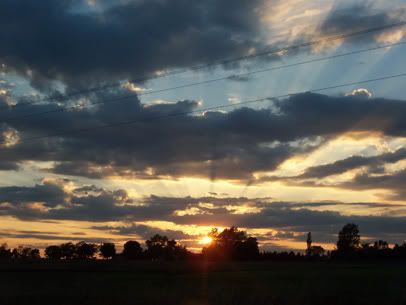 Celia took this picture a few months ago while we were driving around Wisconsin. I've noticed thousands of guys just like me with Blogs just like mine, are taking pictures just like this for some sort of admission of sensitivity or attention-grabbing depression. Don't you get sick of that? Isn't it sad to think that a million skinny guys, ages 13-29, are using the same tired technique to snag women into thinking that they'll listen when they talk? Don't you just want to hit me? Watch, next I'll bust out the cheesy emo lyrics that I could never think of writing.
"Your side of the couch
I'm afraid to be on it
I'm afraid of the memories it brings
It's killing my buzz
just wondering where the hell it went
All the nights we spent hiding from the world"
I got some more information about the Benjamins show that's happening December 18 at
Mad Planet
. This e-mail comes from Chad, the singer for
The Saltshakers
, who are on the bill that evening:
"Ryan, I ran across your blog, and saw you were looking for info on that Benjamins show. It's a 21+ show and the Etiquette and The Saltshakers are opening. MP is not all that lenient when it comes to letting underagers in, but if you call in advance to ask for special arrangements - they're pretty reasonable people. If you need any more info let me know. Get there at 10 and see us!"
Thanks Chad, will do! It should be noted that the almighty
Justin Perkins
produced
The Saltshakers
new CD. The production is great, and The Saltshakers will leave a sweet taste in your mouth! (I'm practicing to be a music critic. Was that a good closing line?)
I talked to Ben from the Benjamins, looking for some sort of explanation for the reunion. His response?
"Some of us were bordering on boredom."
If you're not there that night, you're worse than nothing. Unless there's snow, in which case I'm not going anywhere. Only time will tell.
As I've been mentioning for the last week, I took today off. I celebrated it by spending $100 in Madison on myself and others. I figured that the
State
was paying for me to sit on my ass at home, I might as well do something fun with that cash. I bought myself 2 new books from the
Disinformation
folks and the new CD by
Muse
. I bought the
Missus
a cat-themed calendar for her cubicle along with a stuffed cat I found at Toys-R-Us that looks like Tinker. I also bought some Christmas presents that are off-limits from discussion as of right now. I also bought Benjamin the Complete First Season of Home Movies, only to discover that he already stole it from Netflix. Tomorrow morning, I'll be returning to Best Buy with the receipt, and I'm using the store credit to buy more things for myself. I'm never attempting to be giving again.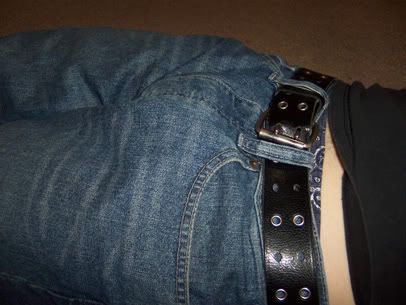 This is picture that Celia took of me while I was sleeping on the floor. Isn't it funny to think that someone would have the brilliant idea to snap a beautiful sunset, and also be the same person to snap my pants while I was unconscious? I swear to God, there's something wrong with my wife. Remember, photographers are only as good as the material they're presented with.
We went to Pizzeria Uno for dinner, where Celia told me that her former Supervisor had a heart attack. She also informed me that he was a practicing Buddhist. I think he needs to practice a bit harder. It's a sad sign of the times when Buddhists start having heart attacks.
Try not to call or bother me this weekend, God damn it. I'm on vacation. I'm going to spend Saturday in bed with my lady (sleeping), and I'm spending Sunday in front of any televised football game. We have a nice compromise worked out.
The C.D.P. Year In Review
Best/Worst of 2004
Decapitated Stick Figures
Much, Much More!
Comments:
It sounds like you and Ben had a very productive day. We have once again decided against a Christmas tree this year due to the cats. In 2002, we had a tiny tree in our first apartment that the cats wouldn't leave alone, and we haven't trusted them since.
It would be really cool to get like, a 10 foot tree for the place, but I just know they would tear it down.
<< Home