Sunday, November 7
I'd Kill For A Pool Table.
We've been living here for a bit now, but I never had the chance to put these pictures up. If you haven't had the chance to visit us at our new place yet, please do so. I still have plenty of liquor left over from the Halloween gathering, and you're welcome to crash upstairs (not pictured).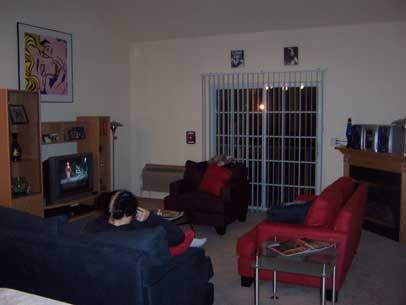 Here we see the Missus enjoying a wholesome television program. Tinker curls up by the fire.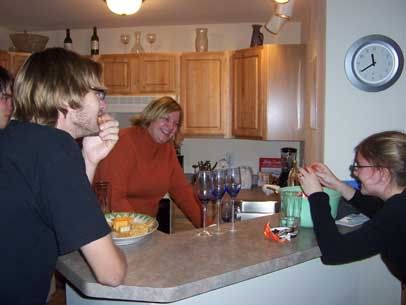 4 inebriated strangers congregate in my kitchen. They refuse to leave until all the chocolate, cheese and wine is gone.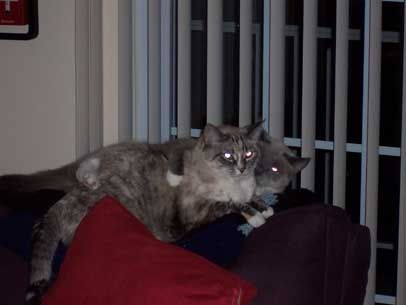 Gabriel and Tinker consummate their love by the fire.
I hope you had a good weekend. I worked more on
BOYCOTT UNITY
, bought a few CD's and the new
Get Fuzzy
book. Celia bought a new winter coat, and we celebrated the purchase with a brisk walk. Tonight, we shall watch brand new episodes of King of the Hill, The Simpsons, Malcolm and Arrested Development. Whoooot!
Friday, November 5
Post #100.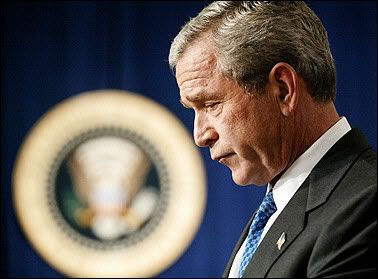 No recount.
No earth-shattering problems, no ugly messes and no lawyers. No fist fights in voter lines, no fires, no tear gas, no civil war and not a single protest. No hanging chads, no effigy, no duels to the death and again, no recount. We all expected a disaster on November 2. We got much worse.
So what happened?
Well, a lot of things. First off, the ballot intimidation happened in the cases of both parties, and octogenarians can't figure out a touch-screen ballot regardless of their political affiliation. I'll call that excuse a wash. People waited in line for up to 10 hours in Ohio, and it wasn't just Liberals who decided they were better off at home with a bottle of Killian's Red. I will also call that a draw. In fact, the result was almost identical to the result of the 2000 election, only this time Bush was more of a clear winner. Buh?
Here's where we went wrong. Once again, I will squarely blame my generation. Didn't P. Diddy tell you he would kill you if you didn't vote? Weren't you afraid of what Puffy was going to do to you? Haven't you seen his faux-hawk?
20 Million Loud! Rock the Vote! Choose or Lose! This was supposed to be the year that the youth decided the election. Not only did the numbers for the "youth" remain unchanged since 2000, the votes went the exact same way as well. The Christian, tie-wearing Republican youth showed up in droves. They waited patiently in line, quoting scripture and having many children. The Secular, hoodie-wearing Democratic youth must have thought that Puffy was going to vote 20 million times FOR them. It's a common misconception. Way to go. I lost faith in my generation years ago, but I decided to put some stock into them this year. Well, we all decided to put stock in them, and any chance they had to make their voiced heard went up in a cloud of pot smoke. Of course, I'm being very stereotypical and downright wrong, but who else are you going to blame? The truth is that we all did what we were supposed to do, and there just weren't enough of us at the polls. We still might be the majority, but the majority doesn't mean anything when you don't do your job. I've picked apart these stats for days now, and I don't know how else to say it. The year of the revolution turned out to be the year of more of the same.
Let's move on, because we have a lot to talk about. I could parade around my new catchphrase, "The Youth Sucks!", but we honestly tried and there weren't enough of us to swing the polls. I prefer the tried and true catchphrase, "The South Sucks!", because it's 100 percent true and I can't say it enough. As the projections kept coming in, I was praying out loud that the entire center of the United States would be sucked into a fiery abyss, leaving only the blue-colored crust behind. Of course, this never happened. Then again, I was watching Fox News for some of the night, so if it did happen I wouldn't have known. The "Heartland" again decided another election, while the "Communists" and the "Purveyors of Evil" slinked back into their trendy condos and glittery abortion clinics. We should have known better than to mess with people who have gun racks bolted in their trucks.
I used to live in the "Heartland". I used to work at a gas station so deep in the middle of red territory, that slavery was openly discussed over coffee and cigarettes. "Personally, I think everyone should be able to own 1 or 2 of 'em", one would say. The other would nod somberly, as if they were born just a few centuries too late. I am by no means proud of this, in fact, it's deeply saddening. The best part about living in Larsen was that there were homosexuals, transvestites and folks with AIDS living right next to the gas station that nobody seemed to care about. To call all Republicans hypocrites would be a dangerous generalization, but hey, I just said it. The farmers and religious right will proclaim this victory as jubilantly as they would cheer the second coming, and some believe that Bush IS the second coming. Sadly, the farmers will lose more money and land as the years roll on, wondering why this is happening, and never stopping to question their leader. My hypothesis is that farmers know damn well that Bush is terrible for them, but they like to complain so much that voting for change might kill them. Spending the majority of my life around farmers, I know for a fact that they are the biggest group of babies on the planet. For how hard they work, and how humble our projections of them are, they will all but have a tantrum at the drop of a straw hat. You know how much Republicans value tradition, though. Good old American values, like lynching niggers and faggots, and beating women for speaking out of turn. Who are we to change what this country was built on? How dare we interrupt the steady downward slope of history? But I digress.
To unite or to divide further? That's the big question now. I've been talking to hoards of co-workers and friends about this topic, and they remain certain that they will never attempt to unite with the kinds of people who would put this guy into office. I'm prone to agree, but for what outcome? After September 11, we had never been as united as we were then. 3 years later, this place is taking sides and looking for an ass to kick. If you don't think we could start a war within our own country, with our own people, then you have no concept of reality or history. It can happen again, and the flames are only getting hotter.
People asked me if I was angry when I saw Bush win. I wasn't angry, I was terrified. I was instantly terrified for my friends and (most of) my family, because it meant that what we believed was in jeopardy. We have a chance to go backwards in history in a very short amount of time. The Senate gained a lot of Republicans, and Democratic rights and freedoms hang in the air. This may sound great to a number of people who are against women's rights, civil liberties, decent health care and overall peace, but it's pretty grim for the rest of us.
Oh, that's another thing. I don't want to get drafted. I don't feel like dying or deserting for something hardly anyone believes in. I swear to Christ (or George Bush, if you prefer), if I get killed as a direct result of this fictional war, I'll stop at nothing to see to it that my corpse is mailed in pieces to the Oval Office. The same goes for anyone I know. I'd be happy to fight in a war that I believe in, and if he reinstates the draft due to poor planning, I'll certainly fight to overthrow his entire cabinet. Thanks to the Patriot Act, I'll be visited by the Secret Service for that previous remark. Don't you feel safer?
Let's get positive for a second here, because a few good things did come out of this election. First off, Wisconsin went to Kerry. This means that if you live in Wisconsin and voted for Bush, it mattered none. It's a small victory, but I'll take it. Secondly, Dane county went 100% for Kerry, and that was the reason he won the state. I love it here, and I'm not moving anytime soon. Also, Tammy Baldwin and Russ Feingold took care of their challengers, and will continue to make Wisconsin an amazing state to live in. Sure, the taxes are high, but we don't have tollways and our streetlights work. Russ should run for President, because he's a wonderful senator. I loved the way he dispatched Tim (I ran a construction company) Michels during the debates, reducing him to the likes of a whimpering child. Come to think of it, that's what John Kerry did to Bush 3 times. In fact, the entire Northeast voted for Kerry. I was very proud to see that little cluster of blue in amongst the sweaty, inbred filth of the red. (People from the south cannot read, and refuse to bathe.)
(The following fact was taken from MichaelMoore.com without permission:)
Most importantly, over 55 million Americans voted for the candidate dubbed "The #1 Liberal in the Senate." That's more than the total number of voters who voted for either Reagan, Bush I, Clinton or Gore. Again, more people voted for Kerry than Reagan. If the media are looking for a trend it should be this -- that so many Americans were, for the first time since Kennedy, willing to vote for an out-and-out liberal. The country has always been filled with evangelicals -- that is not news. What IS news is that so many people have shifted toward a Massachusetts liberal. In fact, that's BIG news. Which means, don't expect the mainstream media, the ones who brought you the Iraq War, to ever report the real truth about November 2, 2004. In fact, it's better that they don't. We'll need the element of surprise in 2008.
Some people say that you get what you deserve. I tell them to get the hell out of my house, because I never asked for any of this. I mean, how much does it take before the beaten finally rise up and do something. That's what was supposed to happen this year! Instead, the religious right came out and solidified their stranglehold on progress. When people tell me that there's nothing that can be done now, and we should stand together and unite, I cannot believe what I'm hearing.
You know what I say?
BOYCOTT UNITY!
This is my 100th post at the CDP. That, coupled with my newfound rage, has inspired me to do something I should've done a long time ago. As of today, I'm launching
Boycott Unity
. This is an outlet for what we are feeling and what we feel should be done about it. I want this page to go back to what it once was, primarily a humor, essay and satire site.
Boycott Unity
will be where you go when you want to vent about what's happening around you. Once again, to clarify:
Politics=Boycott Unity
Everything Else=CDP
The best part about the new page is that it's 100% interactive. Say whatever you want, share news you've found, or ideas you want to discuss. Post in the comments, or e-mail them to me, and I'll post it. I want it to be a voice for everyone who wants to speak. A collective against the "majority", refusing to accept what has and will happen to this great country. Please go there, give me suggestions, and start ranting! With that, this is the last political post the CDP will ever see.
It's never over, people.
Tuesday, November 2
I Reject Your Reality.
Please use this area to post any and all comments related to the Election. Speak your mind!


Right Now.
VOTE!

If you live in Wisconsin, as I do, the polls are open until 8pm. They cannot close the polls if there are people in line, so just show up before 8 and you'll be able to vote. You do not need to register beforehand, so just bring along a ID, and that's it!

If you don't live in Wisconsin, go to Yahoo.com, and find your local polling place. Simple as that.

We'll talk about all of this tomorrow. Right now, we all have a job to do.

VOTE!


Monday, November 1
I Have A Plan.
Today is November 1. My favorite month is over, quickly replaced by a heavy downpour and icy winds. We've added an extra hour to our routines, turned back the clocks and checked the batteries. Halloween is over, and the biggest election of our lifetimes will take place tomorrow, and probably will not end until January.
Enough being poetic. I had an enjoyable weekend. My Halloween gathering went just fine, although it included a bit more alcohol than I had figured. I was fine, but some of my friends hit the wall a little hard. (Just Ben, actually.) It was all in good, responsible fun though. We watched a movie and did some bowling. It was nothing major, but nobody I know likes major events. I hope they had a good time, because I like to play host.
If I may make a big deal out of something very insignificant, I forgot to watch Saturday Night Live because I thought it would be a re-run. I had already made this mistake last week, and missed out on the Ashlee Simpson disaster, which they will surely never air again. This week, I missed Kate Winslet. This upsets me, because I have a little boy crush on this woman, and think she's the second most beautiful female on the planet. (The Missus takes first prize.) It just so happened that I had a dream about her last night, without even knowing that I missed out on her SNL hosting duties. It wasn't a naughty dream or anything, I just like her is all. Enough!
Now listen, we've got to talk for a second here. Man to man, or man to woman... or woman to woman, if you prefer. It's about this Election tomorrow. It's important, it really is. The last few elections have been sort of worthless. 2 candidates who agree with each other on almost every subject. It really didn't matter who you voted for, if you voted at all. This year is different. We have 2 rich, white millionaires who disagree on almost every damn subject you could bring up to them. We actually get to choose which one of these people agrees the most with us, and vote for them as our President. Pick a topic that matters to you. This war, the draft, abortion, health care, the economy, taxes, education, the environment. These candidates have a different opinion on all of these issues. If you already know who you're going to vote for, good for you. Vote for the guy who you think will instill your beliefs in the Oval Office. If you're still undecided, or are considering staying home, you're missing out on something that's honestly going to effect you. It will take you no more than 5 minutes to look up what the candidates have to say about almost anything. Make an educated choice, and cast your vote. Wisconsin is a great state, because they let you register to vote on the day of the Election! No phone calls to make, no e-mails and no letters. All you have to do is show up at your local polling place, and it will take you 30 seconds to change the world. If that sounded queer, you need to know that I wouldn't say it if I didn't believe it was true.
Everyone is telling you how to vote, myself included. Personally, I'm voting for John Kerry because I agree with about 95% of his values. I also think George W. Bush has endangered the lives of every single human being on the planet due to his sins, and the collective sins of everyone in his cabinet. My decision was easy. 4 years ago, I never thought I would be drafted to go and die in the Middle East for no reason whatsoever. Now that is an honest reality. On the other hand, there are many reasons to vote for Bush as well. Here's just a few:
1. Are you a white male?
2. Do you make over $200,000 a year?
3. Do you own more than a dozen rifles?
4. Do you dislike faggots and spooks?
5. Do you want more retarded people to be executed?
6. Are you tired of women making decisions for themselves?
If you answered "yes" to any of those questions, you really should vote for George W. Bush tomorrow.
The Republicans like to do a lot of fear mongering to frighten people into voting for Bush. They've almost promised another attack on America if Kerry is elected. Of course, the only recent attack we've seen on America was when Bush was in office, so to think he'll protect us from another one... well, that's a little counterproductive. Frankly, I'm sick of talking about this.
Tomorrow is important. It really is. Do your part. Vote for the guy you agree with the most. If you don't know who you agree with the most, FIND OUT. We, the people, get to pick the next President of the United States, in a time where we have a lot of blood on our hands.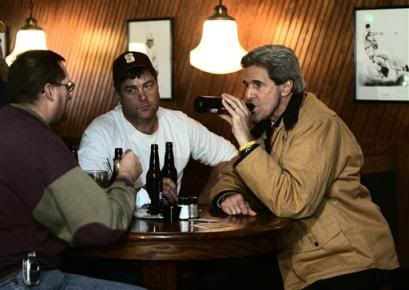 Please make it happen.
(EDIT: Read a great article by Michael Moore
RIGHT HERE
. Do it before you vote!)