Friday, August 19
"The Sky Just Exploded."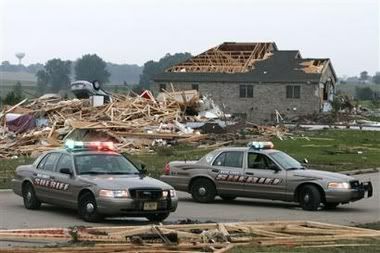 We had one fatality here in Dane County, but everyone else is safe and sound. I wish I could say the same about all of their possessions. Check
Yahoo! News
for more information, and check below for what I had to say yesterday.
Comments:
Man, we got lucky. Jeff said that the tornado sirens were going off in Sun Prairie. He called the town at 6:15 to see if they cancelled the parade, and they said "Well, we haven't called it off yet." Jeff then held his phone out the window and said, "Do you hear that? Those are YOUR tornado sirens!"
They did call it off, by the way. Apparently, Jeff was standing on Main Street by himself for a bit before he realized what was up.
<< Home