Saturday, September 24
The Red, White & Black.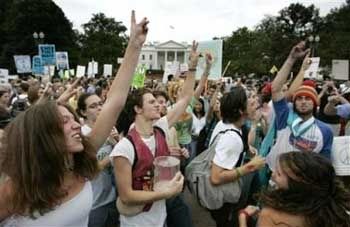 "We are losing our best and our brightest in a country that we are destroying that was no threat to the United States of America. Iraq was and still is no danger to our safety and security, or to our way of life. The weapons of mass destruction and mass deception reside in this town: they are the neocons who pull the strings and the members of Congress who have loosened the purse strings with reckless abandon and have practically given George and company a blank check to run our country into monetary and moral bankruptcy. We are out here in force today to take our country back and restore true democracy and sanity to our political process. The time is now and we are here because we love our country and we won't let the reckless maniacs destroy her any further.""George, this is our rainy day and you have failed us miserably."-Washington D.C. September 24, 2005.
Comments:
I think maybe protests haven't been deemed that newsworthy in the last decade or two. There's been a few I've been interested in and then everyone involved complains about how they're getting blocked out or under-represented in the major media. Looking back, I don't think most protests get much front page press unless it turns violent or something.
I wonder if this is why people on both sides of the political divide feel like the press is biased the other way. Maybe major media just does a crappy job of covering everything.
<< Home