Tuesday, November 15
Game, Set & Munch.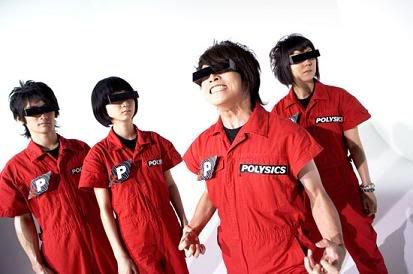 (Polysics. Still the greatest band in the world, in case you forgot.)
1. Hey, what are you watching on TV tonight?
6:00 - 7:00 - The Simpsons - FOX (
Local
)
7:00 - 8:00 - SNL In The 80's - NBC (
TiVo'ed
)
8:00 - 9:00 - House - FOX
9:00 - 9:30 - My Name Is Earl - NBC (
TiVo'ed
)
9:30 - 10:00 - The Office - NBC (
TiVo'ed
)
2. Hey, what are you listening to right now?
Neutral Milk Hotel -
In The Aeroplane Over The Sea
Supersystem -
Always Never Again
Less Than Jake -
Hello Rockview
James Brown -
Greatest Hits
Wolf Parade -
Apologies To The Queen Mary
My Morning Jacket -
Z
3. Hey, did ants eat a woman's eye out in India?
Yup,
CLICK HERE
for the most nauseating story you will hear all week.
4. Hey, what's this I hear about China getting rid of their
Engrish
?
Check it out
. They want to clean up their image by the Olympics. It's a damn shame.
5. Hey, what's new in the CDP Network?
Well,
The Girl From Mars
breaks down the logic behind medicating a cat, and
I Think This Is My Exit
invites us to a martini party. Sweet.
6. Hey, how's Sweeps Month coming along?
Pretty good. Our hits have certainly improved, thanks mostly to Lost Fridays. I've been linked on several
LOST
locations, including the
OFFICIAL ABC LOST MESSAGE BOARD
. That tends to rake in a bit of traffic, and for that I'm thankful.
Apart from that, I still have all the big year-end things planned for the next 2.5 weeks (stick around, they rule). Then I shall go on a long vacation, and watch the December slump slowly destroy the CDP.
7. Hey, is that it for today?
Yup. Sound off in the comments section. What are you up to today?
Comments:
1. Probably just The Office and Earl tonight. I watched a tivo'd Ben Folds on Austin City Limits over lunch today.
2. Iron & Wine - Woman King, also been rocking the Wilco - Yankee Hotel Foxtrot today.
3. Yikes.
4. That is a shame. If you take away the Engrish, all you're left with is the Communism.
5. If you let your cat drink martinis, I bet the medicine would be no problem.
6. Glad to see the CDP finally getting national exposure.
7. Drafting. Refreshing this comment section every five minutes. Tonight, I need to go to Best Buy and get the new live Wilco 2-cd. Plus, I've got a sweet $5 reward zone voucher to use on it. The cashier is going to be so impressed, she might even offer me a free magazine trial subscription.
<< Home