Wednesday, December 7
The Not Top 10.
In about a week or two, I will reveal my list of the best albums of 2005.
I can tell that you're tingling with anticipation.
Before I get to that, however, I have some house cleaning to do. You see, I bought a lot of albums in 2005 that were
released
in 2004, making them void from this year's (
and last year's
) countdown. A lot of them were quite good, so I thought they deserved their own little slice of recognition.
Here then, is my list of the top 10 albums of 2004 that I bought in 2005. I apologize for missing the boat on these right away. I will buck up on my hipster cred, and this lapse in judgement will not be repeated in 2006. You have my word.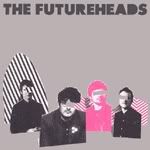 10. The Futureheads - The Futureheads
The Futureheads released an unlikely hit record with their self-titled American debut. Clash-style post-punk mixed with pop sensibility made for a nice, honest throwback from the new-new wave movement of 2004. Singles like "First Day" and "Decent Days & Nights" were just as catchy as anything Modest Mouse or Franz Ferdinand released in the same year.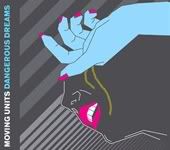 9. Moving Units - Dangerous Dreams
The New York dance-rock outfit didn't break into the mainstream with
Dangerous Dreams
, but they caught the eye of a lot of critics and fans of the genre. Sexy but not sleazy, naughty without being flithy, Moving Units took the new wave stutter and shake of the 80's and mixed it with Q and Not U-style quitar work and pulsing drums. Sounds good to me.
8. VCR - VCR
The closest thing America has to Polysics, VCR's latest EP was a spastic, synth and screech-driven, pop-crapsterpiece. Replacing guitars with three keyboards, VCR proved that synth bands could still throw your ass into the pit. Sometimes annoying and over-the-top, other times even
more
annoying and over-the-top, VCR is going to be a force to be reckoned with once their full-length finally comes out.

7. Cake - Pressure Chief
Cake is like a Jeep. Reliable and consistent, you can always depend on something good coming from Sacremento's finest quintet.
Pressure Chief
is Cake's worst album, but that still places it high atop most other band's entire catalogs. Mixing folk, hip-hop, amazing bass work and a well-placed trumpet blast here and there, Cake sounds like nobody else while maintaining a signature sound that's suited them well for over a decade.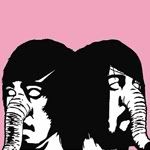 6. Death From Above 1979 - You're A Woman, I'm A Machine
This album is loud. I mean that literally; it's very loud. Considering that DFA1979 consists only of a drummer and bassist, it's surprising to hear such a wall of crunching sounds on
You're A Woman, I'm A Machine
. Sex-rock-dance-metal with a moustache. I've said enough, and yet I've said so much. The icing on the cake? They're from Canada.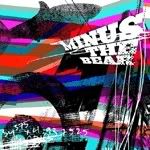 5. Minus The Bear - They Make Beer Commercials Like This
Minus The Bear is growing up, and this was the link between the old and the new.
Beer Commercials
has the goofy song titles and phenomonal quitar work of
Highly Refined Pirates
, but introduces us to the more synth and beat-driven sound they explored in
Menos El Oso.
Lush lyrics and atmospheric production gives us a look at a band that still has plenty to create, goofy or not. Booyah Achieved.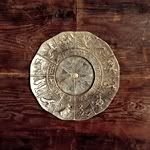 4. The Good Life - Album Of The Year
I had a dream that Tim Kasher (
the mastermind behind The Good Life, along with Cursive
) and Conor Oberst got into a fistfight in the Saddle Creek offices. Tim was drunk (
as usual
) and jealous that Conor (
also drunk
) gets more attention with Bright Eyes, even though he's clearly lacking the songwriting talent and intelligence of Kasher.
Album Of The Year
drives this point home perfectly, as he accomplishes what Oberst can't do: a solid, emotional album from start to finish.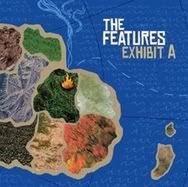 3. The Features - Exhibit A
The album picture is extra-big because it extra-rules. Emerging from the deepest mountains of the south, the Features crank the amps to 11 and blast out the catchiest and feel-goodiest album of 2004. Southern rock-meets-Pirate rock-meets brilliant-as-hell power pop-meets my still heart. You'll love it.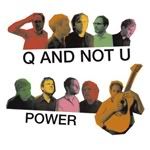 2. Q And Not U - Power
We now know that
Power
will be the final album for Q and Not U, choosing to disband in November of 2005. What I liked best about them was their ability to follow their own direction, and break free from the standard Dischord fare that the DC scene is known for.
Power
is the sound of a band again challenging themselves and pushing the envelope of their talent. Each Q and Not U album is great for different reasons, and
Power
is great because it was so unexpected.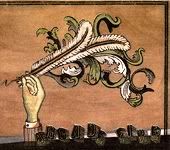 1. Arcade Fire - Funeral
Funeral was released in September of 2004, but was more widely released at the very beginning of 2005. I snagged my copy the first week of January, and since then it has been the standard by which I measure what I'm listening to. I've listened to over 100 albums since that first week of January, and nothing has even come close to matching the emotion, intensity, depth and character of
Funeral
.
Rag on me all you want, but start by ragging on the dozens of critics, hundreds of respected musicians and thousands of obsessed fans that treasure this album with cult-like appeal. Check your favorite indie web page or magazine. Ask your favorite music critic. Most everyone knows and has agreed that
Funeral
is, was and always will be the best album of 2004/2005, so understand and accept it, yo. Don't hate the playa', hate da' game; and don't hate Arcade Fire because they're beautiful. I could go on for 10 more pages, but I'll save it because I'm no longer in the mind-changing business.
There you have it. In case you're keeping track, here's what the CDP has voted Album of the Year for the past few trips around the sun:
2003: The Weakerthans - Reconstruction Site2004:#2 - Communique - Poison Arrows#1 - Arcade Fire - Funeral2005: ???
The 2005 list is on the way. Stay tuned, and start the flamewar in the comments section, ya' turds.