Sunday, June 5
Why Can't I Have One For Myself?
(Quoted directly from the Mystery Science Theater official website:)
What's the worst movie ever made? The subject is open to debate, but for over a decade, many
Mystery Science Theater 3000
fans have agreed on one answer:
MANOS: THE HANDS OF FATE
. Now,
Entertainment Weekly
joins that consensus with a four-page article highlighting Torgo, the Master and other denizens of Hal Warren's infamous creation. Oh, and it quotes a certain
Michael J. Nelson
, too. Look for the June 10, 2005 issue in a mailbox or magazine rack near you.
Here's the funny part: This comes exactly ONE week after I cancelled my Entertainment Weekly subscription. I swear to you, I've waited three years for them to talk about something I'd care about, and now they give Manos four pages worth now that I've given them the boot. The closer you get to me, the more things like this will happen to you. I understand that I can purchase the issue at the newsstand, but I think you're really missing the point.
If you haven't had the chance to see Manos (from MST3K or otherwise), you really should do so. You'll try to remember what life was like before you saw it. Food will taste worse, nightmares will be rampant and you'll start to resent your reflection in the mirror. It's quite the creation. I'm in complete agreement that this is the worst movie ever made, and I have a collection of hundreds of the worst movies ever made. When it comes to crap smeared onto film, I'm your man.
So, what am I up to? Nothing much. I've more or less had the phone shut off for a week now, so I've got that going for me. We also bought a new fan for the bedroom, so I can sleep without having to install a sweat-drain in my floor. My first anniversary/Toronto trip is just around the corner, and I'll have a lot to share with you concerning that coming up. So stop back often this next couple weeks, because I finally have some things that I want to share with you.
I'm going to go and pack my lunch for work tomorrow.
Friday, June 3
Hired Goons.
I'm in a bit of a creative rut right now.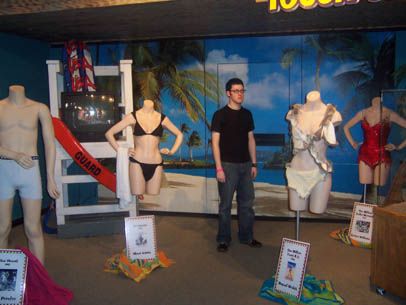 Personally, I blame the weather. Who can focus on anything longer than 4 seconds when you're constantly peeling yourself off of the furniture? I have an anniversary coming up coupled with a week-long trip to Canada, and I can't for the life of me think of anything entertaining to talk about. Perhaps this vacation is just what I needed.
Don't get me wrong, sitting around the house is great. However, I've been feeling mostly worthless lately. Not only because my creativity has taken a backseat to humidity, but because I'm dropping the ball around the homefront as well. Normally, I'll get home and clean the house before the Missus shows up. I pay the bills, balance the checkbook and sometimes even make dinner before she arrives from a job that's much more difficult than mine (she works on the kill floor of a turkey slaughterhouse). I'm happy with the routine, and the Missus is content.
Nowadays, I come home sweaty and ripe. The humidity makes me feel as if I'm walking through broth, and the only thing I want to do is sit down until dinner is ready. The most I do before the Missus arrives is play a little Mario Kart on the GBA, and change from khakis to jeans. Lazy.
I'll get out of this rut, I always do. The problem is that I still feel worthless. What I need is a little motivation.
What I need... is Tony Little.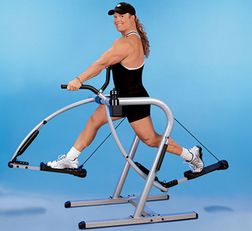 If Tony Little can't motivate you, then you're already dead, brother. This guy was a two-time national body building champion who almost lost everything in a horrible automobile accident some time ago. Since then, his Ab Isolator along with his Gazelle (pictured) have changed his life and the lives of millions of others (quoted directly from memory, I watched a lot of late-night infomercials in the 90's). Quite simply, this guy's going to whip you into shape, or at least scream in your ear until you write him a large check. I was on board.
After some light travel and dining arrangements, Tony was on his way to my house. I was worried that he would be disgusted by what I had become, but I knew that I was doing the right thing for myself. This was going to get me back to top form, and maybe I'd get a cool Gazelle out of the deal. I tried one of those at Dick's Sporting Goods a few months ago, and I tore my groin so badly that the assistant manager could hear it all the way over by the pool tables.
I was laying on my couch with a bottle of New Glarus Spotted Cow beer, when Tony Little kicked in my door, leaving splinters and scattering cats in his powerful wake. He wrestled the beer from my tight grip and smashed the bottle over his head, shaking the shards out of his beautifully groomed, curly blonde hair.
Then he kicked my ass.
It felt like an hour. Maybe two. Turns out it was only a few seconds, but I swore I was going to die. The last thing I remember was Tony raising his massive "Mr. America" trophy over his head, and then everything went dark.
When I woke up, I was a new man. Tony was gone, and he even cleaned up the house (it was included in the fee). The only proof that he was even there came in the form of an Ab Isolator, sitting on my kitchen table with a red bow on it. I was stunned, and most importantly, I was a man again.
It's only going to get hotter as the months roll on, but thanks to Tony Little and his beating me to within an inch of my life, I'll function like it's October all year round. What
can't
that man do?
Read. That's what Tony Little can't do. Tony Little can't
read
.