Monday, September 5
Talk Nerdy To Me.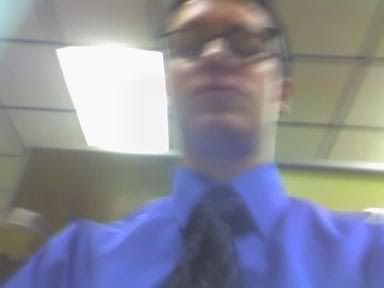 (This is what I have to wear to make money. It's humiliating.)
Very, very soon from now, you will be treated to a massively entertaining and lengthy post about my extended Labor Day weekend. There will be pictures and stories to share concerning the
Architects
show on Saturday, the
Of Montreal
show on Monday and everything in between. No doubt, I'll also be wetting my pants in delight over the release of
Lost: Season 1
. I'm actually looking forward to reading that post myself.
Until then, to tide you over, here are some phone pictures that you've never seen before. They have recently been discovered deep in the
CDP
photo vault, and are being unearthed for the first time right here.
Or, I was having problems with my phone, and I couldn't get them to you until now. Either way, it is specifically designed as filler, and fill it will. Enjoy these hunks of blurry goodness for the next day or two.
"The Motel."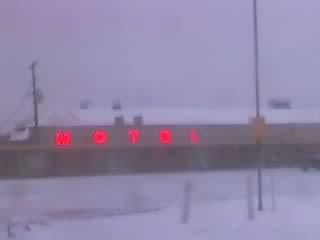 I think this photo, shot in January of this year, captures the stifling depression of a Wisconsin winter. Motels like this don't exist too much any more, and for a good reason. I'd like to know how many people killed themselves in one of those rooms. For the record, this particular establishment greets me every morning on my way to work. It's much less depressing in the summer.
"The Blur."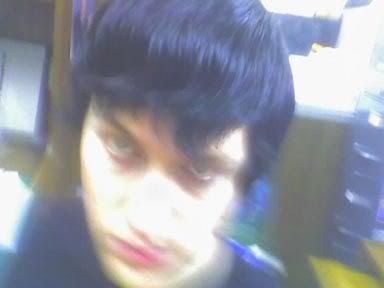 A few months ago, I had long hair. I also took shaky pictures of myself at work. Those days are behind us now. I was getting sick of clogging my shower drain with 8-inch long strands of black hair, and having my immovable curls laugh in the face of even the most hardcore of straighteners. A change was in order.
"The Trim."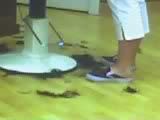 The
Missus
shot this photo of my final follicle resting place. You can tell that I go to a very high-class salon by the capri pants and flip-flops that my stylist is wearing. I think she was 18, and wouldn't stop talking to me for any reason.
I soon realized that when getting a haircut, you can't really end a conversation early and leave the premises. If you were to do so, you'd be toddling down the corridors of the mall with half a haircut, leaving a trail of clippings and wearing that foolish cape. Nope. You have to listen to every angstrom of what this woman wants to say to you, no matter how inane the topic. If you decide to tell her that you'd rather not engage in conversation, she may stab you in the brain stem and pour barbicide into the gaping wound. No thank you. Give me the boring conversation any day of the week.
"The Flight."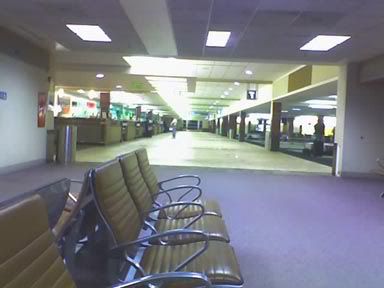 This is what an airport looks like in the middle of the night. We were there to pick up a friend who was coming in from Minnesota, and the flight was running a bit behind. Something like, 8 days behind.
For my money, nothing is more depressing than an airport. Everyone there is either saying hello of goodbye to someone, they're always crying and are usually holding a sad novelty mylar balloon. Worse yet, some people have nobody to say hello or goodbye to, which is in another league altogether. There's absolutely nothing to do but sit and wait (there's no arcade at an airport), the bar's never open when I'm there, and there aren't enough people around to play a game of "
spot the terrorist
". It's a game I invented where you look at the people around you and determine how they would take down an airplane. For legal reasons, I cannot share with you how I would do it.
"The Rory."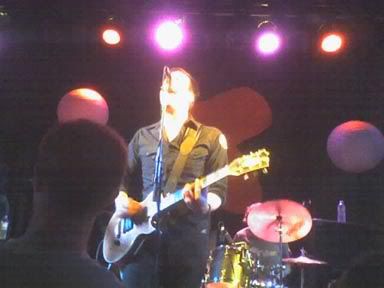 Here's a shot of Rory from the
Communique
show a month or so ago. As you may remember, I was still reeling from the interview I had written before the show, more so concerning how the editors sort of chopped it up (
read it in the writings section!
). I tracked down Rory after the (fantastic) show, and asked him if he got a chance to read it. He told me that he had and enjoyed it, which made me happy enough, regardless of if he was lying to me or not.
So, there you have it. Another dip into my very soul. Again, the Labor Day weekend post will be here in record time, and don't forget to check out the new articles in the "Writings" section. They are the only things on this page that pay my bills, so support is always appreciated.
What did you do this weekend? The conversation continues in the comments section.
Thursday, September 1
Increase Speed, Drop Down, Reverse Direction.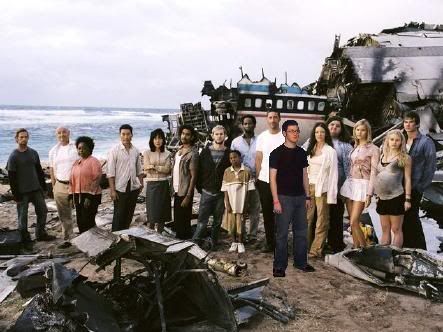 Screw internet phenomenon, I want to be a
castaway
. Too subtle?
My new articles will be up in the writings section before you know it. You're going to love them.
The three-day weekend is upon us, use it wisely. I'll return with many a story, including full reviews of the Architects and Of Montreal shows in the next couple days.
Season 2 starts on September 21. I'm throwing a party at my house in honor of the occasion, and you're not invited. In fact, it's so exclusive,
I'm
not even invited. I bet it's going to rule, though.