Thursday, January 19
Jeep Pizza. (FOX Sucks.)

When FOX decided to cancel
King Of The Hill
after 10 great seasons, I was upset, yet I understood the business behind it. When they decided to pull the plug on
That 70's Show
after 4 great seasons and 3 terrible ones, I again understood completely. Even now that
Arrested Development
is biting the dust after 3 of the greatest seasons in TV comedy history, we only have ourselves to blame.
But now I see that
Malcolm In The Middle
will air its final episode this season, and I'm left to wonder if FOX is purposely trying to become the worst network on television.
Malcolm
, like
King
and
Futurama
, became the latest casualty of the "Football Death Slot," essentially pre-empting and cutting their new episodes in favor of bonus football programming and postgame analysis. This happens to a new show each year; causing viewership and ratings to taper off into oblivion. Instead of doing something about it, the network merely casts these shows aside, as football draws better ratings than sitcoms.
American Idol
can't run forever.
Prison Break, 24
and
House
are doing great, but three dramas does not a good network make. Even the rumor that
Futurama
will return can't save FOX now; they have axed their varsity squad. What they're left with are third-rate comedies, horrid reality programming,
Cops
and the 17-year-old
Simpsons
. Good jorb, Rupert.
I give FOX credit for taking chances with groundbreaking shows. However, other networks are catching on, and FOX is starting to look washed up amongst the heavier hitters. What was once an edgy and hip network is looking long in the tooth and cranky, throwing cats at you from their front porch.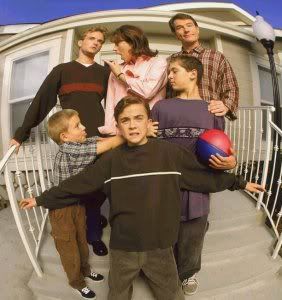 Malcolm In The Middle
was once the highest rated comedy on FOX. It raked in 15 million viewers a week, which is huge for FOX comedy standards (
AD rakes in about 2 mil. at the most
). For 7 seasons,
Malcolm
never waivered, giving fans a brilliant episode every single week. It surpassed the
Simpsons
in wackiness and writing, yet remained completely believable and charming. Instead of praising the countless Emmy wins and incredible strength of show, FOX took them for granted and tossed them around the lineup like a Jeep Pizza (
reliable, yet tossable and tasty
). Malcolm is essentially one of the most underrated comedies of all time.
The FOX Sunday night lineup ruled a few years ago.
Futurama, King, Simpsons, Malcolm, Family Guy
and
Arrested
were all shuffled around for 2 good years. Since then, every show but one has been cancelled, with
Family Guy
coming back for no reason other than money.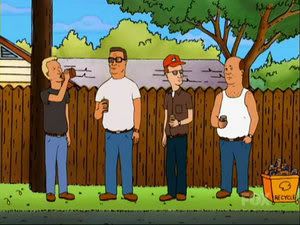 This
Malcolm
news angers me more than the February 10th Series Finale of
Arrested Development
. Shows like that are doomed from the start, as they will never attract a big enough following on national TV.
Malcolm
would fit right in on any network, and has one of the best casts on the small screen.
So, here's my proposal to NBC: Turn your
'Must-See Thursday'
night lineup into what FOX used to have; good, funny shows. Call it,
'Must-See, No Laugh Track Thursday Night, Sponsored By Ford:'
7:00-7:30 - Scrubs
7:30-8:00 - Malcolm In The Middle
(Sign them to a 1-year deal. The kids are getting too old, but at least give them a chance to go out in style.)
8:00-8:30 - My Name Is Earl
8:30-9:00 - The Office
9:00-9:30 - Arrested Development
9:30-10:00 - New Episodes of Seinfeld (
Force the cast to perform at gunpoint; no laugh track.
)
I'm only half-kidding about this. Enough ranting, here's the FOX story, straight from Yahoo:
Fox brings back "Idol" as curtain falls on sitcoms
Fox television, roaring back to prime time with mega-hit "American Idol" on Tuesday, said it was likely to scrap Emmy-winning ratings dud "Arrested Development" even as other networks made bids to pick up the comedy.
The News Corp.-owned network also said it was formally bringing down the curtain on two veteran comedies, "That '70s Show" and "Malcolm in the Middle," both of which will get their series finales in May.
Speaking hours before the premiere of a fifth edition of "American Idol," the No. 1 U.S. TV show last season, Fox Entertainment President Peter Liguori voiced disappointment that "Arrested Development" was headed for the chopping block.
"It's highly unlikely the show is coming back, but no definitive final answer has been made on that," Liguori told a gathering of TV critics in Pasadena. "It's regrettable we couldn't find an audience that the show deserves."
A spokesman for the network's sister studio, 20th Century Fox Television, which produces the show, said two other networks -- ABC and Showtime -- had approached producers with bids to carry the series next year.
"We are currently considering the offers on the table," the spokesman, Chris Alexander, told Reuters.
Added Liguori: "It ('Arrested Development') is a studio property, and there is interest at other networks. It's the studio's right and (the executive producer's) right to put that up to bid."
He suggested that "Arrested Development" might be an especially good fit for premium cable channel Showtime, where the comedy's current average audience of just over 4 million viewers would rank it as a major hit.
"From a numbers standpoint, if Showtime were able to migrate the numbers 'Arrested' gets on Fox to Showtime, that would be by far its No. 1 show," he said.
The quirky comedy about a dysfunctional family has been a critical favorite since its launch in 2003, but has continued to flounder in ratings. A two-hour season finale, which is expected to be the show's swan song, is slated to air February 10.
As for "That '70s Show," Liguori said Fox is in talks with original stars Ashton Kutcher and Topher Grace to bring them back to the May 18 series finale. "Malcolm in the Middle" will air its final episode on May 14 after seven seasons on Fox.
Fox, which has been lagging in the prime-time ratings so far this season behind its three larger network rivals -- CBS, ABC and NBC -- is expected to enjoy a big boost with Tuesday's return of "American Idol."
The program was the most-watched show on U.S. television last season, averaging more than 27 million viewers for its Tuesday night broadcasts and leading ratings among viewers aged 18 to 49, the group most prized by advertisers.
Done and done. Talk TV in the comments section. LOST FRIDAY blows your mind tomorrow.
Comments:
I got screwed over by a basketball game last night. I went out to dinner with a friend, and we were back at my place talking waiting for Lost to come on. I looked down at my watch and noticed it was 5 min. past, which is no big deal of course because I'm Tivo'ing it. So I turned on my TV to see a Arkansas Razorbacks basketball game at halftime. It's not a national broadcast, so I know they're not airing Lost later. So I had to stop the recording so I could switch to the other ABC affiliate, which was on the commercial break after the first segment of Lost. So I missed the whole deal with Michael locking Locke and Jack in the gun closet. That's all I'll say about Lost till tomorrow.
If NBC billed Thursday night as No-Laff-Track night, that would be amazing.
<< Home