Tuesday, January 24
Link Party - Post #299 Edition.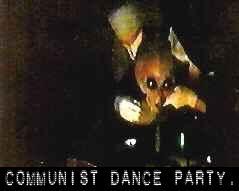 (Rocking harder than an Alien interrogation.)
1. Hey, what are you watching this week?
Tuesday
American Idol (
FOX
) – 7:00-9:00pm
(
The first-round auditions continue across the nation.
)
Wednesday
American Idol (
FOX
) – 7:00-8:00pm
(
Presumably, this will be the end of the first-round auditions
.)
Lost (
ABC
) – 8:00-9:00pm
(
Season 2 – Episode 12 – "Fire & Water."
)
Mythbusters (
DISC/TiVo
) – 8:00-9:00pm
(
The triumphant return of the Death Ray!
)
Thursday
That 70's Show (
FOX
) – 7:00-7:30pm
(
I can't stand this show, but I watch it out of habit. Hooray for the last season!
)
Everybody Hates Chris (
UPN/TiVo
) – 7:00-7:30pm
(
Best series on UPN, hands down. That's not saying much, but who doesn't like Chris Rock?
)
My Name Is Earl (
NBC
) – 8:00-8:30pm
(
Do I really need to tell you about this show?
)
The Office (
NBC
) – 8:30-9:00pm
(
Seriously, let the Office into your home. You'll thank me.
)
2. Hey, what are you reading?

Blink
, the same book I've been crawling through since Christmas, and the latest issue of
Skeptic
magazine, featuring the Mythbusters! I'm about one puzzle into my new
Sudoku
book, which has me reeling for some reason. I used to knock them out in minutes when they were in Games magazine, now my brain seems to have shut down in that sector. It probably has something to do with when that back-alley drug deal went bad, and those 15 kids dragged me out of my car and beat me with baseball bats.
3. Hey, what are you listening to?

Here are the last 10 albums that have been sung along to in the CDP Mobile. Feel free to mock and judge:
Coheed & Cambria -
Good Apollo, I'm Burning Star IV

The Gadjits –
At Ease
Supersystem –
Always Never Again
Blue Oyster Cult –
Agents Of Fortune
Juiceboxxx –
Are You There God? It's Me, Juiceboxxx

Run-D.M.C. –
Greatest Hits
Neutral Milk Hotel –
In the Aeroplane over the Sea
Matt Pond PA –
Several Arrows Later
Josh Rouse –
Nashville
Polysics –
Polysics or Die!!!4. Hey, what's the rest of the CDP Network talking about?

Before you go clicking on other
CDP Network
links, you should make sure you've read everything here for the
month of January
. I've been pretty happy with the material and layout since I changed the format at the start of the year. Make sure you're all caught up, because I'm incredibly witty and talented, and you're not going to want to miss out. I even got myself a sponsor this month.
Once you're done with that, head on over to
The Girl From Mars
, where the Missus sounds off on her new job as well as her brother's new band. She hasn't had a lot of time to update or post here in recent weeks due to the nature of her job, so make sure you pop in and say something nice to her.
I Think This Is My Exit
sounds off on alcohol, music, books and exploits; not necessarily in that order. He's been updating the page almost as much as me, which is borderline obsessive and sick.
Sandbox Films
lets us in on his best-of 2005 list. He updates about once every fiscal year, so there's really no rush here.
Same deal with
Let's Eat Paste
. He has a rerun up concerning one of his earliest (
and funniest
) posts. I think we're still waiting on his first post of 2006.
Swimming In An Ocean
talks about life in the armed forces,
Chaotic Ryan
talks about work and relationships, and
Todd's Cavalcade Of Whimsy
takes us to a hockey game, but not before we dig deep into what people are searching for when they find his page.
Finally,
Tyler Maas
, my latest addition to the Network, shares with us the essays he writes for his college paper. He's funny, and can get away with a lot more stuff than I can here.
5. Hey, what's going on this week?
Not much, I don't think. The Missus is going to a co-worker gathering on Thursday, leaving me home alone and succeptable to an ambush Chuck Norris attack. I need to go shopping for my Sister's upcoming birthday, and I owe myself a haircut so I don't look sloppy. Last weekend, I treated myself to an armload of shirts from Express and the Buckle, when what I really needed was a tie, some new shoes and khakis for work. My collection of sexy, small shirts continues to mount, while I honestly think I own 3 pairs of decent pants.
Come to think of it, I have no idea why I should continue to purshase ties until I learn how to actually tie them on my own. The ties that I
do
have in my closet are '
pre-tied
,' which means I had my Grandpa tie them for me over a year ago, and I'm just really careful about not yanking them apart. I'm working on trying to reverse the dress code at my place of business, as I tend to dress a lot classier when I'm wearing jeans. Khakis don't work on me, and they hinder me from utilizing a lot of nice clothes I have. I actually look far more presentable on Fridays.
6. Hey, when's your 300th post?
My next post will mark #300 for the
CDP,
just a couple weeks before its 2nd birthday (
February 12
). Stop in and say nice things so I don't blow my brains out.
Ahoy!
Comments:
My mom is nuts about the Sudoku. That's all she did when my folks visited for Christmas. I'm sure the people in the booth next to us at the pizza joint were confused when we were all loudly saying things like, "That can't be a three so then this has to be an eight, which makes that a two!" If I didn't have the internet, that's what I'd do all day long at work. (Kidding, boss).
Have you seen the 3d one? It'll make you have to strap in your brain.
<< Home