Tuesday, February 14
Bee Mine.
Happy Valentime's Day.
In honor of this wonderful annual celebration of love and chalky novelty candy, I want to share with you the greatest love story I know.
You know, for as much as I talk about my wife, I don't think I've ever shared with you the story of how we met. I make a point not to get too sentimental or personal on here, but in this case, I really think you'd get a kick out of this most joyous and romantic union between me and the Missus. If anything, it will shed more light on why we are as strong and loving as we are to this very day.
It was December of 1999. The electric buzz of the 21st century was tingling the private areas of every red-blooded American. President Clinton was still leading the nation through a time of amazing prosperity, surplus, and an abundance of neon fanny packs and jogging suits. The song '
1999,
' by an up-and-coming artist known as Prince was rocketing up the charts and uniting people of all races and creeds on the dance floor. It was a magical time to be alive, and if you weren't yet alive for it, chances are that you're unable to read anything I've just written. It's your loss.
I was 17 years old, full of wide-eyed wonder and
Surge
soda. It was my senior year in High School, and I was in a hotly contested race with two others to become valedictorian. I would eventually go on to lose this race, when weeks before graduation I would be arrested for lewd behavior in the parking lot of a local Wendy's. The charges were later dropped (
surveillance tapes proved that I did nothing to befoul the life-sized cutout of Dave Thomas
), but my reputation would never return to its former glory. I was sunk faster than the opening weekend of a Michael Bay movie.
Zing!
You know what? Forget it, dude. I want to keep this story between me and the Missus. Besides, you wouldn't understand and appreciate it as much as your should. Oh, and nothing would have been funnier than those first two paragraphs anyways, so it's best to just trim the fat and move on. Let's talk about something else.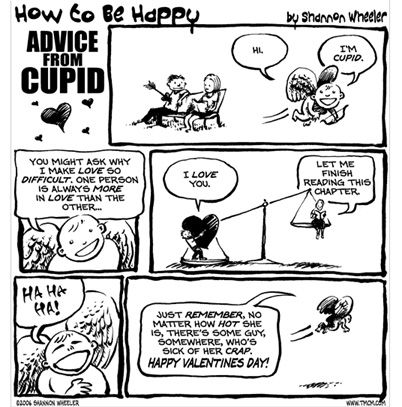 I've been dumped twice in my life, and both were via-telephone, no less. I did the breaking up in two other relationships,
maturely
and
in-person
, I might add. Any other unions I might have had with anyone else (
hundreds, perhaps even thousands of women
) just naturally or mutually faded over time. I really didn't have any problems with that, as I honestly wasn't that great of a boyfriend, anyways. Nowadays, however, I'm like Supafly TNT. I could sell tickets, yo'.
Luckily for me, the Missus showed up and set me straight. She washed my hair, tore my braces off and wiped the crust out of my eyes. She threw a tiny shirt on my back and indie frames on my green eyes. Without her gentle nudging and almost tyrannical standards, I'd still be a turd. I really dodged a bullet, there.
I went above and beyond the call of duty for Christmas this year, so I didn't do too much for Valantine's day. I bought the Missus (
and myself
) a big box of Godiva truffles. Sa-weeet. They should be all gone by the end of the night, along with most of the wine.
That reminds me. Our loud neighbors, who kept it down for a few days after we sent them a firm-but-fair letter, are back to their old tricks. The next step is a formal noise complaint, which will be made this evening. More info as it happens.
One more thing. Here's a custom-made
CDP
valentine for you to give to a loved one.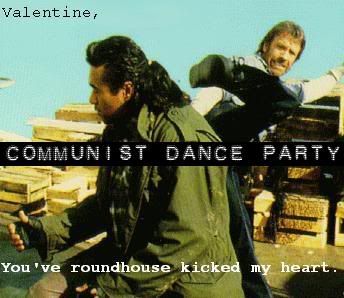 How are you spending Valentine's day? Any fond memories? Sound off in the comments section.
Comments:
I was going to name this post
"I Choo-Choo-Choose you,"
but I'm pretty sure I already used that post title some time ago.
About Santa Claus. I was just remarking that as a very young kid, I equated Valentine's day with Easter and Thanksgiving in terms of holiday importance. I just always figured holidays were religiously important no matter what.
When nobody mentioned that it was Valentine's day during the sermon, I thought they had forgotten or something. It was then that I realized the concept of corporate holidays vs. religious holidays. It was a nice milestone, sort of like when you realize that you're smarter than your parents.
St. Valentine be damned.
<< Home