Monday, February 6
It Ain't Easy Being White.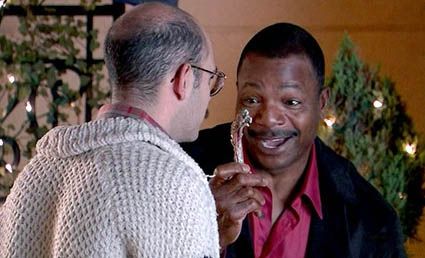 This Friday, from 7-9pm central time, FOX will air what could be the last 4 episodes
ever
of
Arrested Development
. This 2-hour marathon will directly coincide with the Opening Ceremonies of the Winter Olympic Games on NBC, virtually guaranteeing a dismal turnout for the multiple-Emmy winning and groundbreaking comedy.
In preparation for the
(presumed)
Series Finale, I've rounded up the official FOX press release for the final 4 AD episodes:
ARRESTED DEVELOPMENT - 2-HOUR SEASON FINALE
IT'S A FAMILY AFFAIR ON THE SPECIAL ALL-NEW TWO-HOUR SEASON FINALE OF "ARRESTED DEVELOPMENT," FRIDAY, FEBRUARY 10, ON FOX!
#310- Faking It
#311- Family Ties
#312- Exit Strategy
#313- Harboring Resentment
Judge Reinhold, Justine Bateman and Jamie Kennedy make guest appearances in four back-to-back episodes. George Sr. hires a new attorney who asks the Bluths to participate in a mock trial to help prepare them for the real thing. The attorney gets actor Judge Reinhold, to preside over the mock case. Meanwhile, Buster fakes a coma to get out of testifying and George Michael and Maeby participate in a mock wedding to entertain hospital patients.
Back at the office, Michael discovers he may have a long-lost sister named Nellie Bluth. In an effort to get to the bottom of things, Michael tracks Nellie down and hires her as a consultant for The Bluth Co. Unfortunately, Michael discovers Nellie's hands-on approach is more than he bargained for.
Meanwhile, Gob goes to Iraq to perform his Christian magic act on the USO tour and ends up incarcerated. Michael learns George Sr. sent Gob to Iraq to burn down the model home he built there, so Michael and Buster fly to Iraq to spring Gob from prison. The Bluth brothers head to the model home, where they make a discovery that could end the family's legal troubles forever.
Back in Orange County, Lucille decides to throw a yacht party to celebrate. The Bluths gather aboard the Queen Mary for a trip that ends up being far from smooth sailing.
What do YOU think about AD? Sound off in the comments section, and I'll return with more photos and proper formatting shortly. The Pittsburgh Steelers rule.
Comments:
I know; Michael's interview had me cracking up. When you realize exactly how much he ad-libs on the show, you start to see that he's a real comic mastermind for his age. I hope that he can continue to get roles like this that will show off his skills.
Do you suppose that they taped episodes after 313, or did they know that these 4 would be the last? That will really make a difference as far as the 'end' of the series is concerned. Then again, they could seriously get picked up by another network.
During the Super Bowl, ABC was promoting a show called 'Sons & Daughters' that looked a lot like the AD format. Interesting.
<< Home