Tuesday, February 7
"Well, That Killed Him."
Here are 5 points of interest to get you all caught up this week.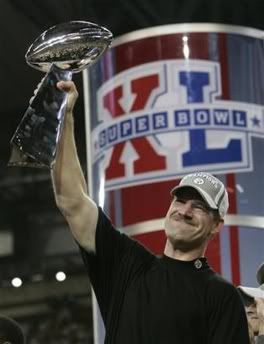 Super Bowl.
In all honesty, the game wasn't terribly exciting, but it was great that the Steelers pulled it off. It really couldn't have ended any better. Bettis and Cowher get their rings, and probably a trip to the Hall of Fame in the near future. The pre-game and halftime festivities were an abomination as always, but I think we've come to expect that in this post-nippular world.
It should be noted that the Missus correctly predicted
every single
playoff game this year. All 11 of them. I don't know what the odds are on something like that, but I'm going to keep her close by when March Madness rolls around.
What about the commercials? There were a few good ones. The
'fly defibrillator'
spot was good, as were most of the Budweiser ads (
'secret fridge'
being the best). I also got a kick out of the Career Builder '
monkey'
spot, along with the FedEx
'dinosaur'
spot. In all, there were a smattering of laughs, but nothing that I'll really think is funny a week from now.
My favorite commercial of the night was by far the ABC spot for
Lost
. If you didn't see it, it was a collection of clips montaged with the Robert Palmer song
'Addicted to Love.'
Only in the commercial, they changed it to
'Addicted to Lost.'
It was so mind-nummingly awful that it came back around the other side, becoming so bad it was awesome. In fact, instead of the Steelers, this commercial wins my Commie Award for the week.
Check it out at ABC.com if you get the chance. There's a 3-minute version.
The worst commercials of the night? Well, have you ever seen a Pepsi Super Bowl ad that was good? Their new slogan for Diet Pepsi (
'Brown N' Bubbly'
) sounds more like an intestinal condition than a good-tasting cola. Way to go, Pepsi. Your drink is now equated with feces, as if it wasn't already before.
Instead of watching
'Grey's Anatomy'
afterwards, I simply went online to find out what a
'Code Black'
was, and went to bed.
Weekend.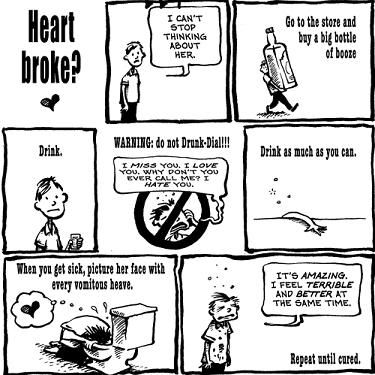 I had a really good weekend, and I hope that those who shared it with me had a good one, too. On Friday evening, I had a gathering at the
CDP
Headquarters, culminating with dinner and bowling. Thanks for coming out, we should do it again next year. After dropping about $175 in one day, I again realized why I only throw about two parties a year. I have bills to pay, and this lavish lifestyle needs to be rationed out to achieve proper standards of living.
On Saturday, there were still people at our house, so we went out for breakfast and spent the rest of the day trying very hard to stay awake. We pretty much did the same on Sunday.
Albums.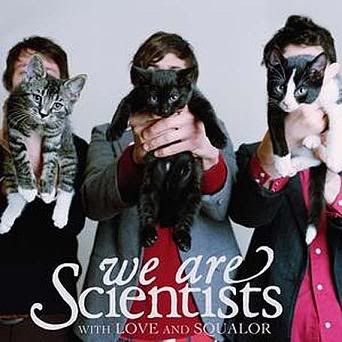 Here are the last 5 albums purchased by yours truly:
1. Broken Social Scene -
Broken Social Scene
2. Animal Collective -
Feels
3. We Are Scientists -
With Love and Squalor
4. The Books -
Lost and Safe
5. The Magic Numbers -
The Magic Numbers
Crazylegs.
In 80 days, the
Crazylegs Classic
returns to Madison, Wisconsin. If you remember from
last
year
, it was around this time I started whipping myself into runners form, accomplishing a big goal in running the race in under 46 minutes. Actually, running the race in itself was a huge goal for me, because I thought I was going to honestly drop dead.
Never one to learn an important lesson, I'm back for the attack, and my goal is simply to beat my previous time. It should be noted that since last year's race, I haven't ran a yard and I've probably put on about 5 pounds. However, the weather has been mild and I'm looking forward to getting out of the house and using my IPod again. I'll keep you posted.
Two-Year Vacation.
The
CDP
turns 2 on Sunday. In honor of this splendid feat, I am rewarding myself (
and my readers
) with a vacation. More on that later. Sound off in the comments section about how your weekend went.
Comments:
I went to a Super Bowl party and managed to watch almost none of the game. It's funny because none of us really cared about it at all, it was just an excuse to have a party.
How are you liking the Books? That album amazes me...parts of it give me the chills, it's so bizarre.
I'm digging the Books enough. I can't listen to too much at once because I normally only listen to music in the car.
'Be Kind to Them Always'
is just a joke. I don't even want to think about the work it took to put something like that together.
Being a fan
(and avid collector)
of awful vintage sci-fi movies and promotional shorts, The Books sampling style is interesting and creepy.
<< Home