Tuesday, April 18
It Ain't Fiction.
In February of 1990, the pop music world was shaken, or at the very least, uncomfortably altered, when
'Opposites Attract'
by Paula Abdul rocketed to the top the charts for three straight glorious weeks. '
Opposites Attract'
was Abdul's 4th top 10 hit from her debut album, solidifying her as a pop music sensation for the remainder of the 1990's and to this very day. She has since won 18 Grammys, been nominated for 3 Oscars, donated over 100 million dollars to the ASPCA and once delivered a baby in a taxi cab.
Perhaps more importantly,
'Opposites Attract'
was remembered mostly due to its groundbreaking and trendsetting music video, where Abdul dances and interacts with an animated MC Skat Kat. Not at all ripping off
Who Framed Roger Rabbit?
, one of the greatest movies ever made, the Gene Kelly-esque number wowed the MTV generation and set couches ablaze with the obvious sexual tension between Abdul and Mr. Kat.
Rumors surrounding their relationship reached a fever pitch when Kat was spotted engaged in a fistfight with John Stamos outside of the Viper Room in June of '91. After photographers snapped the two in combat, Stamos was suspended from the set of
Full House
for three days without pay. From that episode of
Full House
forward, Paula Abdul's poster was no longer displayed in the bedroom of Stephanie and DJ Tanner.
As we all know, Abdul went on to release two more hit albums, before landing her current gig on
American Idol
. MC Skat Kat, however, started hitting the inhalants pretty hard, and can now be seen working the door for a Chuck-E-Cheese in downtown Beverton, Oregon. John Stamos went on to marry Rebecca Romijn, only to have her leave him for the fat kid from
Stand By Me
.
Here then, the reason for this post.
As a bit of a wordsmith and a stickler for consistency, I've always had a problem with the famous chorus to
'Opposites Attract.'
Particularly, the following lines:
Ms. Abdul
-
'I take two steps forward,'
Mr. Kat
-
'I take two steps back,'
Both
-
'We come together, 'cuz opposites attract.'
Think about that for a second. Assuming that they were facing each other, if person A
(Abdul)
steps forward and person B
(Kat)
steps back, how do they come together? In reality, they would end up the same distance apart from where they started. Let's go to the chart for this one, shall we?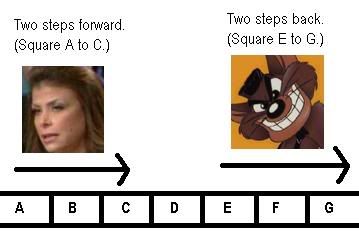 Now, the only way these chorus lines could be correct, is if MC Skat Kat
wasn't facing
Paula, essentially stepping backwards into her arms. This is not only a ridiculous concept, but it's far too gay and submissive to even be considered by someone as egomaniacal and misogynistic as Mr. Kat.
That way, after taking their aforementioned steps forward and back, they would indeed end up together. They really should have thought about this more when her and Mr. Kat were writing the song together.
After 16 years, I'm finally able to speak my case about this and let it go. I hope you're singing this song to yourself for the rest of the day.
Comments:
Paula Abdul was my first celebrity obsession too. I had posters and everything.
It's funny how embarrassed I am by that now. My wife makes fun of me constantly. I blame Paula for it though. She could have just faded off into anonymity like so many hundreds of marginally talented people and we all would have been fine with it. But Noooo! She has to be a judge on an American Phenomenon and reveal what a mess her life is in front of millions of people. Damn it! Now the perfectly innocent crush from my youth has been tainted! Damn you Paula!
ps. I can't stay mad at you though. Paula you're still the best
(at whatever it is that you do on a daily basis. What do you do? forget it, doesen't matter.)
<< Home