Thursday, April 13
Katharine McPhee Watch - Volume 5.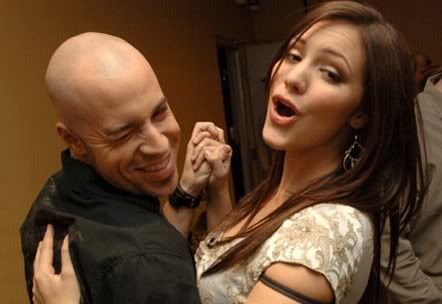 92,000 people auditioned for
American Idol
this year.
There are now
7
singers left, and Katharine McPhee is one of them.
So is Chris Daughtry, despite the fact he wore eyeliner and grew a beard. I'll let it slide this time, but seriously, you don't need that. If these two hooked up and Katharine got pregnant, they could just put a microphone up to her protruding belly, and the fetus would win next year's
Idol
.
Just thought you might want to know.
Katharine and Chris are pushing hard for the finals, and I have no problems with that whatsoever. In fact, I'm about as happy as one can legally get over these things. They're pretty much my most favorite contestants since the show started, and it's rare to see my picks go so far. I also would like to see someone find my page by searching for
"Katharine McPhee"
and
"protruding belly."

I really liked how Brian May was kind of a dick to Ace because he wanted to whore out May's song, but Queen had no problems going on
American Idol
to whore out their new live album. Priorities, people! You're not going to change the complex arrangement that is
We Will Rock You
, one of the most played out and commercial anthems of all time? I guess Ford, Coca-Cola and Arby's didn't write a big enough check.
I also liked how they made it clear going in that nobody would even come
close
to matching Freddie Mercury's vocal style. I was pretty upset that nobody sported the Mercury moustache and skin-tight leotard. Kellie should have done it; she would have looked ten times better than the whole 'Quiet Riot groupie' outfit she was sporting.
'Haw-haw! What's a groupie?'
Speaking of which, did anyone catch Bucky's comment after his horrid performance? He was trying to tell Ryan that Freddie Mercury was a tough musical act to follow, but instead spat out
"He's not someone I'd want to come up behind."
Seacrest looked right into the camera and said,
"You can say that again."
Lost Friday
is tomorrow. Please bring a dish to pass.
Comments:
The whole thing was cute for about a microsecond, but now she seriously needs to go back home to all the okra she can eat.
<< Home