Tuesday, May 16
The Colonel Has Been Murdered.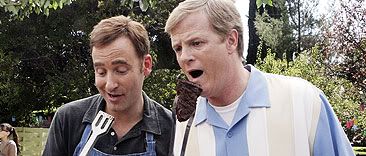 As the curtain falls on yet another season of network television, we have to sadly say goodbye to one of the most promising sitcoms since
Arrested Development
.
Folks,
Sons & Daughters
got cancelled.
Here's the scoop, taken directly from Fred Goss'
ABC Blog
:
It's Over.
I don't know a more delicate way to break the news to you all. Sons & Daughters is done. I am of course heart broken. My heart and soul went into this one. These characters feel like my family because in many ways they are. I hate like hell having to give you all news like this after all the high hopes you've expressed for a pick up. I've sometimes been accused of being a "glass half empty" kind of guy but at the moment I don't feel that it's inappropriate or self-indulgent to feel bad about this.
I don't know how long this blog will remain up. It could go at any moment actually. If you guys would like to keep in touch, I have a myspace site that I started for the show and will gladly keep up with. I post a blog there as well.
My site is url is:
http://www.myspace.com/fredgoss
My blog url is:
http://blog.myspace.com/fredgoss
Again, thank you everybody for all the support. I promise you I will return soon with another project. I also promise I won't compromise my creative voice in order to succeed commercially. I'm sure there's a way to make this improvised, more realistic, comedic format work for a wide audience.
Back to the drawing board. Peace.
So long,
Sons & Daughters
. Lament and sound off in the comments section.
Comments:
As a huge fan of subtlety and
wheels within wheels
I am firmly convinced that that makers of all entertainment media forms think the American public incapable of understanding things that are not spelled out word for word.
And I must say they
may
be right.
We have a fairly large local bank out here that has been running a series of tv ads promoting themselves as a more personal and "extra mile" type of bank. Usually featuring a teller running out in the rain to help a customer or a bank manager assisting an ATM user after hours. They all end with the same thoughtful feelgood tune, no doubt to reflect on how
not
evil they are.
The most recent one features a man opening the door for a woman knocking on the window. He helps her with an early deposit and as the scene ends you see the bank door slowly close behind him.
I mention this because the ad was recently augmented and now ends with a little caption box explaining that "Ed" just locked himself out of the bank. The only explanation I can think of for them to go back and ad that little caption after the commercial has been made and run is that a lot of people said they didn't get it.
So my long winded point is that if people aren't able to get the joke in a 30 second commercial, how the hell can they be expected to sit through 30 minutes of subtle humor.
So if shows like
Sons & Daughters
are ever going to eventually have a place in American pop culture history action must be taken from a early age and brought to fruition
(love using that word in a sentence)
over time.
So I propose free form kid shows that can progress into teen dramas and eventually grow in to smarter primetime. Yes it may take a while. But trust me, your grandchildren will appreciate it.
<< Home