Wednesday, May 3
Don't Make Me Turn This Blog Around.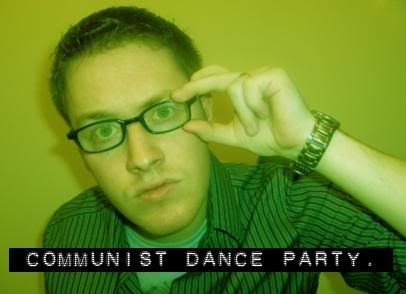 I swear to God, if you kids don't cut out the horseplay, I'll pull right the hell over and beat you to death with my travel mug.

Here are 6 things to shut you up. If you stay quiet for ten minutes, I'll let you smell my fingers after I fill up the car.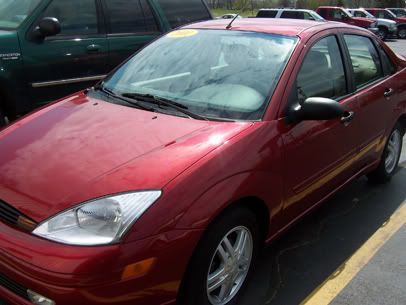 1. Here's the Missus' fly new ride. It's a 2001 Ford Focus that rocks so hard, it blows the clothing right off of anyone in its presence. Why, just yesterday she sped past me on her way to work and I was left dangling and confused in the carport. She loves the way it handles and maneuvers; I love that it's a car that runs on gas. She likes it. I like it. We're happy and wish not to discuss anything more on the subject of car accidents and thousands upon thousands of dollars. Please respect my wishes, or I will cut you.




2. Always bringing you the latest in tired Internet Phenomena and MySpace bashing, I present to you the Magical Grid Of Bad Emo Hair. Knowledge is power, and someday we can eradicate this injustice plaguing the youth of America. Emo hair is the new mullet, kids. Get off the train before they start making fun of you in beer commercials. I got a haircut and dye job yesterday, and I look so rad that both my cats instantly went into heat. Rolling about and mewing and whatnot (see top photo).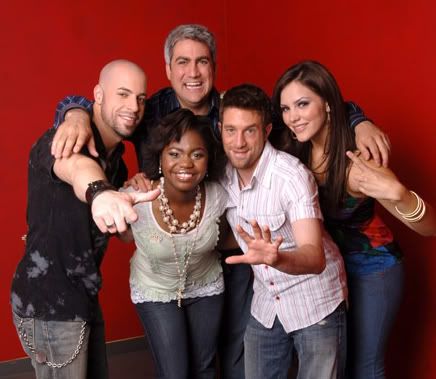 3. Best AI Top Five ever? Consider the following. I've graded the previous top 5's on a scientific scale that measures various levels of suckitude. Here are my findings*:

Season 1:
RJ Helton - Bad.
Tamyra Gray - Good.
Nikki McKibbin - Bad.
Justin Guarini - Bad.
Kelly Clarkson - Good.

Season 2:
Trenyce - Bad.
Joshua Gracin - Bad.
Kimberley Locke - Good.
Clay Aiken - Good.
Ruben Studdard - Good.

Season 3:
George Huff - Bad.
LaToya London - Good.
Jasmine Trias - Bad.
Diana DeGarmo - Bad.
Fantasia Barrino - Bad.

Season 4:
Scott Savol - Bad.
Anthony Federov - Bad.
Vonzell Solomon - Good.
Bo Bice - Good.
Carrie Underwood - Good.

Season 5:
Taylor Hicks - Good.
Katharine McPhee - Good.
Paris Bennett - Good.
Elliott Yamin - Good.
Chris Daughtry - Good.

*Sources are available upon request.




4. Speaking of TV, there's some good stuff on tonight:

7:00 - 8:00c - House (FOX)
8:00 - 8:30c - American Idol (FOX)
8:00 - 9:00c - Lost (ABC)

House concludes its two-part episode tonight, and American Idol narrows down to the final four. Lost arrives with 'Two For The Road,' the first of the final four episodes of the season. Obviously, you can count on the CDP for your Idol recap tomorrow, immediately followed by an all-new Lost Friday. Tell your friend.
By the way, I got the Hanso image from the redesigned Hanso Foundation website, which is more than a little terrifying. If this isn't good insight into season three, I don't know what is.

5. Here are the last 10 albums I've listened to:

1. Saves The Day - Sound The Alarm
2. Sage Francis - A Healthy Distrust
3. Gossip - Standing In The Way Of Control
4. Maritime - We The Vehicles
5. Morrissey - Ringleader Of The Tormentors
6. Michael Jackson - The Essential Michael Jackson
7. The Beatles - Abbey Road
8. Hot Chip - Coming On Strong
9. Polysics - Polysics Or Die!!!
10. The Suicide Machines - Destruction By Definition




6. I went bowling with co-workers last week. I bowled a 130, which is pretty good for me. You can tell I was pleased.

There you have it. Sound off in the comments section. Get out of my Blog.

TOMORROW - KATHARINE McPHEE WATCH.

THE DAY AFTER THAT - LOST FRIDAY.
Comments:
I wonder if that Hanso website stuff is really developed by anyone that has anything to do with writing the show, or if that's done by their marketing team or whatever. It's well done, but I wonder how much it really has to do with the story.
In other TV news, Veronica Mars has had a good second season thus far. Lots of interesting plot twists, and it does a good job of mixing the serial drama with subplots that begin and end within the episode. It's too bad it has to go up against Lost. They rerun it each week on other days, which is good for people with Tivo, though I guess Nielsen ratings don't count Tivo views, which is dumb.
I'm going to see Eisley tonight in Tulsa, should be a fun time.
<< Home