Monday, June 5
The Champ Is Back.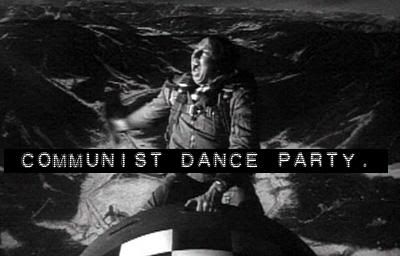 1. "Hey, what's going on?"
Plenty. I enjoyed my very first blog vacation last week, but it's good to be back. I've got a lot of things lined up over the summer, so tune into the
CDP
each day; it's like an ice-cold glass of Awesomeade, and the flavor's always Blue Raspberry.
The biggest thing I'm hoping to undertake this season is
Grilled Cheese Wisconsin
, which will be a video series documenting my road trips to some of the smallest towns in the state, taking in the sights and searching for the greatest grilled cheese sandwich in the Dairy State. I already have a few interesting places lined up, including taking part in a
cheese curd eating contest
*
and visiting the self-proclaimed
'UFO Capitol of the World.'
It was nice to call these people up and ask
"Are you still doing UFO Days this year?"
without sounding completely insane. I'm looking forward to it, and so are you.
*(The cheese curd eating contest fell through last weekend, due to false advertising. Let's just say that the town of Little Chute wouldn't know an actual 'cheese festival' if it was firmly latched to their spinal cords. I rolled tape for five minutes before I realized that it was nothing more than a 4-H sponsored carnival. Live and learn.)

May was the biggest month ever here at the
CDP
, with over
13,000 people
tuning in to chat about the
Lost
and
American Idol
finales. That's amazing to me, and a big thank-you is in order
(last May, I had 400 total hits)
. The June hit total will tank now that summer's here, but it was a sweet run while it lasted.
As for the 11,994 of you who choose not to sound off in the comments section, there's no better time than right now to stop in and
say hello
. I'm not nearly as big of an ass as those negative TV ads would have you believe; I'd love to have a conversation with you, provided you're not a complete idiot, the current President, or both.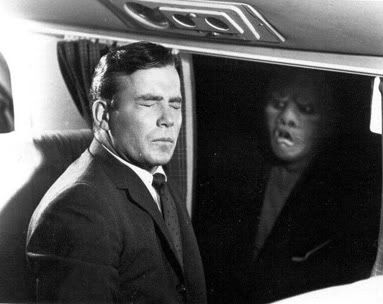 2. "Hey, what are you watching?"

Nothing, jackass.
Actually, I'm using this time to watch all of the DVDs and TiVo'ed programming I've accumulated over the year but never had the time to watch. For example, I TiVo'ed the entire second half of
Supernatural's
first season, along with a bunch of
Twilight Zone
episodes I'd never seen before. Add that to my
Seinfeld
Season 3&4 DVDs, my
Simpsons
Season 6 DVD, my
Adventures of Pete & Pete
Season 2 DVD and
Looney Tunes
box set, and I'm more than prepared to deal with the summer rerun season.
So You Think You Can Dance?
can take a bullet train straight to hell, and so can natural sunlight.
(In addition to this, I'll be working over 40 hours a week, writing until all hours of the night and visiting most every town in the state, so please save the 'go outside' crap. Trust me, there's plenty of time to do all the things you want to do, provided you're a workaholic/insomniac with messed-up ambitions, like myself. That's what's known as a 'pre-emptive strike.')
3. "Hey, what are you listening to?"
Here are the last 10 albums I've listened to:
1.
Return To The Sea
-
Islands
(This could be the first must-own album of the year. Fantastic stuff.)
2.
In With The Out Crowd
-
Less Than Jake
(This is quite simply LTJ's worst album ever. Pure pop drivel.)
3.
Power Destiny
-
VCR
(Not nearly as manic as their debut EP, but still fair enough.)
4.
Everything All The Time
-
Band Of Horses
(Moody and ambient, yet structurally sound and sonic. Quite good.)
5.
Exhibit A
-
The Features
(Why don't you own this album yet? Impossible not to love.)
6.
Hot Nuggets!
-
IfIHadAHiFi/Modern Machines
(The Hi-Fi's third major release contains mostly covers done better. Wisconsin's best band.)
7.
Pray For Mojo
-
Mustard Plug
(I bust out the ska albums every summer; makes me happy.)
8.
Sound The Alarm
-
Saves The Day
(I had high expectations, but STD comes off a bit too forced this time around.)
9.
We, The Vehicles
-
Maritime
(Like The Promise Ring? Like Maritime.)
10.
Illinois
-
Sufjan Stevens
(The best album of 2005? Yeah, probably.)
4. "Hey, what are you Wiki-ing?"
Instead of reading actual books with pages that turn, I've been quenching my thirst for Total World Knowledge by reading every
Wikipedia
page one at a time. Here are the last 10 articles I've checked out on said greatest page on the web; they are all great reads in their own right:
1. The art of
Cold Reading
.
2.
Clever Hans
, the horse that learned to cold read.
3.
James Randi
, magician and skeptic overlord.
4.
Laika
, the doomed Russian space dog.
5. The disastrous
Stanford Prison Experiment
.
6. The groundbreaking
Milgram Experiment
.
7. The biography of
Uri Gellar
.
8. The best show TV you've never seen,
The Prisoner.
9.
Dr. Strangelove
, the best Kubrick film ever?
10.
London After Midnight
, the most famous 'lost' film ever.
5. "Hey, how much you weigh?"
I tipped the scales last week at 153, finally putting me over the 150 lb. mark that I set for myself many a year ago. As you may remember, my goal last year was to run that 5.5-mile race; this year, I just wanted to get heftier. After taking in about a hundred grilled cheeses this summer, I plan on not only breaking the 165 lb. mark, but also having a heart attack and dying.
So, what's my secret to packing on the pounds? Carbs and calories, baby.
I'm a vegetarian, so when I'm not at home, you can usually find me at an Italian restaurant, shoveling plate after plate of pasta and ricotta down my maw. I eat pasta more than probably anything else, and that's really nothing but flour and water. Add about a gallon of Alfredo sauce and subtract all heavy lifting, and you have a recipe for weight gain.
The biggest problem hindering my growth was my metabolism. It was lightning-quick, and I was eating about 8 small meals a day just to satisfy it. That had to stop, so I gave up breakfast and stuck to nothing more than two large meals a day
(note: I'm eating less than I used to)
. I won't eat anything until noon or later, opting to drink about 40 ounces of water instead
(it's good for you and calms your appetite; I also fear kidney stones)
.
Finally, when lunch rolls around, I break the 16 hour fast and take in a meal that contains fruits, vegetables, soy proteins, grains and sugar
(the essentials)
. If I pack a lunch myself, it normally consists of two bananas, mandarin oranges, applesauce, some sort of main course
(a vegetable meatloaf with potatoes and corn, or pasta with broccoli does the trick)
and some sort of a snack. Or if I'm feeling lazy, I'll just eat a 16-inch veggie sub. I'm not Tony Little or anything.
This holds me over until dinner. We usually go out to eat, so I tend to get pasta or a veggie burger, depending on where we are. With this, I make sure to get a salad and something with potatoes in it. It's a shock to me that I'm not actually bigger than 153, although it would seem that I eat healthier than most people I know. Them's the breaks for being so sexy, I guess.
So, there you have it. The Summer Of The CDP has officially begun, and I thank you for tagging along. Sound off in the comments section about your plans for the season; I'll see you along the way.
THE DAY OF THE BEAST TRILOGY.
Comments:
If you're in doubt, rub it against a piece of paper. If the paper turns clear, it's your window to weight gain!
Welcome back, CDP.
Ever listen to Page France? I've been listening to their Hello, Dear Wind a lot lately. It sort of sounds like a cross between Sufjan and Death Cab. Or not at all.
<< Home