Thursday, June 8
The Day Of The Beast - Part III.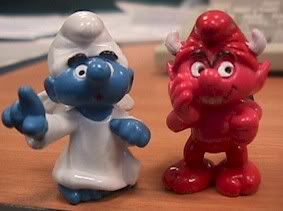 (Rated SB for Slight Blasphemy. It's all in good fun, though.)
I told the two of them to settle down so we could start working towards a compromise. Satan was in the La-Z-Boy next to the TV, fully reclined, his cloven hooves pointed towards the sky. I was sitting on the love seat with Jesus, who was petting both my cats.
SATAN:
"Sure, take
His
side right away!"
CDP:
I'm not taking
anyone's
side, this is about the two of you making this world a better place."
JESUS:
"You're not on My side?"
CDP:
(whispering)
"Of course I am, I just-"
Just then, Jesus' cell phone started ringing. If you ever wanted to know what Jesus' ringtone is, it's
Nothing's Gonna Change My Love For You
, by Glenn Medeiros. Satan's ringtone is
Hollaback Girl
by Gwen Stefani.
JESUS:
"Sorry, I've got to take this."
"Hey, Dad!"
"Nah, things are going fine right now."
"Yes, it's in the garage, next to the lawnmower."
"Okay, bye."
SATAN:
"What was
that
all about?"
JESUS:
"What are
you
all about?"
Again with the staredown.
I knew that this wasn't going to go anywhere, so I chimed in with suggestions. The first thing I proposed was a trade-off system, whereby Satan and Jesus would alternate control of the planet by days of the week. This was shot down by both of them rather quickly, as the odd number of days in the week played into their neurotic sides.
I then suggested that Satan should stick to ruling hell, Jesus could stick to ruling heaven, and leave the humans in charge of earth. Jesus slapped me in the back of the head for that one, and I kind of deserved it. He told me that He tried this once, and when He came back to check things out, George Bush got re-elected and
Arrested Development
got cancelled. Satan chimed in and immediately took credit for both of those atrocities.
I was starting to think that I had wasted both of their times, but then the idea hit me like a Mack truck.
Jenga.
One game of Jenga. Good versus evil. Winner take all.
I pitched the idea to them, and they reluctantly agreed. Satan claimed that he once played a perfect game of Jenga, but Jesus pointed out that this was an impossible feat, which left Satan sulking. I went upstairs to look for the game, while the two calmly chatted.
When I got back downstairs, they were gone. Nothing remained but the scent of sandalwood, a plume of smoke and a crudely-written note. It read:
"Decided we like things the way they are. Struggle is necessary to maintain balance. Without good and evil, there would be no way to tell if you're living a life of purpose or sin. Besides, the human race is a lost cause anyways. In the future, we plan on focusing more on marine life and pieces of toast with our images burned into them. Toodles, J&S."
I couldn't help but agree with them.
I can't believe I didn't take a picture.
TOMORROW: LOST FRIDAY?
Comments:
Sounds like they were just too scared to play Jenga. I know I would be...I'm terrible at that. Especially because we have the cheap, store-brand version..."Toppling Towers" or something to that effect.
<< Home