Monday, August 21
Monday Morning Mini-Donut Hangover.
First off, a little housecleaning. Literal and figurative. Then the big news.
1.
The
CDP Fall TV Preview
will arrive at the end of the month. It will give you the lowdown on over
60
new and returning shows, along with the Patent Pending brilliance and wit that only the
CDP
can provide. Don't choose what you want to watch; let
me
do it for you.
This also signals the official end of the summer, and a rebirth of fast and furious
CDP
updating. Thanks for sticking it out with me during the dry spells. I know it got pretty bad for a while.
2.
Supersystem, Cursive and Of Montreal all have albums coming out on Tuesday; along with
Madden NFL '07
for all major gaming systems. Is this the quickest way to spend $100 at Best Buy? Giddy-up.
3.
Me and the Missus are starting to move things into our new place. If anything interesting happens
(eg. I drop the treadmill on my ween somehow)
, you'll be the first to know. I'll be taking photos that will arrive on whatever day I'm too lazy to be funny. Like today.
4.
Merch should be ready to roll in less than a week. The Missus has been helping me out, and the current stuff is looking pretty good. I wanted to make sure this got done before the thousands of
Lost
fans started flocking back here in October. Speaking of which, the Season Two DVD comes out on September 5, giving you plenty of time to re-live the last season once or twice before the premiere. Otherwise, the
LOST: CDP SEASON THREE PREVIEW
will arrive shortly thereafter.
According to the
Lost
writers,
EVERY
hanging question from Season Two will be answered by the sixth episode of Season Three
(the last episode before their extended break)
. Mercy me.
Okay, enough of that. Let's get down to bidness.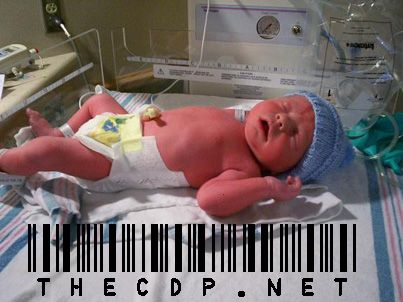 Meet Evan. He's the newest addition to the
CDP
family, and this is the first photo of him ever taken. Share collective
"ooooh's"
and
"ahhhh's"
in the comments section.
Him and Mom are doing just fine, he has a full head of brown hair and weighs in at a staggering 5 pounds, 11 ounces. I'll offer up no more personal details, other than the fact that Mom was in labor for 21 hours. I'm sure she'll love me saying that. I'm officially an uncle, yo.
He is also the Official Spokesbaby of the
CDP
. Accept no substitutes!
Comments:
Yes, we did the shower just in time. I actually thought she would go a week earlier. I lost the pool.
When I start Lost Friday back up, I'll be separating the spoilers from the recapping as usual. However, for the Season Three Preview, I guess you could say that everything in it will be spoilers, because nothing has actually happened yet. Take from that what you will.
Nonetheless, I'll still be breaking up the Season Three Preview into catagories, so if you're intent on no spoilers, there will still be plenty of stuff for you to check 'oot.
<< Home