Sunday, September 3
CDP Top 30 Posts Of All Time - #26.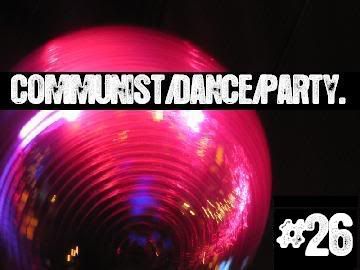 "The Long And Winding Road."
(Originally published 03-28-06.)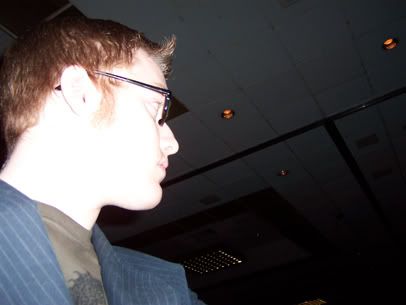 The boat almost left without us, and you know I can't swim.
I had heard from my mom that American English, the world's greatest Beatles tribute band, were playing at a resort in Mishicot, about 150 miles north of Madison. Some of my family members had seen them a few months back and gave them glowing reviews, so we wanted in on the action. Besides, we desperately needed something to do over the weekend. Anything to get us out of the house and into the unseasonably warm weather we were having.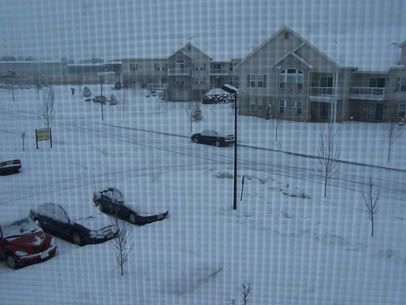 Opting to forget about the show until the last possible minute, we reserved one of the last rooms
(2 queen beds? perfect!)
and snagged a pair of the last
'A' Section
tickets, speeding out of the city at about 2pm on Saturday afternoon.
The drive to Mishicot was beautiful, as is most any road trip through Wisconsin. The resort was on the right side of lake Winnebago near lake Michigan, a place that I've seldom been in my 24 years as a Wisconsin resident. The only time I remember being over there was when I was about 6 years old. I went there with my parents to watch a friend of my dad race in a stock-car tournament. A blinding downpour cancelled the event and my family's 1983 Buick Skyhawk literally burst into flames on the highway. As presumably toxic black smoke billowed through the air vents and into our lungs, my dad had to
hitchhike
back to town to find someone to help us out. We vowed as a family never to return, and that promise still stands 18 years later.
We had never been to this particular resort before, so when the webpage started talking about
The S.S. Fox Valley
and a
Magical Mystery Cruise
and
lido decks
and
port bows
and whatnot, we assumed that at least
some
of the entertainment would be taking place on a boat or cruise ship.
Nope, not even close. How silly of us.
In reality, the Fox Hills Resort had just decorated the place to
look
like a cruise ship, and no agonizing detail was spared. Every employee was wearing Love Boat-style uniforms, people kept saying
'welcome aboard!'
to us, and there were Hawaiian leis everywhere. I helped myself to a handful and showed myself to my room, trying very hard not to
'salute'
any of the poor costumed people forced into this charade. I was secretly glad that I wasn't really on a ship, because I'm afraid of the water and would somehow find a way to tumble overboard. It always happens.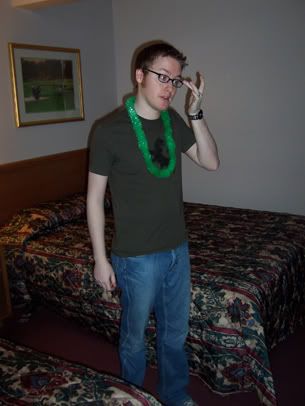 Despite being built in the 60's or 70's, the resort was actually pretty cool. The staff was great, the rooms were nice and the floorplan was unlike any hotel I've ever stayed at before. Long and skinny, it really
did
look like a cruise ship. Stairways went to nowhere. Hallways would end without prior warning. It was like the Winchester Mansion, but more claustrophobic and less ghosts.
Also, there was gambling
(yay!)
for charity
(boo!).
There was also wireless internet, so I made sure to bring my laptop for no reason whatsoever, other than to appear cultured in the lobby that was covered in life preservers and tiki torches. The walls between rooms were thinner than the ones in my apartment; and with all the alcohol and foolish hats I was seeing the guests carry around with them, I was mentally preparing myself for a long night of sleeping in the car.
After we unloaded, we got ready for the 4:30-6pm pre-party at the pool
(they called it the lido deck or veranda or something)
. Basically, for those of us who purchased the Titanium-Clad package deal for the night, we got to go to this 90 minute, all inclusive, '
all you can eat/get as drunk as you possibly can for free'
gathering before the show.
When we walked into the pool area, all the employees were standing in a line, decked out in their best sea captain outfits, each sporting copious amounts of liquor and cheeses.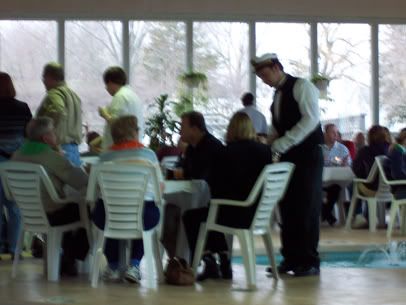 I shed a single tear, told them where I would be sitting, and kindly asked them to check on me every 45 seconds until I was asleep or floating face-down in the pool.
Not being used to this sort of thing, me and the Missus sort of felt bad to have these people handing us free stuff over and over again. Once we realized that we did, in fact,
pay
for this in advance, we made a vow to rob them blind. It was nothing but Rum Punch and tortilla roll-ups for the duration. We made a point not to speak to each other, because that would waste valuable time spent eating and drinking. There would be plenty of time for chit-chat before the concert.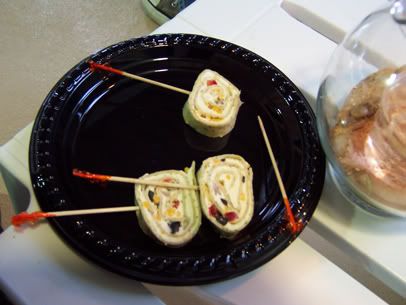 I was stumbling around
well
before 6pm. Each trip back to the bar got me closer and closer to realizing my dream of seeing someone fall in the pool, although the person in question would have been
me
. When it was all over and they filed us drunks out, I called my mom for some reason. I wanted her and my sister to show up, as I knew they really wanted to see the show and only lived a half hour away. I even told them I'd pay for the tickets, and they could share our 2 queen bed room if they wanted to stay the night
(read:I'll pay for everything)
. They politely declined, told me to drink some coffee and hung up.
There were still a couple hours before the concert, so we shot some pool in the game room, which had themselves a genuine Dig-Dig machine.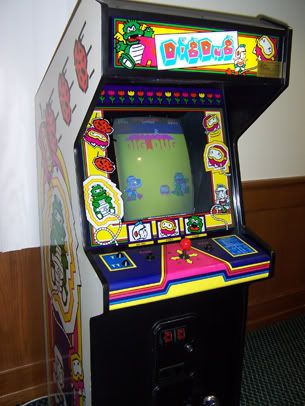 I tried to steal it, but it was bolted to the ground for some stupid reason. Still not fully satisfied with being well-fed and drunk on the hotel's dime, the Missus ordered a pizza and I hit the bar. The guy delivering the pizza was exceedingly late, so we only had about five minutes to mow it down before the doors opened for the show.
I should mention that this resort was chock-full of middle-aged resort folk, Beatles fans, alcoholics and barflies. It was like a packed college dorm with 40-50 somethings instead of complete dumbasses and horribly-tanned waifs. I couldn't even stumble through the halls in peace without some English teacher or small engine mechanic grabbing at me and screaming
'WHOOO!'
for some reason. Empty bottles were everywhere, the 50's music was inescapable and I couldn't stop laughing. It was like spring break for married couples and lonely divorcees.
The ballroom where the concert was being held was a nice enough place. There were tables reserved for us supercool
A-Section
folk, and a dancefloor for those who couldn't seem to get their appreciation across by merely clapping. Our seats were great, although I didn't get many good photos. The lighting showed up very poorly on the camera, and my hands were less than steady.

(Photo of actual American English show.)
In short, American English was perfect. Spot on. Note-for-note
amazing
. They looked, talked, sounded, played and bantered
exactly
like the Beatles. Their harmonies and attention to detail were surreal; along with their period costume changes to represent the eras and songs of the Fab 4. The PA wasn't the greatest, so when they put in too much gain or all sang at once, the faint pops and hisses sounded just like vinyl. I can't say enough good things about these guys; they are professionals all the way. They knew how to handle drunks getting on stage without dropping their accents or losing their charm. George sounded like George, John sounded like John, Paul played bass left-handed. From where I was sitting, their mannerisms and playing style looked uncannily like I was seeing the real deal.
They played for
three hours
, and the dance floor consistently had about 100 people on it at all times.

(Photo of actual American English show.)
I hadn't heard a lot of the songs they played for quite some time, which gave me the chance to enjoy their music in a new light and mindset. Look, if you honestly don't like
(or at the very least, respect)
the Beatles, you probably don't like music, or shouldn't. Any and every American and English band for the last 45 years has been inspired by their work, period. If it's been a while since you've listened to
Sgt. Pepper's
or
The White Album
, I suggest you do so sometime this week.
Watching all these middle-aged folks dance, sway and make fools of themselves moved me. At first, I was annoyed. After all, I didn't pay to watch them stand on chairs and scream
'Ringo!'
over and over. Then it started to make sense to me. This is how normal people have fun, and I had to respect that, even if it didn't agree with me. I looked around and saw a lot of people doing a lot of different things, wearing ugly clothes and drinking ugly beer, but everyone was
happy
. If I wanted to sulk and piss my night away, I certainly could have
(I've done it many times before)
, but a lot of things made sense to me at that point. Beatles music and, to a far greater extent, alcohol, are the great uniters, and for three hours it mattered not what you were on the other side of the ballroom door. That's neat to me.
(My photo.)
When the show was over, hundreds of people spilled out into all corners of the
S.S. Fox Valley
, even louder and stumbly-er than before. On my way to the vending machine for some water, I went past the pool and again remembered why it's not such a bad thing that I can't swim. Booze + hot tubs + dozens of middle-aged people = the most bizarre game of grab ass ever played. I'm still not entirely certain that this place wasn't a front for a swingers club.
Judging by all the open doors, along with how many people kept stopping me to talk in the halls, I might be right. I was nice to the first few people who accosted me, but eventually I just clutched the ends of my blazer in fear and made a beeline for my room. Perhaps it was because of how dead-ass sexy I looked that night
(see top photo)
. I got to bed around 3am.
We woke up around 9 on Sunday morning and checked out before 11. Not needing to head home so soon, we decided to spend the afternoon in Kohler, a small village a few miles south of Mishicot.
Kohler is a weird place. It was built by rich white people, lives by a doctrine of perfection they call
'The Master Plan,'
and the median income is in the six-figures. The U.S. Open is regularly held on one of their many golf courses, and every house comes equipped with an extra-high gate. Our kind was not welcome here, which is why we went. Kohler is also home to the Kohler company, manufacturer of fine home fixtures and designs. There's a good chance that your house has a Kohler sink or toilet.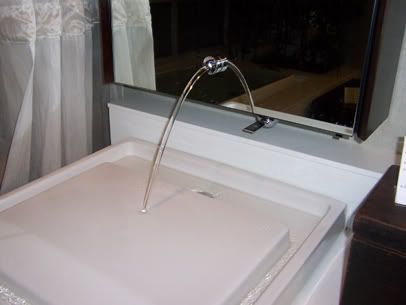 Oooh, the water's coming out of the mirror!
We wanted to tour the company, but we needed to eat first. All the country clubs looked rather intimidating, so we stopped at a gas station to ask where all the eateries were. "There
are
no restaurants in Kohler," sniffed the clerk. She was serious; there aren't any places to eat in Kohler. Period. This place reminded me up and down of
The Truman Show
; I was waiting at any moment for a stage light to fall out of the sky. We had to actually drive to the next city over just to find a place to eat. Worse still, it was an Applebee's. I'd rather eat drywall; but we compromised.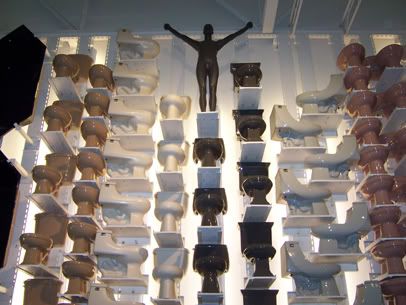 They take their toilets pretty seriously here. Same goes for their showers, which are fully capable of stripping the flesh from your bones, should you choose that particular setting.
At this point, I want you to know that I think it's funny what my life has amounted to. When I was a kid, I would have absolutely despised a day trip such as this. Nowadays, it doesn't seem the least bit strange to ask the Missus if she wants to go and see the 2006 line of bidets.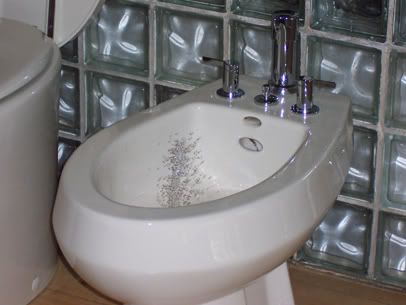 Maybe I'm getting older. Maybe I'm an idiot; I don't know. It's probably the company I keep. Frankly, I could go to a kick-me-in-the-balls-with-a-steel-toe-boot convention and have a good time as long as the Missus is around.
For such a deep tub, it wasn't nearly long enough to accompany my massive 5'9" frame. And what day out would be complete without me trying to hit on a woman made of plastic?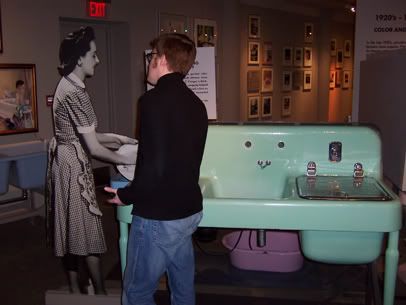 The streak continues. After our tour through Poop Towne, we made it back home before prime time.