Wednesday, October 11
Link Party* - October Edition.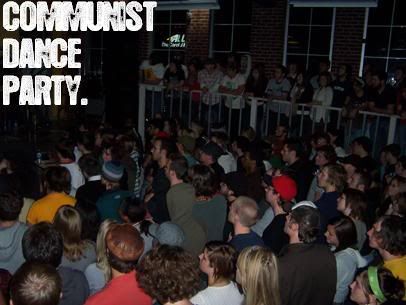 1. "Hey, what did you do this weekend?"
First off, thanks for asking. On Friday, we went to a fantastic concert at
The Loft
, a nice
Madison
venue for the hipsters and Locomotive Engineer hat-wearing crowd. Headlining the show was
Minus The Bear
, with
P.O.S.
and
the Velvet Teen
opening. These artists have released three of the best albums of the past year in my opinion, so I was very excited.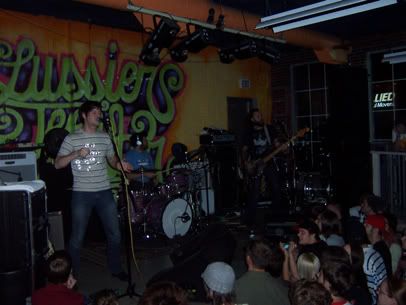 The three members of the Velvet Teen
(who absolutely never tour)
created a wall of sound that rivaled even the 5-piece noodling of Minus The Bear. Their new album,
Cum Laude
, is a huge artistic triumph and a sure-fire
Album of the Year
candidate for the
CDP
.
Their new drummer was an absolute monster behind the kit, giving one of the most jaw-dropping and technical performances I've ever seen. Seriously, I've seen hundreds of good live drummers, but this guy was instantly placed in my top five. We shot a video clip with our digital camera, but the drumming was so fierce that everything got distorted.
Next up was
Minneapolis'
very own P.O.S., who was masterful at working over the mostly-indie crowd. His new album,
Audition
, is hands-down the best rap album of the year, drawing huge on punk influences and self-effacing introspection. He had a small but rabid fanbase in attendance
(including myself)
, but surely earned himself a few hundred new fans when his set was over.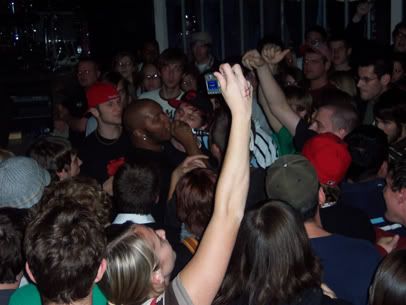 His crowd interaction, intelligence and intensity were unparalleled; why this guy isn't a huge star yet is beyond me. After the show, he challenged all fans to a thumb-wrestling competition; if he lost, he would give you free stuff. Brilliant.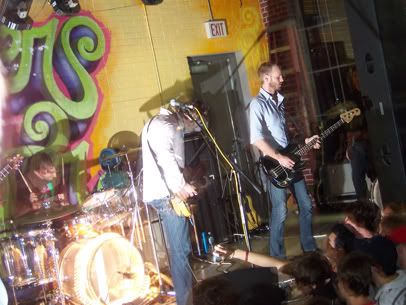 Minus The Bear took the stage to a thunderous reaction, and slowly slipped the crowd into a coma over the course of an hour. Don't get me wrong, I love the group, it's just that listening to too much of them at one time will hypnotize you.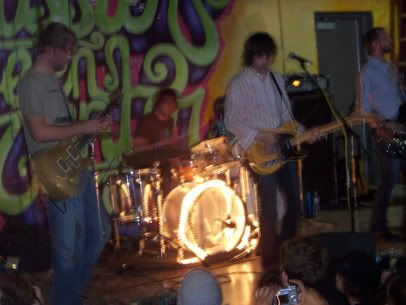 Their perfected, calculated and breezy sounds are the perfect music for drinking on a harbor dock or driving backroads at 2am,
not
standing on tired feet in a club. We left during their encore, and they only played about two songs that I really wanted to hear. On the upside, their new material sounded great.
On Saturday, me and the
Missus
ran all over Madison, spending money on crap we didn't need. I bought an
armload of CD's
and the Missus bought a bunch of accessories for our
new phones
. I'm just happy that I don't have to stand outside anymore to call my
Mom
.
2. "Hey, what are you watching?"
What am I watching this season? Every-damn-thing. Out of the
25+
shows I'm following this year, here's my top ten so far (
not including cable
):
10. Jericho
9. Supernatural
8. The Simpsons
7. My Name Is Earl
6. Friday Night Lights
5. House
4. Heroes
3. The Office
2. Studio 60
1. Lost
As far as news shows this year are concerned, if you're not watching
Heroes
or
Studio 60
, there's something seriously wrong with you. NBC made the wise decision to run reruns of their shows all week on their respective cable networks, so it's never too late to jump on board.
3. "Hey, what are you listening to?"

Here are the last 10 tracks and albums to take a spin in my sweet ride:
1. "My Girlfriend's Best Friend" -
The Sun
-
Did Your Mother Tell You?
2. "Get Myself Into It" -
The Rapture
-
Pieces Of The People We Love
3. "Flugufrelsarinn [The Fly's Saviour]" -
Sigur Ros
-
Agaetis Byrjun
4. "I Don't Feel Like Dancin'" -
Scissor Sisters
-
Ta-Dah
5. "Stand By Me" -
Ben E. King
-
The Very Best Of The Drifters
6. "Stand Up
(and get murdered)
" -
P.O.S.
-
Audition
7. "Trains To Brazil" -
Guillemots
-
From The Cliffs
8. "So. Central Rain
(I'm sorry)
" -
R.E.M.
-
Best Of The I.R.S. Years (1982-1987)
9. "Gyzmkid" -
The Velvet Teen
-
Cum Laude!
10. "Sames & Opposites" -
Demitri Martin
-
These Are Jokes
4. "Hey, what are you reading?"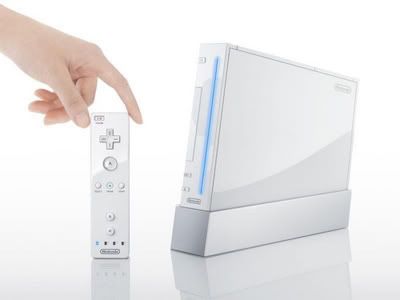 As you can tell, I don't have too much time for
book-learnin'
right about now, but I
did
pick up the new issue of
Electronic Gaming Monthly
; mainly because of their
Guitar Hero 2
preview. I haven't been this excited for a video game since
Super Mario Bros. 3
in
1990
.
Also, I'm quite excited for the release of the
Nintendo Wii
in November. I don't consider myself to be anywhere
near
a hardcore gamer, which is exactly why I'm excited about the Wii. Nintendo understands the concept of appealing to the casual gamer with easy games and
'jump right in'
concepts. I like games I can play with the Missus, and judging by the early reviews of the system, Nintendo has a good chance of winning the next round of the console wars. Also, the Wii will retail for around $250, whereas the PS3 is weighing in at $600. No, thank you.
5. "Hey, what else in new on the CDP Network?"

Not too much; updates have been few and far between. If you want to be included on the
CDP Network
(and get a few hundred extra hits a month)
, send an e-mail to
communistdance@yahoo.com
, and we'll talk.
Sound off in the comments section and tell us what you're up to.
Lost Friday
arrives next.
(* links not included.)
Comments:
The big networks have also wisely decided to play their top shows on demand at their websites. incredibly they all use the same format and makes the pain of missing shows (see: Example #3 - Limerick (AABBA):) a little less frustrating.
<< Home