Thursday, December 21
We've Just Got Two Words For You.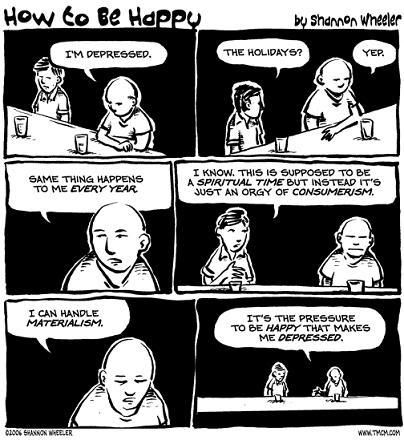 If I could make it any clearer that I'm burned out and depressed
without
having to hang myself in my bathroom by the elastic in my boxers, I most certainly would. I want Sweeps (
aka-this year
) to be over even more than
you
do, so I can be once again funny and creative in 2007. It's going to rule. I have so many things lined up, I make Tony Robbins look like a life-support patient.
Now
that's
motivation.
Later.
Comments:
Since 2004, the
CDP
has donated over $450 to various charities, including Planned Parenthood, HospiceCare, The Dane County Humane Society and
(now)
The Special Olympics. I do this because I somehow believe it will keep me out of hell.
Seriously though, something happened to me yesterday that sort of destroyed my fragile mental stability, and I needed to do something to heal it.
There's this guy that lives in Madison, and I hire him from time to time to do work for me. Because of the nature of my job, I rely on many people to make sure that exams are properly administered throughout the state of Wisconsin. If it wasn't for the hard work of the freelance people I hire, I'd be fired on the spot. They make me look like a genius.
Anyways, last week, I was talking to this gentleman about future work, and he asked me if there were any full-time positions available in my department. He informed me that the part-time work he does for me is his only source of income, due to a lengthy recovery from a disability that cost him his last job.
I was honest with him, and told him that I had no additional work for him. Above that, I told him that working full-time for the State requires a lot of hoops that could take a year to jump through. He understood, shook my hand and headed home for the day.
After years of wondering what employment power felt like, I got a taste, and it was horrible. Having someone twice my age beg me for a job
("answering phones, opening mail, anything!")
was about as pleasing as running over a cat, and I wished out loud that there was something I could do for him.
An hour later, I left the office for the day. As I was walking out to my car, I saw him, standing by the bus stop, waiting to go home. It was probably 10 degrees that day.
I proceeded to go home and watch
The Simpsons
on my flat-screen TV, order a pizza and watch YouTube videos on my new iMac. I felt like the biggest douchebag alive, and I thought about setting the house on fire as a way to cleanse myself for years of wasteful and pointless behavior.
Instead, I wired some money to the Special Olympics, in exchange to see my friend Kendra jump into a frozen lake.
I feel more at peace with myself than I have all week.
<< Home