Thursday, January 18
CDP Link Party - "I Miss Katherine" Edition.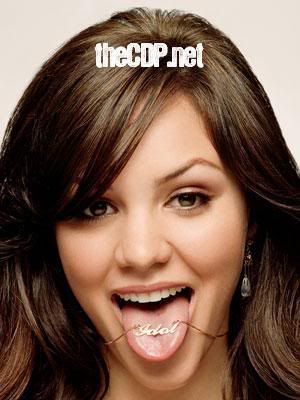 1.
American Idol's
back, and I'm more than a little concerned. After four hours of auditions this week, I think I saw
one
serious competitor that didn't annoy me to tears. I fully understand that the first month of
AI
is the humorous
'cattle call'
that we all love so much, but they usually show off at least
some
of the talent we'll be seeing down the road. Not so much.
I was also glad to see that the best
Wisconsin
export thus far was a
Crack Baby
. Way to represent,
Madison!
The
Missus
used to work for the welfare office of
Dane County
, so every time we see a mugshot or Crack Baby on television, she exclaims
"I know that person!"
This was no exception
.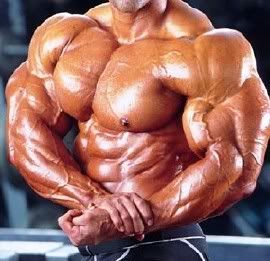 2.
In lieu of heavy writing and other various
CDP
projects, I'm still working out like a madman. Around Christmas time, my weight was somewhere around 153 pounds. Yesterday, I broke the 161 pound mark; my heaviest weight to date.
This is a good thing, however. I'm quickly gaining muscle weight and slowly losing
'fat'
weight, which will counterbalance in a month or so. This is exactly where I want to be with my weight; now I just need to make sure that it's due to as much muscle as I can pack onto my frame. I did take yesterday off from exercise however, due to a sore
rotator cuff
.
I wish I could write a
funny essay
about working out, but it's been pretty mundane and run-of-the-mill. However, the
day
I pee my pants in front of my
personal trainer
, you'll be the first (
well, second
) to know.
I'm also making small changes to my diet. I'm laying off of
soda
completely, in favor of strictly water or juice. Because I fear
kidney stones
like the
apocalypse
, I've been sucking down
cranberry
and
pomegranate
juice like nobody's business. I should tell you, however, that it's not wise to drink pomegranate juice quickly, or it will have an
'ipecac effect'
on you. Learn from the mistakes of a guy that damn near threw up all over himself during an office meeting yesterday.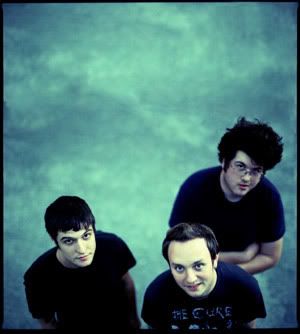 3.
Here are the last 10 albums I've listened to:
a)
The Beatles
-
Love
b)
Boston
-
Boston
c)
The Thermals
-
The Body, The Blood, The Machine
d)
Algebra One
-
The Keep Tryst
EP
e)
Soul Coughing
-
El Oso
f)
Catch 22
-
Keasbey Nights (New Version)
g)
Jawbreaker
-
Dear You
h)
P.O.S.
-
Audition
i)
Sufjan Stevens
-
Illinois
j)
The Velvet Teen
-
Plus, Minus, Equals
If you need 3 reasons why this month is awesome, look no further than new albums by indie supergroups
Of Montreal
,
Clap Your Hands Say Yeah
and
The Shins
.
Fantastic.
4.
I've been treating myself quite nicely this week. I've purchased four shirts, a nice wool jacket, a few CD's and a
John Locke
collectible figurine. After work, I will be picking up
Karaoke Revolution Presents: American Idol
, because I like to look like an ass in front of my friends.
Also, expect to see the very first
CDP
podcast
sometime next week, technical issuses permitting.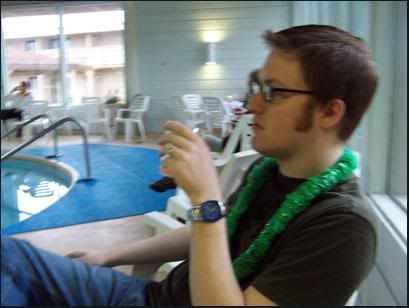 5.
In case you were wondering, here's what I'll be up to today:
6:00am - Wake up; shut off alarm. Go to closet. Fall asleep in closet.
6:30am - Missus wakes me up in closet. Prepare for work.
7:00am - Leave for work. Sing loudly and refuse to use turn signal.
7:15am - Arrive at work. Read Fark until co-workers arrive.
8:00am - Work. Repeat as necessary.
12:30pm - Eat veggie sandwich, potato salad, sliced fruit, one pickle and cranberry juice.
1:00pm - Continue to work. Leave when satisfied.
4:00pm - Arrive home. Change clothes and clean house. Pet cats.
5:00pm - Missus arrives home. Go to health club; work out for at least 1 hour.
6:30pm - Eat dinner consisting of more calories than I burned during workout.
7:00pm - Watch as much recorded television as possible. Sit by fireplace and snuggle.
10:00pm - Missus goes to bed. I stay up and play
Fight Night: Round 3
.
3:00am - Bed.
Later kids. Sound off in the comments section and let me know how you're living.
Comments:
I too am a junk food fanatic if there isn't something quick to eat at home.
BUT, I discovered a thing called "dream dinners" out here in our area… Maybe they have something like this where you guys are.
This is how it works… you set an appointment to make your meals at an establishment. You prep all your own meals all at once… Last weekend, in one hour, I prepped eight 3 serving meals for me and my hubby. You zip lock it all up (with the cooking directions stuck to the outside of the bag) and throw it in your freezer. Everything is chopped, seasoned, and ready to be cooked.
So I'll come home… killed from working with the biggest bunch of jackasses on the planet… Open the freezer... Pull out my seasoned veggies for the penne pasta… Cook it all up… add a salad… bada-bing! Dinner in 30 mins!
What's nice about it is you REALLY are making your own meal… just a week or so in advance. Plus, you can put what you want in the meal… If their mushrooms look weird... you just add some fresh when you are at home and cooking the actual meal.
Started doing Dream Dinners a year ago when the Taco Bell Guy at the window knew me by name… and my friend almost crapped her pants over it.
Check it out... It's pretty cool...
<< Home