Tuesday, January 2
I Love You But I've Chosen Darkness.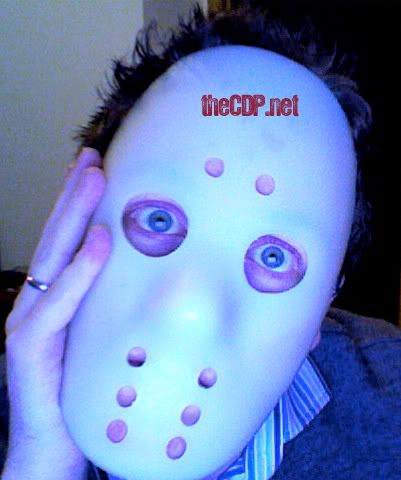 What Am I Doing?
Catching up on all of the
books
I need to read.
Working out in training for my upcoming
UFC
match.
Doing the work of three people at the
office
.
Not getting my
stomach ulcer
taken care of.
Being the best husband and
friend
I can possibly be.
Laying groundwork for the first
CDP
book.
Mourning the loss of James Brown &
Brett Favre
.
Looking forward to my
mini-vacation
next week.
With no new television on the air for the last two weeks, I've been able to dig into the stack of unread books that have been accumulating for the last six months. In addition to that, I'm doing my best to at least
consider
getting into better shape. With a new health club opening less than 100 yards from my house, I'm completely out of excuses. Considering my height, weight and metabolism, there's no reason why I shouldn't be kicking
everyone
's ass right about now.
January is the hardest month for me in the office, due to 2007 scheduling deadlines and other pointless piffle. I'll keep it brief and state that I'll be a much better guy to hang around come February. I'll probably get a raise, too.
Because
nothing
's harder than being a 24-year old white guy, I'm coping with what is now been proven to be an honest-to-goodness Peptic Ulcer. It keeps me up at night, it keeps me from eating before bed, and it's causing me to pop Tums and chug Pepto-Bismol like nobody's business. As you can imagine, I had been anticipating the moment my anxiety would start destroying me from the inside out for decades now. I'll go to the doctor soon, I promise.
At the end of the day, the Missus is my best friend, and one of the only people I actually want to participate in a conversation with. As logic would dictate, it makes sense to attempt to protect my assets and give her a reason to reciprocate the attention. I'm not always a great guy to be around, but I'm doing what I can to let her know that she's special and worthy of as much common decency as I can muster.
It's been nice not having to keep abreast of all the new television shows the last few weeks. Part of me wants to keep the TV off and focus on all of the other things I've had time for, but past behavior predicts that I'll be setting the TiVo like mad and giving up on all attempts at parallel creativity. At least I know who I am.
Whenever I get a few minutes to myself, I'm trying to compile and edit enough old and new
CDP
material to comprise a book. I've accomplished many goals in my life, but getting a full-length published novel has always been pushed aside for one reason or another. This is unacceptable, and I will cross it off of my list by the end of the year. Count on it, and buy a copy for your Mom.
The night after Brett Favre's father died, he proceeded to take the field against the Oakland Raiders, throw 4 touchdowns and pass for 399 yards. When interviewed afterwards, in what many people refer to as the most inspirational and emotional NFL performance in history, Brett was solemn but did not shed a tear. On Sunday night, when asked if he just played his last football game, Brett broke down on national television.
He's retiring, folks. It's over.
On January 12, 13 & 14, I'm leaving the state for a much-needed departure from everyone. I'll let you know how it goes.
Quick playoff predictions:
Wild Card:
Seattle over Dallas
Indianapolis over Kansas City
Philadelphia over New York Giants
New England over New York Jets
Divisional:
Chicago over Seattle
New Orleans over Philadelphia
Indianapolis over Baltimore
San Diego over New England
Conference:
Chicago over New Orleans
Indianapolis over San Diego
Super Bowl:
Chicago over Indianapolis
Later, kids. Sound off in the comments section and let us know what you're up to.
Comments:
I appreciate your predictions.
Minor adjustments:
Conference:
New Orleans over Chicago
Indianapolis over San Diego
Super Bowl:
New Orleans over Indianapolis
Just saying. It'll be a fine day in Detroit.
<< Home