Thursday, January 4
Winner By Technical Geek Out.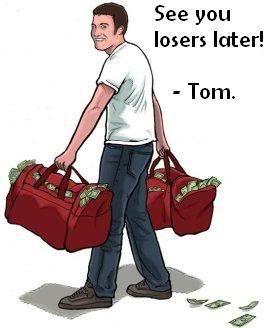 Just a friendly reminder that MySpace will eventually kill you and defile your children.
In my never-ending quest to spend more money than I make, me and the Missus have once again joined a health club. For the Missus, this is a chance to be active and healthy in a close-to-home atmosphere; for me, it's a chance to develop my body into something resembling the UFC fighters I have grown to cherish and idolize. Oh, and a chance to pee in someone elses' shower for a change.
I'm either going to be ripped and certifiably sexy in weeks, or I'll develop a blood clot in my leg that eventually kills me in my sleep. Either way, I'll give you a full report once I get rolling.
By the way, these 'mini-blogs' will continue until I have enough time to start working on my many big
CDP
projects this year. Stay tuned.
Comments:
Here's a sad, sad story...
I have
free lifetime membership
to a gym near my house. I didn't use it for years, living 2 hours away. I started going religiously once I moved back in May, stayed in shape over the summer, but with the arrival of football season and the weekends of binge drinking that followed, I haven't been since late September.
It's free, and I just keep coming up with excuses not to make it...
<< Home