Thursday, March 15
Melinda Doolittle Watch - Volume 1.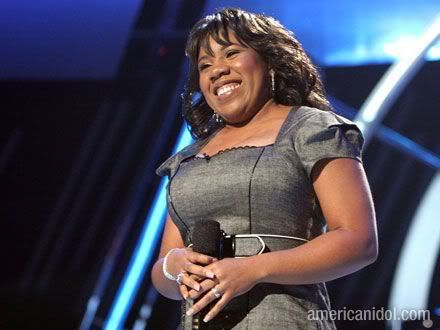 100,000 people auditioned for
American Idol
this year.
There are now 11 singers left, and Melinda Doolittle is one of them.
Just thought you might want to know.
Lost Friday
smacks you upside the head tomorrow. Bring a dish to pass.
Comments:
I keep telling people that this year, it's a real battle between if
American Idol
is a 'singing competition' or a 'reality show.'
'Singing Competition' dictates that LaKisha and Melinda run away with this thing, although girls like them (good ones) usually lose in dramatic fashion 2 weeks before the finale'.
'Reality Show' dictates that complete losers like Sanjaya and Gina stick around until the very end, because people enjoy voting for their gimmicks, instead of their voices.
I really hope it's a Singing Competition this year; Melinda and LaKisha are two of the best we've ever seen.
<< Home