Monday, April 9
This Ain't No Dress Rehearsal.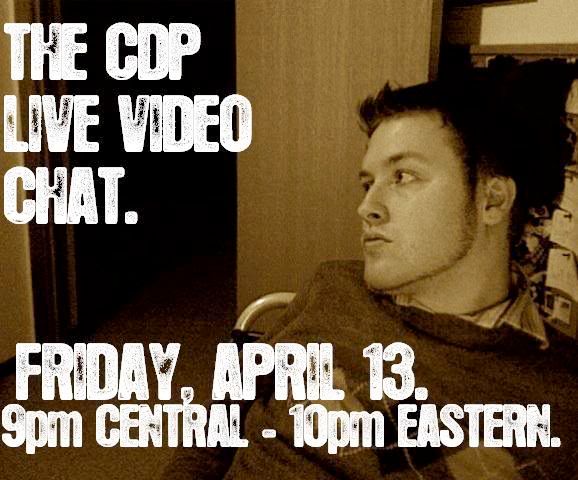 The very first
CDP
Live Video Chat
. Join me and dozens more for 2 FULL HOURS of LIVE
CDP
action. I'll be
live
and
on camera
to answer questions, mingle with the commoners and entertain. Music will be played, punch will be served, hearts will be broken.
WHEN?
Friday, April 13th at 9pm Central time (
7pm Pacific, 10pm Eastern
). Mark it down, make a note; whatever allows you to remember this date and time. Seriously, you're not going to want to miss this. If I'm all alone in this thing, I'm more than certainly going to kill myself.
WHO?
You and everyone that you can snag. I'll be heavily promoting the Live Chat all week, so tell a friend and get ready. The more, the merrier; it's a chance to bring together
CDP
readers around the globe to essentially make fun of me and eavesdrop on my life.
WHY?
Because you have nothing better to do on a Friday night. Also, it's
Friday the 13th
! How cool is that? Oh, and there's a good chance I'll be getting naked at some point. A
very
good chance.
WHERE?
The
CDP
's
Stickam
Chat Room. It's absolutely free and simple, and you can enter my Video Chat Room with just two clicks of your mouse. I'll explain everything below.
HOW?
Hopefully, I'll cover any questions that you might have here:
Q
- "
How do I get in?
"
A
- Simple. This is absolutely
free
and takes about two mouse clicks. You don't need to register or sign up for anything, and you
don't
need a webcam to participate (
if you do have a cam, however, I suggest looking into Stickam beforehand so you can join me on video; it'll be that much cooler
).
On the day of the live chat, I'll put up a nice, big link to my
Stickam
Chat Room. Clicking on that link will take you to my
Stickam
profile page, where you'll be able to get an 'outside' view of what's going on in the Live Video Chat. From there, just click on the video image of myself in the corner, enter your chat name and you'll instantly join the video chat.
Once in the chat room, it'll function just like any other chat room on the planet, only you'll have a nice Live Video feed of
me
at
CDP
Headquarters. In addition to chatting with everyone via text, turn up your sound for a Live
Audio
feed from
CDP
Headquarters, too. I'll be playing music, ranting, and making an overall fool of myself. It should be a good time.
Any questions or concerns? Leave a comment and I'll be there for you.