Tuesday, May 15
It's Been Awhile Since I Got A Bunch Of Hate Mail.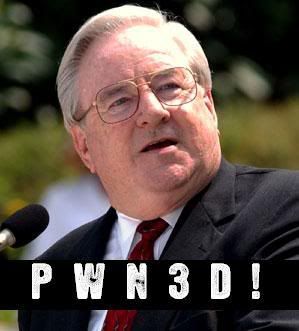 (Jerry Falwell - 1933-2007)
"
I really believe that the pagans, and the abortionists, and the feminists, and the gays and the lesbians who are actively trying to make that an alternative lifestyle, the ACLU, People for the American Way- all of them who have tried to secularize America- I point the finger in their face and say "you helped this happen.
" -
Following the September 11 Attacks
.
"
AIDS is the wrath of a just God against homosexuals. To oppose it would be like an Israelite jumping in the Red Sea to save one of Pharaoh's charioteers . . . AIDS is not just God's punishment for homosexuals; it is God's punishment for the society that tolerates homosexuals
." -
On AIDS
.
"
You'll be riding along in an automobile. You'll be the driver perhaps. You're a Christian. There'll be several people in the automobile with you, maybe someone who is not a Christian. When the trumpet sounds you and the other born-again believers in that automobile will be instantly caught away - you will disappear, leaving behind only your clothes and physical things that cannot inherit eternal life. That unsaved person or persons in the automobile will suddenly be startled to find the car suddenly somewhere crashes.... Other cars on the highway driven by believers will suddenly be out of control and stark pandemonium will occur on ... every highway in the world where Christians are caught away from the drivers wheel
." -
On Born-Again Christians.
"
Labor unions should study and read the Bible instead of asking for more money. When people get right with God, they are better workers
." -
On Labor Unions
.
"
I do not believe the homosexual community deserves minority status. One's misbehavior does not qualify him or her for minority status. Blacks, Hispanics, women, etc., are God-ordained minorities who do indeed deserve minority status
." -
On Minorities
.
"
I hope I live to see the day when, as in the early days of our country, we won't have any public schools. The churches will have taken them over again and Christians will be running them. What a happy day that will be!
" -
On Public Schools
.
"
I question the sincerity of people like the Reverend Martin Luther King
." -
On Civil Rights
.
The world has lost a true douchebag. Sound off in the comments section and pay your respects.
Comments:
You're a Unitarian, so yes, that would be wrong.
I
, on the other hand, am just an ass, so he can burn in hell for all I care.
Falwell may have
wanted
women to be treated as minorities, but he should have tightened up his math skills a little bit.
"Numbers are the devil's tool!"
<< Home