Monday, June 11
Bomb Pop!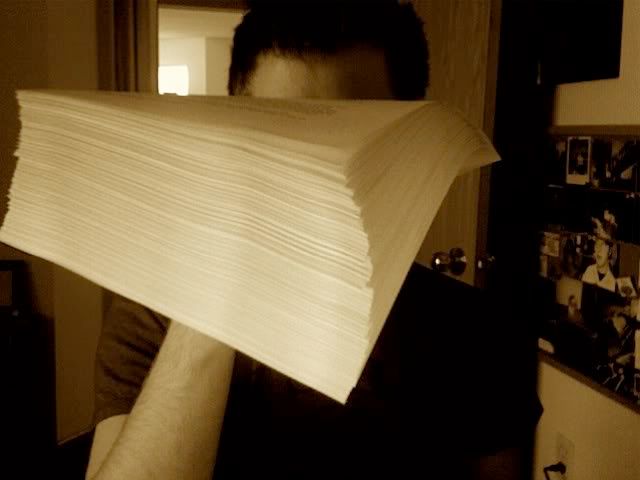 I figured 150-some comments was enough for the previous post, and besides, we were long overdue for an official
CDP
Book Update
.
In my hands (
not right this second, mind you, or else I wouldn't be able to type, ya' freaking mongoloid
) I hold 260 pages of the best posts in
CDP
history. In Phase II of my pre-production process, I will be going page-by-page through the stack, editing, revising, cutting, re-writing and updating everything that's fit to print. This phase will take considerably longer than the initial "
cut 1500 pages of worthless crap
" phase I just emerged from.
Once this is done, I should have approximately 250 pages (
my ideal length
) of beautifully edited and formatted text which I will then use to begin my layout process. At this point, it should be the Winter of 2015, and my not-yet-conceived son or daughter will be starting Kindergarten.
Thanks again for the support. Sound off in the comments section and cheer me on.
Comments:
BOLLOCKS!
(that's all you get when I'm on the spot, kid)
Woo hoo! (soon to be) 250 pages, wicked cool. That really is about the perfect final length for a book of essays. Way to go!
New comment page is a good idea, since it was getting difficult to scroll down to where I last left off without getting a cramp in my mouse scrolling finger.
<< Home