Wednesday, September 19
CDP Nationwide Mix-Tape Trade Ultimatum.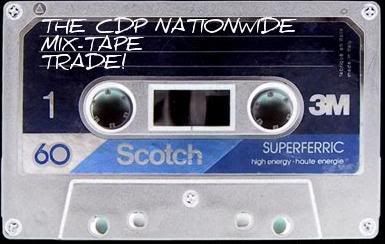 If you haven't mailed out a mix-tape to your assigned recipient by now, you are officially
TWO WEEKS LATE
and fresh out of excuses.
If you haven't received a mix-tape from your sender yet (
I haven't, along with at least a few others
), please sound off in the comments section or send an e-mail to
communistdance@yahoo.com
, so we can wrap this thing up. Oh, and if you're one of the folks who decided not to follow the rules, feel free to explain yourself in the comments, as well.
For more information on the Nationwide Mix-Tape Trade,
CLICK HERE
.
Comments:
Also because this must be the first time you've ever done twon posts in one day. I doubt the less obsessed people check here more than once a day.
And if you really thought about 16 people could sucsessfully mail all there mix-tapes in a week, then let me introduce to the unreliable public.
<< Home