Friday, November 9
I Want To Hurt You With My Body.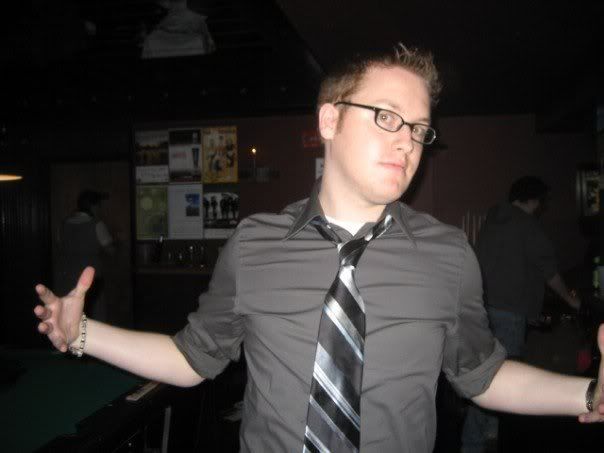 It's Friday. My book is in limbo, we're getting snow this weekend and I'm throwing away money as if it were ribbon candy. There's really only one thing to do, besides murdering a transient for no good reason; get together with some friends and relax. Enjoy today's massive (No) Link Party, and try to enjoy your weekend. I'll have a ton of book news next week.
1. "Hey, what are you listening to right now?"
Here are the last 10 albums to digitally spin in my iPod. Some of them are great, most of them are not. Like fruit cocktail, or episodes of
Heroes
.
a
)
The Earth Is Not A Cold Dead Place
- Explosions In The Sky
One of the most captivating and beautiful instrumental bands I've ever heard. Just saw them on
Austin City Limits
, and they blew me away.
b
)
Feelin' Kinda Patton
- Patton Oswalt
Oswalt has almost instantly become one of my favorite current comedians. He's very much a 'why didn't I think of saying it like that?' comic.
c
)
Werewolves And Lollipops
- Patton Oswalt
More great stuff from a guy who writes his jokes with punctuated brilliance.
d
)
Planet Of Ice
- Minus The Bear
Not their best album, but still moody, sexy and drunken. The perfect make-out band.
e
)
The Difinitive Collection
- Stevie Wonder
You can't really ever go wrong with Stevie. Unless he's driving.
f
)
Bang!
- Nightmare Of You
A self-released EP from a criminally underrated band.
g
)
Think Tank
- Henry Rollins
The first of many spoken-word albums I'll be purchasing from Mr. Rollins, out of fear he'll crush my windpipe with his thumbs.
h
)
Under The Boards
- Saves The Day
What happened to these guys? What used to be my favorite band has turned into a parody of themselves. Get it together, Conley!
i
)
Musical Apocalypse In 16 Steps
- Mixtape By HeyDomsar
This is a really, really good mix. It has a very dusk,
'Milwaukee'
feel. Thanks, Domsar!
j
)
Reign In Blood
- Slayer
The thrash classic from the masters. This album is just brutally amazing.
2. "Hey, what are you watching right now?"
Almost nothing. In trying to eliminate as much excess television as possible, I'm down to about twelve shows that I never miss (
besides sports entertainment, which I try to keep to myself
). Thanks to mid-season breaks, cancellations and writer strikes, this number should dwindle down to about five by the end of the year. I'm done with the dramas (
not counting Lost
), and I barely want to watch these shows, either.
a
)
The Simpsons
I was on YouTube yesterday, watching some local TV promos from 1990, when I saw a commercial for a 'new' episode of
The Simpsons
. I sometimes forget how insane it is to have a scripted television show run for over 19 years.
The Simpsons
is older than
Cargirl
!
b
)
King Of The Hill
Forget
Family Guy, this
is the show that won't die. For a good reason, though. I know that the right people watch
King Of The Hill
, but more people should know that it's really quite fantastic. Mike Judge is a subtle, satirical genius.
c
)
Ghost Hunters
A current tradition at
CDP
Headquarters is for Ben and Sherry to come over and watch
Ghost Hunters
in pitch darkness, and walk home afterwards. I wonder how that's working out for them, especially considering that winter is coming.
d
)
Dirty Jobs
Mike Rowe needs his own talk show like you wouldn't believe. This guy is a classy, instantly-likable pro, all the way.
e
)
Mythbusters
Still on, still awesome and still pissing off the Missus,
Mythbusters
is consistantly one of the best shows on cable television, even though they pretty much gave up on Urban Legends years ago.
f
)
Kid Nation
I don't think I'll watch another season of
Kid Nation
, but I've been seriously enjoying this first one. If you can find a way to watch from the beginning, it's well worth your time. I never realized I could hate children any more than I already did.
g
)
Carpoolers

Fred Goss, Bruce McCullough and the fat kid from
Stand By Me
. Need I say more? Nope!
h
)
My Name Is Earl
What amazes me about
Earl
is how dirty it is. In fact, it might be the dirtiest show I've watched in years. Plus, the kid that played Telly from
Kids
is on there from time to time. Watching him in a comedic role almost negates how much I hated him from 1995 to 1998.
Almost
.
i
)
The Office
Have the writers and producers been spread too thin this season? Beats me, but
The Office
is still one of the funniest shows on television. I also just found out that John Krasinski is only 28 years old. What a bastard.
j
)
30 Rock
I'll be honest with you,
30 Rock
deserved the Emmy for Best Comedy over
The Office
. The writing is razor-sharp, the cast is insanely good and it's as close to
Arrested Development
as we're ever going to get. Plus, Tina Fey is always welcome in my home.
k
)
Saturday Night Live
I was looking forward to watching The Rock host for the third time this weekend, but it looks like the show will be held off due to the writing strike. Hopefully, they'll just air the episode of the
last
time The Rock hosted.
l
)
The Ultimate FighterThe Ultimate Fighter
is like
American Idol
, only the contestants are competing for a UFC contract, and win by beating their opponents into submission. Why aren't you watching?
3. "Hey, what are you reading right now?"
Now that I'm done reading my book for the 50th (
and final
) time, I can focus more on the stack of magazines I've been accumulating for the last few months. Me and the Missus are subscribers to
Entertainment Weekly, Rolling Stone, Game Informer, Vegetarian Cooking, Esquire,
Cat Fancy
and probably something else that I'm forgetting.
I enjoy
Esquire
because it's catered to men who are slightly-to-obscenely outside of my Quality of Life range. Don't get me wrong, I'd
like
to live like these people, but I don't have nearly the cash or asshole attitude. I can't afford anything shown in the ads, I can't just waltz into town and purchase a $1200 suit, and I'm certainly not going to sell my car so I can buy a new watch, er-
timepiece
. Maybe someday, but until then, I'll continue to read
Esquire
in my pajama bottoms with a cat on my lap, and try really hard not to spill raw cookie dough onto the pages.
Finally, I recently read a
Damn Interesting article
on theories behind the 'Wedding Ring Effect,' and what guppies have to tell us about the prospects of snagging a potential mate. Good stuff.
4. "Hey, seen any good movies lately?"
Not really, but I did purchase the First Season of
Metalocalypse
on DVD. From Brendon Small, the creator of
Home Movies
,
Metalocalypse
is, in my opinion, the only reason to watch the
Adult Swim
block on the Cartoon Network. Hilarious stuff. Even more hilarious is that the soundtrack to the show,
The Dethalbum
, debuted at #21 on the Billboard charts, making it the highest charting Death Metal album ever. Wow.
Benjamin recently hooked me up with the
'Version Integrale'
of
The Professional (Leon)
, which I've been looking forward to watching for weeks now. I was frustrated when I saw the deleted scenes of the film that test audiences weren't too keen on, and the
'Version Integrale'
restores the movie back into what it should have been. It makes it all the more better, which I thought was next to impossible for awhile.
Director Luc Besson = Genius.
12-year-old Natalie Portman's bob hairstyle = Chris Hansen-approved.
5. "Hey, what's up with the book?"
65 Poor Life Decisions
is 'in the can,' as the kids say. I'm currently waiting for the publishers to put the wraps on a few things (ISBN, online distribution, copyright info, etc.), and it's all good from there. I had previously envisioned the book being released as close to the end of November as possible, and it's still a possibility, albiet an extremely tiny one. This is the first time that the book process has been completely out of my hands; now I'm just sitting and waiting like everyone else. As you can imagine, it sucks.
One burning question a few people have asked me is this: "
Once the book is released, will you remove the original essays from theCDP.net, as incentive to purchase the book and reduce the number of cheapskates?
" Truth be told, I don't know yet. To me, the
CDP
is what it is, and I've made next to no retroactive edits in the four years of its existence. However, the
CDP
might be taking on different forms and purposes in 2008; purposes which may require the house-cleaning of a considerable amount of backlog. As I move into writing books and other freelance articles full-time, the
CDP
might cease to function as we know it. To be safe, I'd just buy the book. Maybe two.
More updates as they come in, but I bought a bottle of brandy and a shotgun to keep me company in the meantime. I might as well get started on this whole 'self-destructive author' business while I have the free time.
6. "Hey, what are you doing this weekend?"
You know, I don't really know. For the first time in awhile, my weekend appears to be non-booked and open-ended, which makes me very happy. I figure I'll make the house slightly more spotless than it already is, pay my bills, balance the checkbook and go out to eat a couple times with the Missus and friends. Maybe eight hours of
Guitar Hero III
and a nap, just for good measure.
If the ISBN folks get back to me in time, I'll be receiving my 'test print' of
65 Poor Life Decisions
in the mail this weekend, as the draft needs my final approval before it goes to print. Everything should be fine, unless I overlooked some key formatting issues, like margins or periods at the end of sentences
Such funny jokes. If anyone wants to meet up for a drink or go on a Toys-R-Us shopping spree or something, this would be a good weekend to snag me. In the meantime, I'll be checking local supermarkets to see if they're carrying Egg Nog this early in the season. Believe me when I say that sucking back that first glass of sweet, sweet nog is the greatest part of the winter for me.
Sound off in the comments section and enjoy your weekend.
Comments:
Crap. So many things I want to address. I'll summarize:
Nightmare of You: I like them a lot! I had their most recent album - I'll have to see if I still do. I may have loaned it out and not gotten it back...
Dirty Jobs: I can never get enough Mike Rowe up to his armpits in sewage or giving an ostrich an enema.
The Office: John Krasinski is often referred to as "America's Crush". :) I feel like a lot of the season so far is a little contrived and forced, by I'm trying to look past it.
The Professional (Leon)
: One of my most favorite movies in the history of anything (Natalie Portman's best work in my opinion, followed by
Beautiful Girls
...everything else she's ever been in: MEH). I MUST purchase that version. I shall not rest until I have it in my hands.
<< Home