Monday, November 5
Lucky Strike.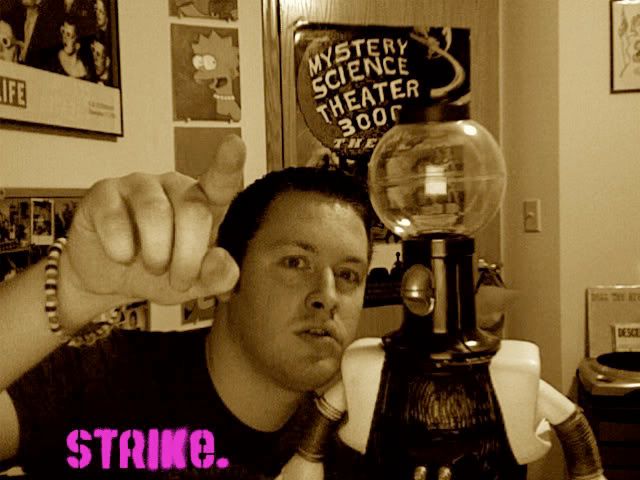 Like most fans of television and film, I've been closely following the impending Writer's Guild strike. For a lot of people, this is extremely bad news. Current televised entertainment is on the verge of shutting down until God knows when. Your favorite shows might go on indefinite hiatus while royalty and distribution fees are compromised by those fatcats in Hollywood. Television might be on the verge of a new Dark Age, much like the
'Yes, Dear'
Period from 2000 to 2006.
The good news? The
CDP
is here to help.
I am proposing, effective immediately, that I take over the head writing and producing duties of
every major television show in the nation
. I won't ask for credit and I won't ask for time off. Saving Hollywood will be a tough job, but I'm ready to go at it alone. I never really worked well with others anyway.
Desperate Housewives
? I'm your man with the scandal.
Lost
? Come on, who knows more about that show than I do?
Gray's Anatomy
? Hell, I could poop out an entire
season
of sex-fueled medical dramatics over the course of a three-day weekend. I'm a writing machine and I'm ready to work for you, all for a reasonable and affordable non-union fee.
You really can't afford
not
to take a chance on me. What's the worst that can happen?
I've been told that because they are in daily need for topical and current humor, late-night talk shows will be the first to feel the wrath of the writers strike. No problem. Here's a few quick-fixes that will last for years if need be.
Show - Late Night With Conan O'Brien
Target Demo - 18-24 year olds, typically inebriated or otherwise medicated.
Quick Fix - Conan plays a different board game with Christopher Walken each night. You won't even need to edit this one. One hard camera, a couple microphones and some lighting. Broadcast live and worry not about plummeting ratings, my babies.
Show - The Tonight Show With Jay Leno
Target Demo - 25-49 year olds that have forgotten what humor is supposed to be.
Quick Fix - Each night, Jay gives away one of his prized vintage cars until the strike is over, or until he retires from The Tonight Show in 2009. The car will be given away to one member of his audience, as a way of thanking them for even showing up.
Show - The Late Late Show With Craig Ferguson
Target Demo - People whose remote control batteries have died.
Quick Fix - Honestly, it's pretty clear that this show has been operating without writers since Day One. I wouldn't change a thing.
Show - Jimmy Kimmel Live!
Target Demo - Same as Conan, only significantly less educated.
Quick Fix - Sarah Silverman shows up and just spews random profanities and racial slurs into a lone mic for 60 minutes a night. Seems to be working good for her so far.
Show - Late Night With David Letterman
Target Demo - Anyone up at 11:30 Eastern.
Quick Fix - David just cracks wise with his interns, band leader and audience members. Hey, it might be stupid, but we're in crisis mode, here-- wait, he already does that? Every night?!?
Show - Last Call With Carson Daly
Target Demo - The asleep.
Quick Fix - At least once a week, Carson invites Satan onto the show and discusses the deal he made with him in exchange for talentless fame, wealth and the chance to have sex with Jennifer Love-Hewitt.
Just like that, the
CDP
has single-handedly saved Late Night.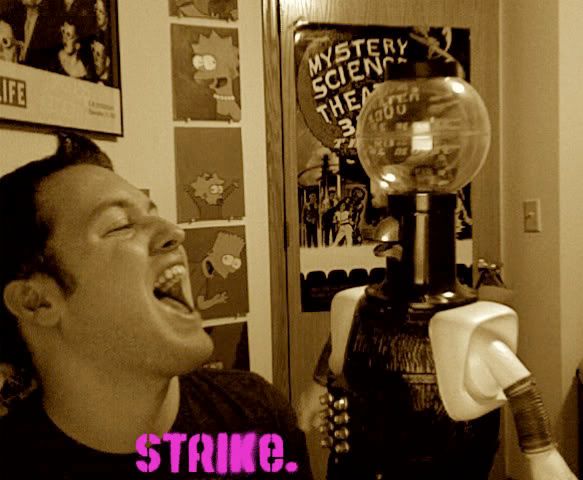 Just because I'm not writing fiction on my page, don't let that convince you that I'm not awesome at it. Here are just a handful of suggestions as to how I'd make prime-time rad again.
Show
-
Heroes
Premise - Regular people become superhumans, and yet it's all pretty boring.
Quick Fix - 60 minutes of Hayden Panettiere and Kristen Bell in front of a blue screen, dancing to 'Hungry Like The Wolf' with images of previous Heroes episodes projected behind them.
Show - House, MD.
Premise - Dr. House is a troubled, grumpy medical genius with a fake American accent.
Quick Fix - Turn it into a reality show where the actors attempt to actually treat individuals with a one-in-a-billion medical anomaly. Seriously, what's the worst that can happen?
Show - Lost
Premise - I still don't know, really.
Quick Fix - No more shirts for anyone. Good for the ladies as well as the gents.
Show - Friday Night Lights
Premise - The most amazing television show on God's green Earth, you neanderthal idiots.
Quick Fix - Explosions In The Sky plays over the top of every episode, while the cast just mimics arguing with one another and breaking things. Maybe a few football scenes, too.
Show - Saturday Night Live
Premise - Live, cutting edge skewering of current events through sketch comedy.
Quick Fix - Um.........oh, crap.
Whatever, dude. I'm officially throwing my hat into the ring. Hollywood, look to the blogosphere to find your next generation of selfish, non-union writers. I'll be waiting for you, and my bags are already packed.
NEXT TIME: THE COVER OF

65 POOR LIFE DECISIONS

IS REVEALED.
Comments:
Speaking of
Heroes
, I'm sure everyone has seen the footage of Hayden Panetierre trying to save the dolphins from butchering in China.
What do I have to say? Well...for the first time in too long, a young Hollywood star doing something worth a damn.
Not Hannah Monatana with a personal trainer at age 14, not that chick from High School Musical showing us the naughty, nope...I believe this young lady is the real deal.
She went up against China, for Christ sakes. Those are real tears. Even our own damn government won't do that. Color me her newest biggest fan.
Also, she has a fantastic ass. I'm just saying...
<< Home