Monday, January 7
KFC, WTF?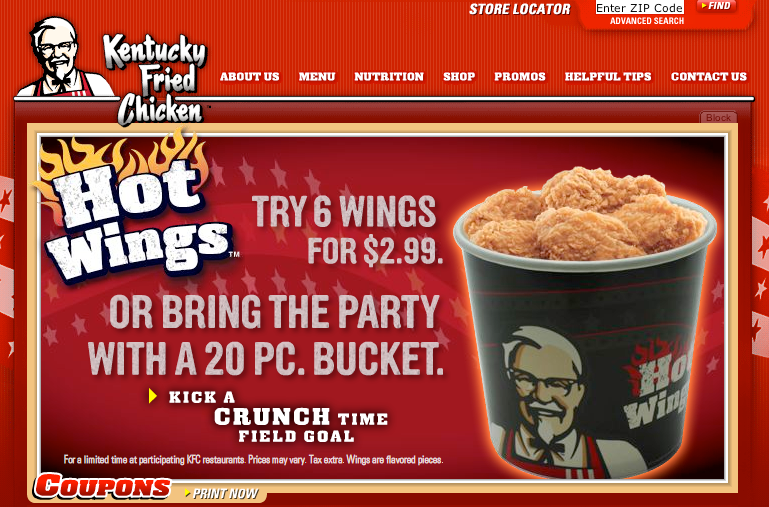 Note to the folks behind KFC's new marketing campaign for 2008:
Stop using my awesome font in your ads and commercials
.
Stop it. Stop it right now. Stop it forever times infinity. I noticed it during your latest commercial and damn near spat macaroni salad upon my Microfiber couch.
You're ruining it for everyone; I don't support your restaurants, nor do I want to appear as if I do. Furthermore, how did you find it? I downloaded it years ago from a free fonts page that wasn't even in
English
, for Christ's sake. Couldn't you have picked something else?
This font has been the signature style of the
CDP
for almost two years now, and I'll probably have to change it to put my conscience at ease. Sure, your potatoes, wedges and biscuits are incredible, but
that's not the point
. You're stealing my mojo, KFC!
Thank you for your time. I'll be happy to hear from your lawyers concerning the matter. I have it on good authority that I can take down both your chain and the entire Yum! Brands conglomerate with the airtight case I've developed.
Okay, maybe not, but I promise you this.
If your ad campaign doesn't change by the end of January, I will personally dig up the corpse of Colonel Sanders and drink your trademark gravy straight out of his dusty, redneck skull
.
You're aware of the consequences that your lack of action will take. Good day, gentlemen.
Comments:
The competitors were awesome last night. Leg injury, come from behind eliminator win, bloody Bonnie finishing a close second, and... SPIDER MONKEY!
Wolf rocked the house, Titan proved he was the real deal, Militia had to leave and go wax his pubes, Hellga let the tip show
(just a little)
, Fury could have taken on the men, Siren got beat in EVERY match up she was in.
They need a new play-by-play announcer STAT! That guy just plained SUCKED! He was killing me with such great insights such as:
"He's running"
"There he goes"
"He looks tired... yes, he is slower now"
"OOOOHH that was a hit, a big one"
"Did I mention he looks tired, exhausted, tiring... wow"
Also, was I the only one who hit mute when Venus was talking?
<< Home