Thursday, February 21
CDP Mix-Tape Exchange #2 Wrap Party. (Part 3)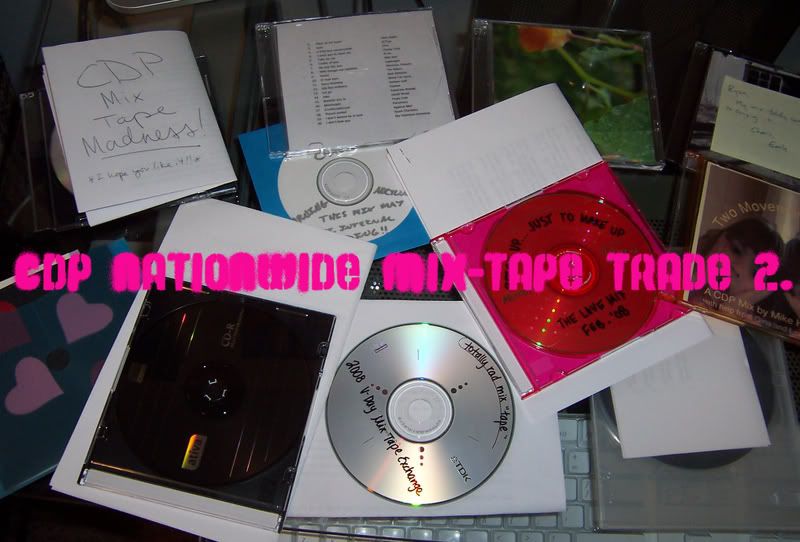 For this entire week on the
CDP
, I'm extending my thanks to everyone who participated in the
CDP Mix-Tape Exchange #2
; especially all those who took the time to send a personal mix out to yours truly. I'm currently in the process of listening to over
16
different mixes from
CDP
fans across the nation, and it's been quite fantastic. The theme of Exchange #2 was '
Love
,' and you guys didn't fail to deliver.
For those already wondering,
Mix-Tape Exchange #3
will arrive in late May. Also, if you're still interested in sending a Love-Themed Mix my way, throw it in an envelope and send it to:
theCDP
PO Box 865
Sun Prairie, WI

53590
Thank you in advance. Feel free to include any extra money or no-limit credit cards you might have lying around the house, too.
The last time we did this trade, I had enough time (
and not enough submissions
) to review each and every track of each and every mix. While I simply don't have the time to do that again, I still promised that I would spotlight (
albeit briefly
) everyone who sent a mix my way. Today, I shall continue said spotlighting, by pulling some mixes at random and giving them a run-down. I'll do this every day throughout the week until every ego has been properly stroked to the best of my abilities. Enjoy.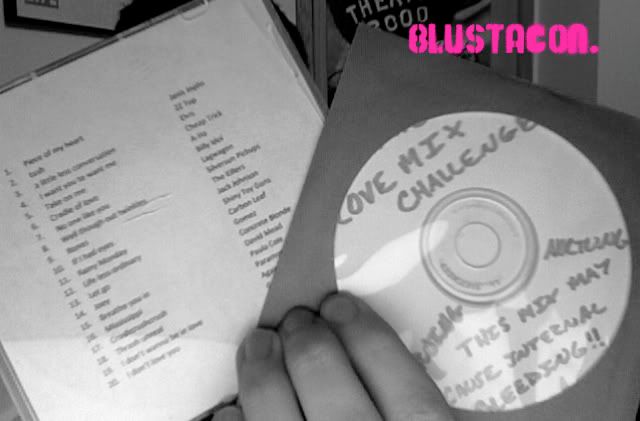 LOVE MIX #9 & 10: '

Good Mix/Bad Mix

.'
BY: BLUSTACON
'GOOD MIX'
1. Piece Of My Heart - Janis Joplin
2. Tush - ZZ Top
3. A Little Less Conversation - Elvis Presley
4. I Want You To Want Me - Cheap Trick
5. Take On Me - A-Ha
6. Cradle Of Love - Billy Idol
7. No One Like You - Lagwagon
8. Well Thought Out Twinkles - Silversun Pickups
9. Bones - The Killers
10. If I Had Eyes - Jack Johnson
11. Rainy Monday - Shiny Toy Guns
12. Life Less Ordinary - Carbon Leaf
13. Let Go - Gomez
14. Joey - Concrete Blonde
15. Breathe You In - David Mead
16. Mississippi - Paula Cole
17. Crushcrushcrush - Paramore
18. Thrash Unreal - Against Me!
19. I Don't Wanna Be In Love - Good Charlotte
20. I Don't Love You - My Chemical Romance
(The Missus was right. I was unable to get this mix to play in my iMac; theoretically due to the labeling being slightly too thick on the CD. That being said, I can still tell that this is a great mix, as I'm aware of at least a dozen of the tracks on here. Anything with Cheap Trick has to be awesome. I've also been enjoying Shiny Toy Guns, as I've been exposed to 4 of their tracks due to mix-tapes alone.)
'BAD MIX'
1. Something by Harry Connick Jr., I believe.
2. Let's Stay Together – Al Green
3. When You Say Nothing At All – Alison Kraus
4. Something terrible by Bon Jovi.
5. Because You Loved Me – Celine Dion
6. I believe this was a track by Corinne Bailey Ray.
7. More Than Words – Extreme
8. 100 Years – Five For Fighting
9. Superman – Five For Fighting
10. Fly Me To The Moon – Frank Sinatra
11. I Can't Help Falling In Love With You (Live) – Bon Jovi
12. Something indecipherably awful.
13. Something even more indecipherably awful by Celine Dion.
14. Unknown
15. Unknown
16. Unknown
17. Unknown
18. Unknown
19. Unknown
20. Unknown
21. Unknown
22. Unknown
(This 'Bad' mix was supposedly given to Blustacon at a wedding, and he sent it along with his other mix as a personal challenge for me to get through. I was game, however, bad news struck again when this CD crapped out after the 13th song (
there was no track list included
). Personally, I think the iMac was trying to tell me something after the second Celine Dion song blasted out of the speaker. Sorry Blu, there's just something weird about your CD's.)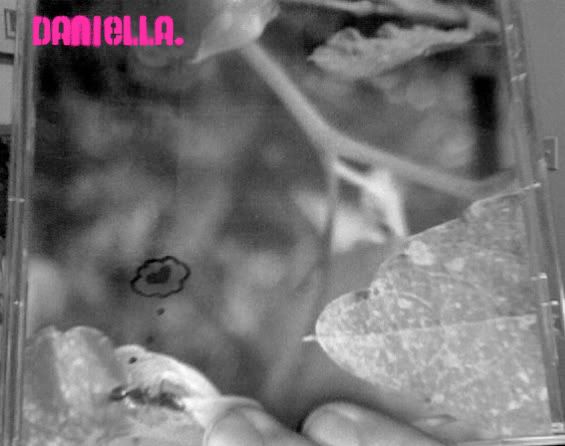 LOVE MIX #11: '

Hot Sh*t For CDP

.'
BY: ELLE MACHETE
(
Not Daniella, sorry
.)
1. Love Canal - Flipper
2. Gimme The Car - The Violent Femmes
3. Dark Of The Male, Light Of The Female - Old Time Relijun
4. Sweat - Jon Spencer Blues Explosion
5. Kaltes, Klares Wasser - Chicks On Speed
6. Soft Pink Missy - Soft Pink Truth
7. I Can Hardly Stand It - The Cramps
8. Body Below - Mirah
9. Lovefingers - Silver Apples
10. Public Sex (For Boyd McDonald) - Matmos
11. Girl - Suicide
12. Hard T*ts - Jackson & His Computer
13. My Red Hot Car - Squarepusher
14. In Particular - Blonde Redhead
15. Prisoner Of Love - James Brown
(I quite enjoyed this album for a few reasons. First off, I enjoyed the flow and the way the album was broken up into more of a path as opposed to a one-song-at-a-time showcase. Secondly, I had only heard two of these tracks previously, so it was a good introduction into some sub-genres and classics I had been ignoring. Finally and most importantly,
this mix doesn't screw around
. This mix doesn't subtly flirt with you and make you guess. This mix drives you back to her apartment, chains you to the radiator and touches you where your bathing suit covers. Good, sexy job, Vic. I expected nothing less.)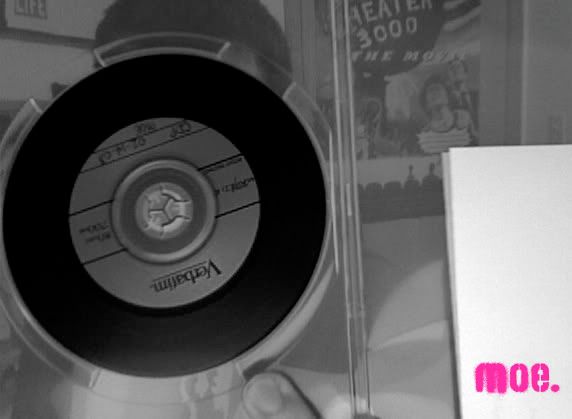 LOVE MIX #12: '

Untitled

.'
BY: MOE GREENE
1. Broken Heart - Motion City Soundtrack
2. Under The Gun - The Killers
3. Girlfriend In A Coma - The Smiths
4. Jesse's Girl - Rick Springfield
5. Not Now - Blink 182
6. Bruised - Jack's Mannequin
7. Be My Escape - Reliant K
8. Bring On The Comets - VHS Or Beta
9. Lovefool - The Cardigans
10. Hands Down - Dashboard Confessional w/Michael Stipe
11. Crash Into Me - Dave Matthews Band w/Tim Reynolds
12. Teenage Dirtbag - Wheatus
13. With A Little Help From My Friends - Joe Cocker
14. The Promise - When In Rome
15. The Last Song - All-American Rejects
Hidden Track - Baby Got Back - Sir Mix-A-Lot
(This is another good, modern mix my Moe Greene. It's at this time that I need to make the following confession: not only to I already have 'Lovefool' on my iPod, but I listen to it at least once a week on the way home from work. There. I said it, and I'd say it again if I had to. Thanks to Moe, I can also add 'Jesse's Girl' to the very same guilty pleasure track listing for the commute back home.)
Rad. Sound off in the comments, boast your musical prowess and enjoy your day.
Comments:
Nah, it's definitely a problem with the CD b/c of the sticker on it. When the CD got too hot in my CD player from going through 13 tracks of so it started catching on the sticker and skipping. I took it out and let it rest in the case throughout the work day, so when I put it back in later in the day it was good to go again. The Mac just can't play it at all b/c it's vertical and the sticker makes it go wonky. :)
Kate is a ho-bag. There, I said it.
<< Home