Wednesday, February 13
One Thousand, Four-Hundred & Sixty-Two Days.
"Hey, you. This is my inaugural post to my brand new blog. It would be really nice of you to check back frequently for more updates and general banter. Feel free to then make an educated decision to continue to return here or not. Thanks."
With that, my introduction to the Blogosphere began on February 12, 2004. Unemployed, depressed, underweight and longing for a creative outlet, I decided to hop aboard a fad that I thought was already on its way
out
of popular culture. I had just turned 22 and had graduated from college, was in the midst of planning a wedding, scrapping for cash and quite certain that every decision I made was a huge mistake, along with every
other
decision I had made since graduating from high school.
Hey, what a
perfect
time to start a humor blog. I know; I'm just as surprised as you are that it stuck around.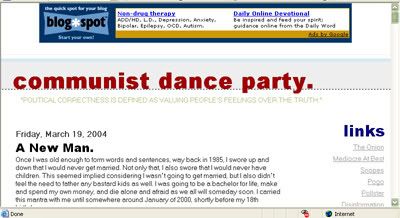 (CDP Screenshot - 2004 Design.)
At first, it was the very definition of a 'personal' blog, which is to say that it sucked.
I talked about what was on my mind; politics, music, television. The same stuff I talk about
now
, only with far less direction and far more unfunny bitching. My relatives would read and say nice things to me when I came home for the holidays, but that was about it. My audience was non-existent, my online persona wasn't established, and my 'real' life was still in figurative shambles.
On both fronts, things began to change slowly and surely with hard work and a clear head. I found my plateau. The traffic increased. I was married, got a nice job and started paying my bills on time. Sure, Bush was elected for a second term in 2004, but the Red Sox also won the World Series, so you have to take the good with the bad. As my personal life improved, so did the
CDP
.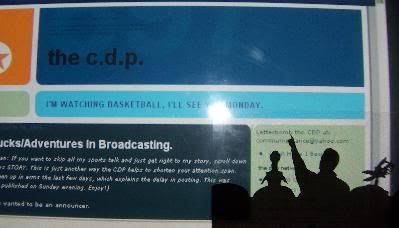 (CDP Screenshot - 2005-2006 Design.)
People like to ask me if there was a specific point in time where I started to take the
CDP
seriously. As much as I'd like to tell people that I
never
take the
CDP
seriously, it's quite evident that I
do
. It's my baby. My chief hobby. I keep it as perfectly groomed as I can, I defend it when it does wrong and I speak highly of it when it's not around. I've always said that I'd shut the page down without a moment's notice if it ever became anything less than enjoyable for me, and I still reserve that right. However, four years later, and it appears as if everything is starting over again. I love it now like I did when I launched it, only now for completely different reasons.
Jerry Seinfeld once stated that there are 'four levels of comedy.' They are:
1. Make your friends laugh. (
check
)
2. Make strangers laugh. (
check
)
3. Get paid to make strangers laugh. (
check
)
4. Have strangers talk like you because it's so much fun. (
does 'I can see your butthole' count?
)
All I've ever wanted was to put on a stupid show and make people forget about how ridiculous life is, if only for a few minutes every day. As a child, I thought this would be accomplished through writing essays and books. As a youth, I thought this would be through a talk show or stand-up comedy. As I got older, I found limited success in music and live performing. As an adult, I realized that I should have just listened to myself as a child.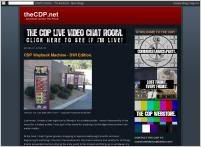 (CDP Screenshot - 2006-2007 Design.)
The Missus and other business-minded individuals beg me to attempt to maximize my traffic potential. Troll message boards, advertise everywhere, generate revenue by whoring out the
CDP
to whoever writes a check. The money is there, they tell me, I just need to snatch it up. I'd be a fool not to cash in on all of my hard work, readership and dedication.
Here's my theory on this. Some people write because they need content to support their business investment (
ie: blog
). I write because I'm a
writer
and I
have
to write. The content is first and foremost, and I don't feel it right to make money off of the Internet real estate I've delicately manicured over the past four years. If I enjoyed marketing and bothering people, I could increase my traffic by 500% in less than a month, but that's never been my goal. I'd rather have 1,000 loyal fans than 100,000 superficial ones. I don't want hits; I want a community that you'd enjoy being a part of.
So keep them entertained, answer every e-mail, respond to every comment, send those packages out quickly and let people know that you appreciate them as much as possible, because there are over a
billion
blogs out there, and for some reason, they've chosen
you
as their favorite.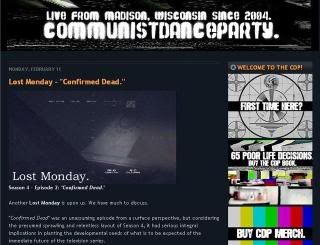 (CDP Screenshot - 2007-Present Design.)
I'm fully aware that this entire post has been a massive ego-stroke, but it bears mentioning that the
CDP
has allowed me to do things I've always wanted to do. Last week, a huge interview with me was featured on the second page of the
Wisconsin State Journal
. The week before that, I was spotlighted on television. Strangers say hello to me on the rare occasions that I emerge from my cocoon and venture out in public. My debut book is currently on back order, with no signs of slowing down. This is all barely scratching the surface of what I feel I'm capable of doing, but it's already more than I thought would happen, especially considering how this whole thing started.
I independently published my first book in November of 2007. Since then, I've made countless trips to the Post Office, stuffed hundreds of envelopes, popped about a billion bubble wrap capsules and autographed books until the Sharpie ran dry. Some people can't believe that I work so hard at something that nets me only a little bit of money in return.
My response?
This isn't work
. Never
was
work. Never
could be
work. This is a dream come true.
In the month of February 2004, I received 4 hits from visitors. In January of 2008, I received over 20,000. I don't know how this happened, but I sincerely thank everyone that holds some sort of responsibility towards it. If you promise to stick around and let me entertain you, I'll promise to only improve and work harder. I will begin pre-production on my second book in April of 2008, and I'm currently shopping around for literary agencies and publishing houses that want to work with me. This used to be wishful thinking; now it's just on the horizon, and I promise not to drop the ball.
The
CDP
is 4 years old today. Sound off in the comments section and let me know what keeps you sticking around. Thanks much.
TOMORROW:


The disgusting, effeminate Love Parade marches on, with Valentine's Day!
Comments:
Happy anniversary man. I still don't quite get the No Money Please thing, but I admire you sticking to what you believe in.
<< Home