Wednesday, March 12
50 Random Things (Or, 'Let's Talk About Me!').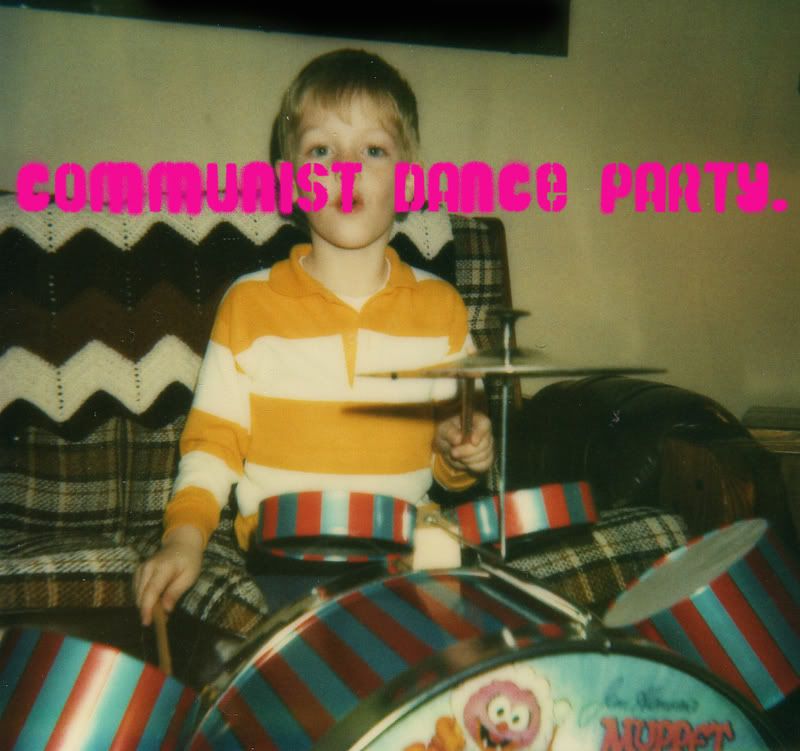 (Rocking the Coolest Drumset Ever in the early 1980's.)
Thanks to Facebook, e-mail and generally annoying human beings, I'm constantly inundated with various surveys, questionnaires and tell-all quizzes designed to allow folks to talk about themselves at length, with little or no provokation. In my opinion, these surveys exist for lonely people to share information about themselves that nobody cared to know by actually
asking
them.
Look, I'm a personal blogger. I write about myself every day. If you don't already know something about me, chances are that I don't plan on sharing it anytime soon. At the very least, I'm saving the jucier tales for my next book and charging $19.95. I'm a storyteller, businessman and purveyor of fine barbecue sauces,
not
some open-book attention whore.
I
completed one of these surveys
last year as a way to hopefully remain out of the loop on future ones, but they just kept on a-coming. So, in conjunction with readers wanting to know every last scrap of my private and personal life, I present to you '
50 Random Things
,' and beg of you to never send me another survey ever again. It's lengthy, it's all-encompassing, it's sort of awesome. Also, people tell me that they actually like it when I do this.
Let's do work!
Check off the random things you have done. Include explanations!
Level 1
(X) Punched a mule right in the face
- Yes, and it was totally rad.
Please don't send hate mail, mules. You know I'm kidding.
(X) Smoked A Cigar
- When I was a Sophomore/Junior in High School, the Swing revival was all over the radio. I had a several-month phase where I drank nothing but Gin & Tonic and smoked cigars. I looked like a fool, and any photographs taken of me at the time rank among some of the most embarrassing of my life. Thanks for bringing that up; I'm a douche.
() Done Weed
- Believe what you want to believe, but I've never directly used marijuana or anything containing THC. I've been amongst enough second-hand smoke to experience some contact issues, but it was never something I cared to experience on a personal level. I have enough paranoia as is, I'm not big on breaking the law, I don't pretend to be laid-back, nor do I wish to be. Weed just isn't in the game plan for me. It's tired, common and unoriginal.
That being said, I support the legalization of marijuana, although I wouldn't use it unless I had to for pain or medicinal reasons. I'm complicated like that.
(X) Kissed A Member Of The Same Sex
- Although it hasn't happened for almost a decade, I've indeed kissed a man, but mainly for silly, teenage-dare purposes. By that point in my life, I was already decided and secure with my sexuality, and never embarked on an experimental phase that had me smooching dudes. There's nothing at all wrong with it; it's just not for me. Sorry,
Ben
.
(X) Drank Alcohol
- Are you kidding me? I'm drunk right now! What should be mentioned is that I was a pretty good boy, and seldom drank before I turned 21 years old. I'd say I suffered three, maybe four hangovers before I became of legal age, which is pretty respectable, I would assume. Nowadays, I drink alone and in the privacy of my own home, and that's normal, right?
SO FAR: 4

Level 2
(X) Are/Been In Love
- I've been in love since June of 1999, when I first spoke words to the Missus. I remember it very clearly, and since then, I've done my best to shield her from the huge mistake she made when she let me be her husband. Had I ever been in love before that? Yeah, maybe. However, now that I've been in a marriage for 4 years, I can assure you that your perception of love changes greatly when you get the law and laundry involved.
"You know, there's a million fine-looking women in the world, but they don't all bring you lasagna at work. Most of them just cheat on you."
(X) Been Dumped
- I've been officially dumped approximately 2.5 times; once in 1995, and once in 1996 (
the .5 is another story for another time
). Considering the age that we all were at the time, these barely qualify in my book. At the time, however, they hurt like you'd imagine they would. I never realized that it was
impossible
to listen to the radio after being dumped; did you know that? Absolutely impossible. I wish they could make a pill that duplicated the feeling of being emotionally rejected, so you could take it every once in awhile to remember how good you have it.
(X) Shoplifted
- Yes, as a youth, I stole a thing or two from unnamed gas stations and mini-marts. It was wrong, I'm not proud of it, and I still think that the law will catch up with me because of it. Nothing of significant value was taken, except for my very soul. I apologize.
() Been Fired
- Nope, not yet, as of at least 11 different jobs. Someday, maybe. When I worked as a bartender (at the age of 15, mind you), I begged on a daily basis to be fired, but to no avail. What a thankless job it is to serve drinks before you can even legally drive a car.
(X) Been In A Fist Fight
- I was in three short ones. The first had me pummel some poor kid on the playground back in the day. The second one took place during a High School assembly in the bleachers, and the third one took place in the parking lot of a 24-hour diner at midnight. My record stands at 1-1, with 1 No Contest, which won't get me any MMA contracts in the near future, I can assure you.
SO FAR: 8

Level 3
(X) Snuck Out Of/Into A Parent's House
- My relationship with my mom has always been trusting and full of compromise. If I wanted to stay out past curfew, all I had to do was call her and tell her where I was going. However, there were a couple of times when I had to navigate the house like a ballerina at 3am, as to not wake her and be subsequently murdered.
(X) Had Feelings For Someone Who Didn't Have Them Back
- If you have never felt the deep, black, cavernous pit of unrequited love, I honestly feel bad for you. I really do. Everyone on Earth should experience that deflating, weightless, vomitous, nothing-else-matters emotion at least once; it would allow the nation to understand the feelings of others a little better. Gosh, is there anything that feels worse than that?
Anything
?
() Been Arrested
- Nope. I'm law-abiding. Sure. I speed constantly when I'm on the road, but doesn't everyone? Furthermore, can you be arrested for speeding? Nah, I'm fine on this one...yep.
() Made Out With A Stranger
- We had known each other for a good two hours; does that still make her a stranger? I will defer to the judges on this one, who say that by two hours, she would be officially recognized as an 'acquaintance.' I'm off the hook, thankfully.
(X) Gone Out On A Blind Date
- Her name was Kate. We met on the Internet. She lived 10 minutes from me. We met at the mall. I was wearing an honest-to-God Limp Bizkit t-shirt that I purchased with my own money. She didn't care. We took a drive and got coffee. We exchanged pleasantries and parted with a hug and quick smooch. We never spoke again. I later wrote a song about it, titled
'Blind Date Kate.'
It was catchy and sounded a lot like The Queers. I was proud of it, but never fleshed it into something for my band to play. Lost opportunity on all counts.
Years later, a fan of my page named Kate Carillo popped up. She looked
exactly
like 'Blind Date Kate,' but it was merely coincidence. Weird.
SO FAR: 11Level 4

(X) Had A Crush On An Older Person
- Listen. I'm 26 years old, and I
still
have crushes on older people. From older sisters, to teachers, to co-workers, to friends' moms, to internet personalities that live in Los Angeles and write television shows for a living; some things will never,
ever
change.
Get well soon,
Will
. We miss you.
(X) Skipped School
- Under the guise of a school-funded Blood Drive, I ducked out of class once and
only
once in my life. At my school, turning 17 meant that you could write yourself excuse notes to get out of anything at
any
time, so it wasn't like you were being held against your will or anything. Besides, high school wasn't all that bad for me. The pizza was lukewarm and top-notch.
() Slept With A Co-Worker
- For as long as I've been in the professional job field, I've been in committed relationships that greatly hindered my opportunities at casual sex. Furthermore, it doesn't take a genius to know that it's probably a bad idea. If I were single, though, you know I'd be trying to destroy every female friendship I've ever made at the workplace for even the
slightest
chance at a hook-up. How tragically sad and expected.
(X) Slept With A Classmate
- Well, yeah. How can you not? I'd like to see the statistics on people losing their virginity to a fellow classmate. It's gotta be like, 95%. The question should really be, "How did you
not
sleep with a classmate?"
(X) Seen Someone/Something Die
- Anyone who has been watching
The Tonight Show with Jay Leno
over the past 14 years can also check this box for themselves.
Hey-oh
!
SO FAR: 15


Level 5
(X) Had/Have A Crush On One Of Your MySpace/Facebook Friends
- I won't be naming names for the sake of my comfortable and wonderful marriage, so I'll cop out by saying that the Missus is on Facebook/MySpace, and she's
always
my #1 crush. Besides, I haven't had a textbook-definition 'crush' since I saw Alanis Morissette's video for 'Ironic' in 1995.
() Been To Paris
- Not yet. Someday, perhaps. I'll ride a bike around with a loaf of bread sticking out of the basket. Then I'll star in an erotic film where I lust after a member of my family. Ahh, the French. Is there anything they
can't
make sexy?
Stupid thought to add, and this is just the sick part of me that thinks about stuff like this, but I remember me and an ex-girlfriend swearing to each other in 1994 that we'd see Paris together one day. Wouldn't it be funny if we were forced against our will to take each other up on the promise in the present-day, and had to walk around France together with our new spouses, lives and kids? That would be goddamn hilarious in its embarrassment; I should write a screenplay. Michael Cera will star.
() Been To Spain
- I don't really care to travel to Spain. I already have Univision on my digital cable.
What
? It
isn't
?
(X) Been On A Plane
- I'm not a hardened and weary traveler by plane, but I'll estimate that I've been on anywhere from 12-15 flights in my life thus far. I recall one flight from Cleveland to Milwaukee that careened straight through a huge storm. Lightning was everywhere, the turbulance was insane and people were crying. It was intense, but it didn't give me a phobia. It's mainly the passengers that I hate more than the fear of being vaporized upon impact. Cars are far more deadly than airplanes; don't be a baby.
(X) Thrown Up From Drinking
- Once, when I was 17. New Year's Eve 2000. That's it; seriously. Never again will I lose control of myself to that extent. It sucks, and hard. Sure, I'll drink myself tipsy on a near-weekly occurance, but I gots to keep it classy. My shirts are too expensive now to be 'Technicolor yawning' all over them.
SO FAR: 18


Level 6
(X) Eaten Sushi
- Once, a year before I went vegetarian. Screw that noise. The only way I'll ever eat sushi again is if I go to one of those uber-expensive places that lets you eat off of a naked Asian woman. Or, if I could just
pay
an Asian woman for the same dining services. We're getting way off-topic, here.
God, I love Asian women.
(X) Been Snowboarding
- I used to tear up the slopes during the snowboard X-plosion of the 90's. After awhile, I realized it was far more fun to hang out in the clubhouse and sip hot chocolate with everyones' girlfriends. The only thing I do in the snow now is maybe sledding once a year; because it's awesome, and because everything else done on snow is just a variation of sledding.
(X) Met Someone Because Of MySpace/Facebook
- I don't think this has happened because of MySpace or Facebook, but I've met a few nice people in person through the
CDP
. If I had it my way, I'd meet all of you. We'll eat breakfast for dinner; it'll be great.
(X) Been Body Surfing
- Once, at a
Mustard Plug
concert in Green Bay. I don't like being off my feet around strangers. I also hate it when they try to grab my boobs. I'm
not
your property! I just want to
dance
!
(X) Been Mosh Pitting
- Many, many times have I strapped on and threw down back in the day. It should be noted that the single biggest ass-whipping of my entire life took place at a
Christian rock show at a church
. When that was over, I had a black eye, swollen lip and more cuts and bruises than my previous 16 years of injuries at concerts combined. Absolutely bizarre. I quite simply got the crap beaten out of me in the name of Jesus.
SO FAR: 23

Level 7



() Been In An Abusive Relationship
- I've been manipulated, I've been the
manipulator
,
I've been in spectacular fights, but nothing that I would call 'abusive.' I like to stay in relationships for the long haul, but I'll jump ship if I think I'm dealing with someone who's clinically insane. Breaking something every once in awhile isn't the be-all to end-all, but if it becomes a weekly occurrence, we'll need to have a talk.
(X) Taken Pain Killers
- I threw my back out in 2002 and didn't want to go to the doctor, so the Missus gave me all the painkillers she had stockpiled from the last time she threw
her
back out. Got' damn, that was a scary few days. I've rarely been so unable to control myself than when I was whacked out of my gourd on enough illegal prescription medication to take out Courtney Love and Marilyn Monroe combined. This also is a good reminder as to why I shy away from hard drugs. I like being in control of the situation, and I can't do that when I can't even control the drool pooling on my novelty t-shirt.
(X) Love(d) Someone Who You Can't Have
- Remember all that stuff I said before about having feelings for someone who didn't have them back? The feeling that you can't blow the back of your head off fast enough? Yeah...
that
. If it wasn't for loving people you aren't supposed to love, there would be no such thing as good music. Quote me.
"If it wasn't for loving people you aren't supposed to love, there would be no such thing as good music."
(X) Laid On Your Back And Watched Cloud Shapes Go By
- Yeah, and it was totally gay. I'll never do it again.
(X) Made A Snow Angel
- Yup,
gay
. Damn it; I made a promise that I was going to stop saying 'gay' in a negative tone. That's the last time.
SO FAR: 27

Level 8
(X) Been Tickled
- I'm embarrassingly ticklish; to the point where I don't even like telling it to people. I don't like being touched at all, and I'll just get angry and uncomfortable with you if you attempt to tickle me. Also, I might poop a little or throw up, so please don't. Whatever the outcome,
something's
going to be coming out of me.
(X) Been Robbed/Vandalized
- I think everyone has had something stolen from them at some point in their life. For me, the largest amount ever taken from me in one sitting was a student loan that I was forced into putting misleading information on. Due to that slight error in judgment, I'll be paying that thing off for the next 20 years, with a total price tag in the 6-figure column.
If you steal a CD from me, I will destroy you. Mark my words.
(X) Robbed Someone
- When I was in the 8th Grade, I stole a friend's girlfriend. Harsh, I know. Five years later, I did the same exact thing.
(X) Been Misunderstood
- I won't even dignify this with a response. If you've never been misunderstood, then you're a deaf, dumb mute with no limbs who is so seriously handicapped that nobody even bothers to acknowledge you for any reason.
(X) Pet A Deer
- Yes. I've pet many deer. Maybe hundreds. I've shot none.
SO FAR: 32

Level 9
(X) Been Suspended From School
- When I was a Junior, I believe, I was suspended for logging into an Industrial Arts class computer under someone else's' name in order to copy their test answers. I was sent home that day, but in a move that I wouldn't have seen coming from a mile away, my
dad
of all people showed up for next day's conference and talked my way out of further disciplinary action. You should have seen him; he was like F. Lee Bailey in the Principal's office. It was amazing.
(X) Been Asked To Leave School
- In my school, you were not allowed to wear shorts until a specific date. This was either done to keep irresponsible kids from freezing to death, or merely to further shove the District's manhood down the throats of the student body. Whatever the case, I wasn't playing along.
When I was told that I wasn't allowed to wear shorts, they insisted that I wear a pair of sweatpants from the lost-and-found bin; a true fate worse than death for a Middle Schooler. I walked.
(X) Been In A Car/Motorcycle Accident
- Nothing serious, but I've been in about 2 fender-benders and 1 accident that cause major damage to the vehicle. No personal injuries, unless you count the time I hit that deer and pooped my pants.
(X) Had Someone Else Wear Your Clothes To School
- The girl I was seeing for some of my Senior year liked to wear my shirts, and who was I to stop her? Furthermore, it portrayed us as a couple that slept together, and I enjoyed that greatly, even if it was a hollow lie.
(X) Talked On The Phone For More Than 8 Hours
- This might be the least believable fact on here, actually. Back in the day, I was capable of talking on the phone for over eight hours on
many
occasions. 6pm-2am was a common occurrence, sometimes 2-3 nights a week. Eventually, the Internet arrived and put an end to that nonsense.
SO FAR: 37
Level 10
(X) Stayed Up All Night
- My personal record is 46 hours. I got up at a Washington D.C. hotel at 6am, flew home, stayed up all night with friends, spent the next day at a carnival and didn't fall asleep until 4am the next day. I'll break that record someday, and broadcast the entire marathon in my Live Video Chat.
(X) Got A Concussion
- Fat friend. Aluminum baseball bat. No peripheral vision. One hospital visit and a week's worth of two hours of sleep a night. A concussion is pretty much brain damage on a base level, and it's a terribly sickening and scary feeling to know that you're now slightly closer to retardation than you were a day ago.
(X) Slept Naked
-Yeah, a few times, but I absolutely hate it. It's unclean; regardless of how many times you wash your sheets and shower. Furthermore, one wrong adjustment in the middle of the night can lead to serious repercussions in the morning. I'm speaking mainly to the guys out there.
(X) Been Told You're Hot By A Complete Stranger
- I'll tell you, it certainly doesn't happen a lot (it happens to the Missus on a weekly basis), but yes, I has happened to me a time or two. They were all probably blind or on the verge of being institutionalized, however. More than likely, I was being made fun on.
(X) Had Someone Moon/Flash You
- I don't know what it is about me, but I'm a magnet for stuff like this. In school, I was probably flashed more times than Joe Francis, minus the fact that he's a complete freaking greaseball.
The absolute funniest time was when I was flashed by a friend at a record store. I was outside, and she was inside, facing me from the store window. She was wearing a tube top, and when she tried to quickly re-adjust herself, the tube top pretty much fell down to her knees, attracting the unwanted attention of nearly everyone walking down the sidewalk. That's what you get for being slutty, I suppose. You can't pick and choose your attention when breasts are involved.
You've done 42 out of 50 random things!
Hey, alright! Awesome. Good for me.
Let's get random in the comments section! Sound off with questions, comments, concerns and Random Things of your own. Thanks; enjoy your day.
Comments:
Yeah, Obama's going to mess this country up hardcore, what with the way he unites people and stuff. I shudder to think; it might be like the 90's all over again.
Lolz.
Quick question about John McCain. Not to take any deserved respect away from his time served in a POW camp or anything, but I'm not voting for a guy that can't comb his own hair. Call me an asshole, but it just ain't happening.
Oh, screw it. Since I'm already in too deep, I might as well mention that goitery protrusion growing out of the side of his head. Me and the Missus were thinking that he should make that goiter his running mate, and they would just set a little podium and microphone underneath on his shoulder during debates.
BEH-HEH-HEH.
I'm sorry about all of that.
<< Home