Tuesday, March 4
CDP Mix-Tape Exchange #2 Wrap Party. (Part 4)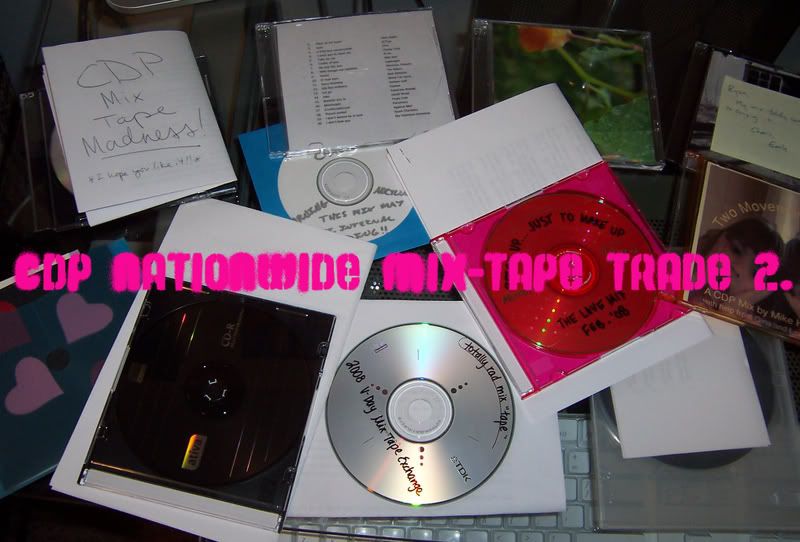 For the last couple weeks on the
CDP
, I've been extending my thanks to everyone who participated in the
CDP Mix-Tape Exchange #2
; especially all those who took the time to send a personal mix out to yours truly. I'm currently in the process of listening to over
17
different mixes from
CDP
fans across the nation, and it's been quite fantastic. The theme of Exchange #2 was '
Love
,' and you guys didn't fail to deliver.
The last time we did this trade, I had enough time (
and not enough submissions
) to review each and every track of each and every mix. While I simply don't have the time to do that again, I still promised that I would spotlight (
albeit briefly
) everyone who sent a mix my way. Today, I shall continue said spotlighting, by pulling some mixes at random and giving them a run-down. I'll do this until every ego has been properly stroked to the best of my abilities. Enjoy.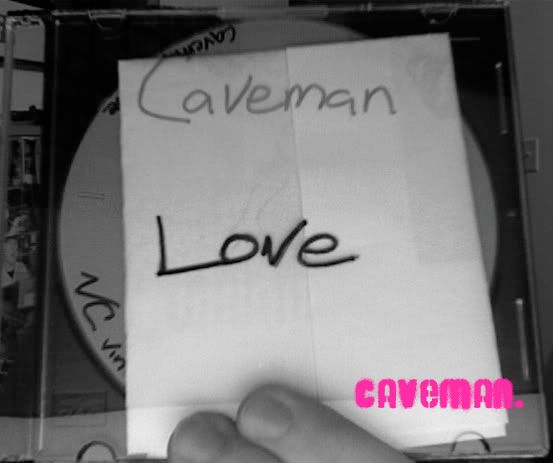 LOVE MIX #13: '

Caveman Love.

'
BY: CAVEMAN
1. I Want To Hold Your Hand - The Beatles
2. The Luckiest Guy - The Magnetic Fields
3. Love Song - Sara Bareilles
4. Hold Me Now - The Polyphonic Spree
5. A Kiss Is Just A Kiss - Frank Sinatra
6. Love Me - Elvis Presley
7. I Walk The Line - Johnny Cash
8. Brandy - The Looking Glass
9. Imagine Me And You - The Turtles
10. Love Shack - The B-52's
11. I Feel Love - Venus Hum & The Blue Man Group
12. Somebody To Love - Jefferson Airplane
13. Fell In Love With A Girl - The White Stripes
14. Somebody To Love - Queen
15. Jungle Boogie - Kool & The Gang
16. Brick House - The Commodores
17. Disco Lady - Johnny Taylor
18. Violin Concerto No.3 - Mozart
(I was surprised at how old-school Caveman went with the bulk of his choices, but he made it flow decently and threw in some mix-tape classics. He claims that this was his forst foray into the world of mix-tape creation, so we should give him a round of applause for doing it on such a public scale. Huzzah!)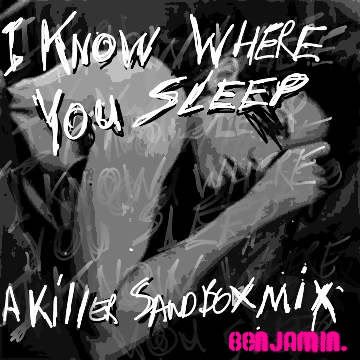 LOVE MIX #14: '

I Know Where You Sleep

.'
BY: BENJAMIN
1. Every Breath You Take - The Police
2. Creep - Radiohead
3. Subway Song - The Clash
4. Strange Currencies - R.E.M.
5. Stalker - Sonic Youth
6. One Way Or Another - Face To Face
7. Tyler - Toadies
8. The Most Important Part - The Paper Chase
9. Stripped - Rammstein
10. Stalker - All
11. I Want You - Elvis Costello
12. Stalker Song - Some Dude On The Internets
13. My So-Called Life - The Ataris
14. I Married My Stalker - Goldfinger
15. Honey Peeps - All
16. Voyeur - Blink 182
17. Skatanic - Reel Big Fish
(When Benjamin found out that he was making a Love-themed mix for another guy, he decided to go all-out and create something ridiculously uncomfortable with his 'Stalker Mix.' It's a good mix, focusing mainly on songs about obsession, peeking through windows and mailing dead animals to those that you love. This is the exact reason why me and Ben are such good friends.)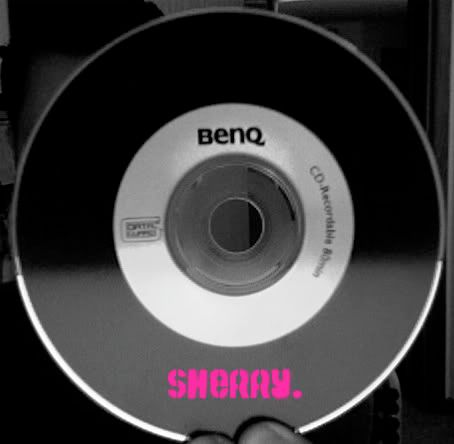 LOVE MIX #15: '

Carrot Duff's Mix Tape.

'
BY: SHERRY
1. I Wanna Hump You - Chixdiggit
2. Back For The Attack - The Impossibles
3. One Day You Won't Be Here - Rocky Votolato
4. Don't Go - Go Sailor
5. When We First Dated - One Eighty
6. Thank You (For Not Being One Of Them) - Mr. T Experience
7. Together Forever In Love - Go Sailor
8. Non-Linear Summer - The Gadjits
9. Passenger Seat - Death Cab For Cutie
10. This Land Is Mine - Dido
11. Oh, Angelina - The Impossibles
12. Change Of Scenery - LP
13. You Dirty Rat - Letters To Cleo
14. Love Soon - John Mayer
15. So Sorry - Feist
16. All I Have (Demo) - LP
17. Until I Say So - Drag The River
18. February Stars - Foo Fighters
19. Your Summer Baby - Kay Hanley
20. Only Of You - Green Day
21. That Special Girl - The Ataris
(I found Sherry's mix to be especially warm and fuzzy, as most of these songs were enjoyed by myself back in the 1999-2001 'back in the day' era. This mix reminds me of better, more innocent times with good friends and theoretically better music. Thanks for the memories.)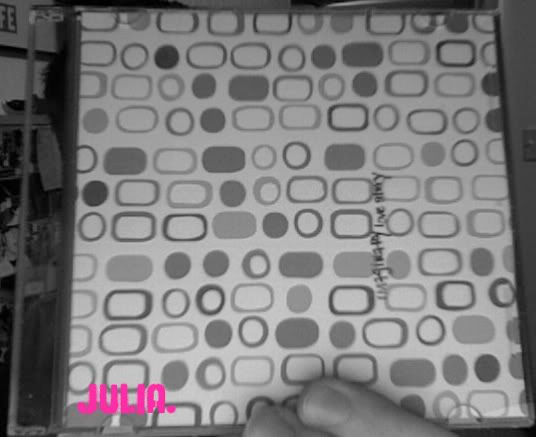 LOVE MIX #16: '

Imaginary Love Story

.'
BY: JULIA RUBIN
1. Just My Imagination - The Temptations
2. If She Wants Me - Belle & Sebastian
3. Every Night - Paul McCartney
4. I'm The Man Who Loves You - Wilco
5. Lovin' In My Baby's Eyes - Taj Mahal
6. To Be Alone - Sufjan Stevens
7. Such Great Heights - The Postal Service
8. You Send Me - Otis Redding
9. You've Really Got A Hold On Me - The Beatles
10. Lost Cause - Beck
11. Another Lonely Day - Ben Harper
12. Please Do Not Let Me Go - Ryan Adams
13. Say Yes - Elliot Smith
14. Let's Stay Together - Al Green
15. Crazy Love - Van Morrison
16. I Will Follow You Into The Dark - Death Cab For Cutie
17. The Luckiest - Ben Folds
(When I received Julia's mix in the mail, I was absolutely blown away by the amount of work and original slant she took on the theme. Enclosed was a short story describing the lifespan of a passionate relationship, using the 17 listed songs as a chronological soundtrack. Amazing stuff, and equally wonderful song selection. It's almost as if the Mix-Tape Trade has turned into a nationwide competition to see who puts forth the most work and originality to create a true piece of art. I should offer a cash prize to the winner next time around. Kudos.)
This has been a busy, trying and slightly more stressful week than normal for yours truly, so thanks for not stringing me up by the heels for not bringing the funny for a few days. The second half of the week will get me back on track.
Thanks much. Sound off in the comments section and enjoy your day.