Friday, July 18
Because There's Nothing Manlier Than Anal Bleeding.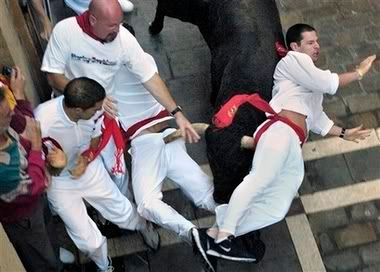 (
NOTE
: I got home late last night, so I didn't have enough time to put up the photo tour of the all-new
CDP
Headquarters. Therefore, it shall run on Monday. Until then, please enjoy this flashback post from July of 2007, and to a lesser extent, your weekend.
The Dark Knight
poster giveaway
will run until Tuesday night, so get keep those entries coming. You can submit your taglines in this comments section, as we received a brain-melting 215 comments in the previous one (
a new

CDP

record
); in just two short days, no less. If you need me, I'll be in line to see
The Dark Knight
. Cheers, friends.)
'

I Can See Your...Nevermind.

'
Originally Posted July 20, 2007.
I love the Running Of The Bulls. Sure, it's inhumane, humiliating and completely out-of-touch with modern reality, but it's all worth it for the inevitable goring that takes place each and every year. In some circumstances (like the one pictured above), the bull gets lucky and snags
two
people at the same time. On rare occasions, he'll even manage to hook up an American guy.
And, in the rarest occasion of all (as pictured below), he'll gore two American guys at the same time,
straight up the butthole
. Sometimes, even tearing their pants off in the process. Hoo-boy!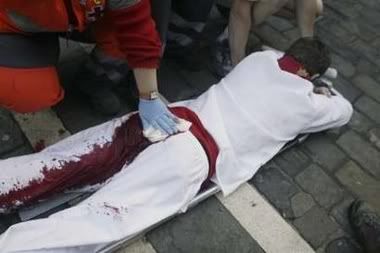 This, my friends, is the greatest thing that can ever happen in the life of a bull. No matter what, the bull knows that he's about to suffer an exceedingly cruel fate at the hands of a fruity dance-school dropout; the best thing he can do is destroy a few anuses on his way out. In a delightfully ironic twist of fate, the men attempting to appear macho and manly end up crying in a back alley, bleeding profusely from the asshole. It's one of the main reasons I still believe in God.
So, here's to you, Guy Who Runs With The Bulls! You wanted to prove something to yourself and any potential mates that might have been watching, but all you really proved was that you fail at life.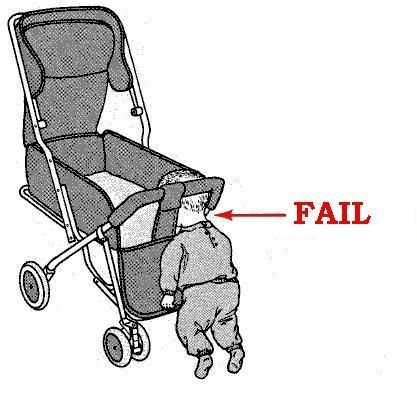 I've said it before, and I'll say it again; never stop messing with bulls, guys.
Ever
. Be a man; let your prolapsed rectum spill free into the streets of Pamplona.
Have a great weekend, and sound off in the comments section.
MONDAY: CDP Headquarters - The Photo Tour.
WEDNESDAY:

The Dark Knight

Poster Giveaway Winners Are Revealed.
Comments:
That definitely gives new meaning to "up the butt". Well, actually, it is probably the same meaning, but it works on a deeper level for me now.
<< Home