Wednesday, July 23
The CDP Dark Knight Giveaway Finalists!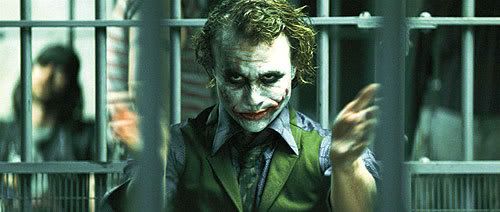 It doesn't happen very often, but every once in a great while, Hollywood and the mainstream get something right. Absolutely, 100%, right-jab-straight-into-the-pant-bulge
spot-on
. I can say without a shred of uncertainty that
The Dark Knight
is one of those rare moments.
For the first time in over a decade, the biggest and most lucrative movie on Earth is also the best and most worthy of praise.
The Dark Knight
is nearly perfect; a film that is so above and beyond any 'Superhero' or 'Comic Book' film that it's almost an insult to call it one. Christopher Nolan and his ensemble cast of performers created a picture that, while I'm sure it will receive one or two, should
never
be followed by another sequel under any circumstances. They've put the finishing touches on a once-tanking franchise by devising the most perfect send-off of all-time; a movie that is on par with
Titanic
and the
LOTR
trilogy in terms of its cinematic experience and brilliance. It deserves to be followed-up by nothing; it's magnitude will be impossible to replicate in the
Batman
universe.
I'll say no more about the plot, scenes, tone, performances or storyline. It simply needs to be seen, and apparently, it's been seen by quite a few people, smashing opening weekend all-time box office records (
suck it, Spider-Man 3!
). The IMAX footage is breathtaking, Chicago as Gotham City is beautifully filmed, and Oscar nominations will surely follow for Heath Ledger and various other cinematic creations spotlighted in
The Dark Knight
. I'm also extremely proud of Christopher Nolan; a guy that once shot
Following
for a few thousand dollars is now at the helm of a film that could gross over a billion dollars. Good for him; he deserves it.
I'm fresh out of adjectives and descriptive paragraphs, so I'll close the book on this rant by posting the following photo, which accurately represents my unspoken feelings towards
The Dark Knight: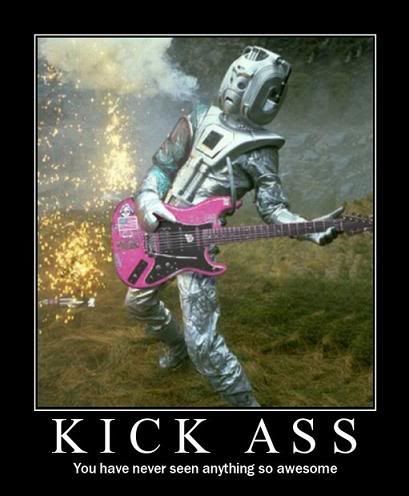 Let's move on. We have
Dark Knight
theatrical posters to give away!
If you recall from last week,
I launched a contest
for
CDP
readers to come up with a new tagline for the
CDP
. For years now, I've been using
'Jumping The Shark Since 2004,'
a phrase that was co-created by myself and
CDP
Original Gangsta,
Paste
. The time has finally come to retire said tagline and venture forth towards total Blog mediocrity and self-defeat. Achieving
ALL
, and soforth.
Before we get started, I want to mention a few quick things. First, the winner will receive a
Dark Knight
poster of their choosing and the distinguished honor of having their tagline grace the
CDP
sidebar until the end of time (or until we decide to do something like this again). I had said before that the First Prize winner would receive
two
Dark Knight
posters, but I changed it to one because I wanted to recognize as many great entries as I could. I hope that the winner understands.
Secondly, the six finalists will be contacted by me via e-mail to determine mailing addresses and who wants what poster (First Place gets first dibs, and so on). I assume it'll take a day or two to sort everything out, and all packages should be in the mail by Friday.
Finally, it should be mentioned that I did the judging myself, and accepted no opinions or suggestions from any third party, including the Missus. I just chose what I thought was funny, indicative of the
CDP
and representative of the site as a whole. It was extremely difficult and I never want to do it again, so no hard feelings, okay?
Let's get on with it! Here are my Top 15
CDP
Tagline submissions (out of well over 100; thank you!). The Top 6 receive one of the following four theatrical posters from the biggest and best movie on the planet,
The Dark Knight
! Enjoy.

#15. "So Good, It'll Make You Want To Slap Your Momma!"
- Submitted by Wigglycito (via e-mail).
#14. "It's Almost Like Having Real Friends."
- Submitted by Hilbelink.
#13. "The Place That Gives You Taste."
- Submitted by Kate.
#12. "Wisconsin's Fourth Best Export."
- Submitted by Maus.
#11. "Bigger Than Jesus And Cereal Combined."
- Submitted by Emily.
#10. "Putting The Bomp In The Bomp-A-Bomp-A-Bomp Since 2004."
(Swears No Involvement In Putting The Ram In The Ram-A-Lam-A-Ding-Dong)
- Submitted by Caveman.
#9. "If You Can Find A Better Blog, You're A Dick!"
- Submitted by Ephland.
#8. "Your New Mancrush."
- Submitted by the Slackmistress.
#7. "Rock Out With Your Pop Culture Out."
- Submitted by Bruce.
#6. "Quirky And Awkward. On Purpose."
-Submitted by Caitlin. (WINNER!)

#5. "Making Your Day Better Since 2004; Like Alcohol."
-Submitted by Cargirl. (WINNER!)
#4. "Where Fun Goes To Die Since 2004."
- Submitted by Maus. (WINNER!)
#3. "Awkward Slow Dances With Pop Culture Since 2004."
- Submitted by Emily. (WINNER!)
#2. "Rocking Pop Culture Since 2004."
- Submitted by Kate. (WINNER!)
#1. "Welcome To The World's Largest Dysfunctional Family."
- Submitted by Caveman. (GRAND PRIZE WINNER!)
There you have it. Like I said, I'll be contacting the six finalists by e-mail shortly to sort out what's going where. I want to thank everyone once again for playing along; I expect a few of these to end up on
CDP
merchandise in the near future. Congrats to the winners!
Sound off in the comments section and enjoy your day.