Wednesday, July 9
CDP Mix-Tape Trade 3 Wrap Party (Part 1).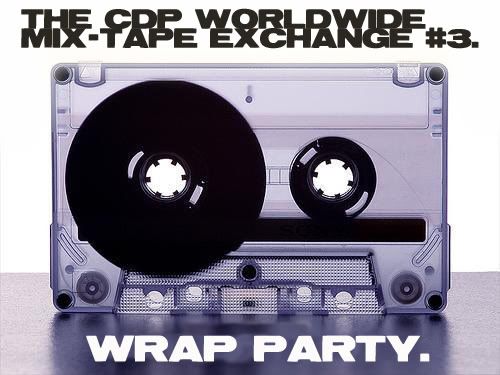 Finally, after two weeks of sifting, listening, drinking, typing and deciphering handwritten track listings, I've managed to make it through all of the Mix-Tapes that were so generously sent to me for the
CDP Worldwide Mix-Tape Exchange #3
. Thank you very much; I appreciate it.
I wanted to take a brief moment to spotlight the mixes that were sent to me, as a small way of saying thank you. Therefore, for the remainder of the week, I'll be doing just that. Please enjoy.


Mix #1 - "

Covers

" - by Domsar.
The Skinny
: Heavy on acoustic, live and bootleg performances of mostly modern classics, the mood ebbs and flows with covers both heartfelt and tongue-in-cheek. I don't know how Domsar manages to throw such a 'Milwaukee feel' into all of his mixes, let alone a collection of covers, but he's done it again.
The Highlights
: Goldspot's version of Modest Mouse's 'Float On,' My Brightest Diamond belting out Nina Simone's 'Feeling Good,' the Carleton Singing Knights a cappella rendering of Sufjan Stevens' 'Chicago,' and the William Shatner/Joe Jackson take on the amazing Pulp track, 'Common People.'
By The Way
: I should also mention The Corrs live performance of R.E.M.'s 'Everybody Hurts,' but the track itself is so monumentally beautiful that it's damn-near considered cheating to cover it. It's like David Archuleta singing 'Imagine' during the
American Idol
finale; borderline unfair on all levels.
Additional Notes
: There were two Richard Cheese tracks on this mix; an artist that showed up more often than even Me First & The Gimme Gimmes as far as 'mandatory ironic cover songs' went. Domsar is a really nice guy; I'll see to it that we see a Brewers game together by the end of the season.
Mix #2 - "

Lizzle To Ma Cizzles

" - by Carrot Duff.
The Skinny
: A broad mix of big songs covered by mostly big bands.
The Highlights
: A reggae cover of Radiohead's 'Karma Police' by Easy Star All-Stars, the timeless 'Man Who Sold The World' performance by Nirvana, and a beautiful acoustic version of 'Hey Ya!' by Obadiah Parker.
By The Way
: There was a Stevie Ray Vaughan cover on this mix, but I skipped it with extreme prejudice, due to fact that Stevie Ray Vaughan is AIDS to my ears. Also, Johnny Cash's cover of 'One' is a combination on par with Peanut Butter and Jelly in terms of absolute devestating perfection.
Additional Notes
: Carrot Duff included a handwritten note, essentially mocking the fact that he has Sugar Puffs breakfast cereal as his house, and I do not. Duff, I will be checking the
CDP
PO Box daily in anticipation.
Mix #3 - "

The Covers Project

" - by FeverBlue.
The Skinny
: A very eclectic sampling of genres, bands and styles across the board; plenty of classics intertwined with groups I've never heard of before, somehow culminating in an above-average mood and theme.
The Highlights
: Petra Haden's wide-eyed and adorable version of 'I Don't Wanna Grow Up,' the Smashing Pumpkins' well-known version of 'Landslide,' a back-to-back pairing of the Talking Heads and Siouxie & The Banshees, and the dreamy closing number of 'I Melt With You' by Nouvelle Vague.
By The Way
: FeverBlue included the Bangles' cover of 'Hazy Shade of Winter,' which absolutely made my day. I've always been an unapologetic fan of this track; that guitar lick with the pounding snare is freaking
badass.
Why it hasn't yet shown up in a
Guitar Hero
or
Rock Band
game is beyond me.
Additional Notes
: FeverBlue accompanied his mix with a handwritten postcard, and I appreciated that. It took me a half hour to decipher what he had written, but the sentiment was just the same.
Mix #4 - "

Sherry's Cover Mix

" - by Sherry.
The Skinny
: A heaping helping of 90's alternative bands covering classic influences from all over the radar.
The Highlights
: The Muffs' popular version of Kim Wilde's 'Kids In America,' Leslie Feist tackling the Bee Gee's 'Inside and Out' in spectacular fashion, and Letters to Cleo sexing up the Cheap Trick standard, 'I Want You To Want Me.' This album featured more female artists than I've willingly listened to in months.
By The Way
: Much like my bashing of Stevie Ray Vaughan, I'll continue to gain no friends by mentioning that Janis Joplin means absolutely nothing to me, nor does her 'Me & Bobby McGee' cover. I honestly think that she was horrendously overrated and probably smelled like crap.
Additional Notes
: Sherry listens to a lot of chick music and John Mayer. I still don't know what to make of this.
Mix #5 - "

Untitled

" - by John Jenkel.
The Skinny
: A pop-punk heavy mix, loaded with a lot of fun, tongue-in-cheek and up-tempo classic cover goodness. Perfect for a drunken summer deck party.
The Highlights
: An inspired (
and hilarious
) cover of 'Tiny Dancer' by Dave Grohl for the Late Show with Craig Kilbourne, and various other 80's send-ups by the likes of Pennywise, the Ataris, Gob and Good Riddance.
By The Way
: This mix contained yet another cover of 'I Melt With You,' officially making it one of the most-covered songs I've ever heard. I mind this none, however, as it is a great song.
Additional Notes
: I made a last-minute exception to let John into the trade, after his brother pleaded with me for about an hour to include him. He wasn't supposed to know that.
Thanks much for reading; sound off in the comments section and enjoy your day.
TOMORROW: 5 MORE MIX-TAPE REVIEWS.
Comments:
Sorry, the Ramones version was the only version that I was familiar with; I changed the text in the review.
I've had an aversion to Tom Waits for quite some time, mainly because I went to college with a retarded kid named Reid that absolutely worshipped him. Every day it was:
"Tom Waits can lift a house! Tom Waits is Superman!"
We say that around the house all the time.
<< Home