Thursday, July 10
CDP Mix-Tape Trade 3 Wrap Party (Part 2).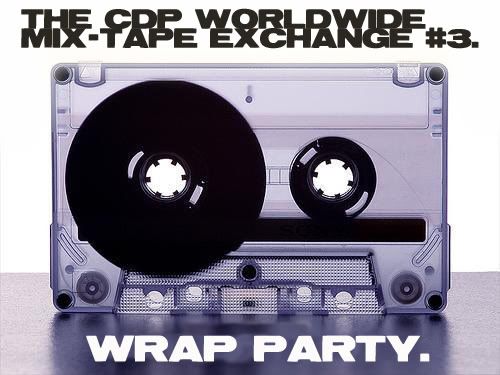 Finally, after two weeks of sifting, listening, drinking, typing and deciphering handwritten track listings, I've managed to make it through all of the Mix-Tapes that were so generously sent to me for the
CDP Worldwide Mix-Tape Exchange #3
. Thank you very much; I appreciate it.
I wanted to take a brief moment to spotlight the mixes that were sent to me, as a small way of saying thank you. Therefore, for the remainder of the week, I'll be doing just that. Please enjoy.
Mix #6 - "

Killer Sandbox Covers

" - by Benjamin.
The Skinny
: Another slice of the Killer Sandbox pie, chock-full of bands that descended from the, er...Descendents Family Tree (
ALL, Pollen, The Pavers, Drag The River, etc.
); most of them doing covers of
other
bands from the Descendents Family Tree. If Fort Collins, Colorado were suddenly blown off of the map for some reason, I'm certain that Benjamin would never have a reason to purchase a new album ever again.
The Highlights
: Saves The Day's pitch-perfect cover of The Descendents 'Cheer;' made more amazing when you figure they were about 15 years old when they did it, ALL's version of Kenny Rogers' 'Ruby,' and the Bad Astronaut cover of the Smoking Popes 'Megan,' which is one of the most perfect rock songs ever written, in my opinion.

By The Way
: There is an awesome version of 'Jessie's Girl' included in this mix, covered by the amazingly talented (
and therefore broken up
) Pollen. However, now that I have a real-life friend and acquaintance named Jesse, I find it extremely uncomfortable to listen to it. Is that weird? Either way, I've always thought the guitar on that track was killer.

Additional Notes
: Benjamin was kind enough to include a second disc, containing the original versions of every song on his Mix. This was unexpected and a nice touch for the collector nerd in me. I especially got a kick out of hearing the original, French version of 'Seasons in the Sun.'
Mix #7 - "

Covers From Caveman: Vol. 1

" - by Caveman.
The Skinny
: Some classic covers that became more famous than the originals, a few new takes on truly iconic groups and only a couple ironic moments make for a very well-rounded CD, considering that there are only 11 tracks on it.

The Highlights
: The Polyphonic Spree's version of David Bowie's 'Five Years' and the brilliance of Jimi Hendrix on 'All Along The Watchtower.'

By The Way
: I had no idea that the Beatles covered 'Twist And Shout.' Guess I'm an idiot.

Additional Notes
: Caveman has promised me that 'Volume 2' will arrive to
CDP
Headquarters any day now. As a way to tide me and the Missus over, he sent along a box of Mike-N-Ikes, which the Missus heartily consumed without sharing.
Mix #8 - "

Covers You Know By Heart

" - by Mike Hoss.
The Skinny
: Mike likes good, solid music, written by good, solid songwriters, and it always shows in his mixes. There isn't a loser in the bunch, here; these are covers of influential songs by bands that are even
more
influential.

The Highlights
: Josie Cotton's saccharine-infused cover of 'Sheena Is A Punk Rocker,' featuring a children's choir and handclaps galore, Ben Folds Five managing to make 'Raindrops Keep Fallin' On My Head' even
more
beautiful, and Teenage Fanclub doing what they do best on 'Mr. Tambourine Man.'

By The Way
: This mix is a whopping 19 tracks that last a shade over 80 minutes; that's a spicy meatball. Also, he mistakenly wrote that Weezer covered 'Uptown Girl,' when it was, in fact, Me First & The Gimme Gimmes. This saddened me, because I thought I was about to hear an extremely obscure Weezer cover of a Billy Joel song.

Additional Notes
: Hoss tells me that he had thought of the 'Cover Mix' idea before I even presented it as the theme for Mix Trade #3, and was pretty much finished with it instantly. I believe him, but I hope that he also comes up with a decent idea for Mix Trade #4, because I'm tapped*.
(*I already have an idea for Mix Trade #4; no e-mails, please.)
Mix #9 - "

Don't Worry, Matt - I Got You Covered!

" - by Reese.
The Skinny
: Mix-Tape Exchange rookie Reese hit the ground running, showcasing a wide array of genres, bands and covers. Risks were taken, respectable status was achieved and the crowd went wild. The beats were driven and it was loaded with soul and overall positive vibes.

The Highlights
: Not one, but
two
tracks by The English Beat! Reese likes second-wave ska! I
love
this girl! Also, a dreamy cover of the Smiths' 'Stop Me If You Think You've Heard This One Before' by Mark Ronson and a Def Leppard cover of Blondie's 'Hanging On The Telephone,' which marks the first Def Leppard song I've ever enjoyed.

By The Way
: Her mix was titled as such, because Matt was the original recipient of her mix. That, or she thinks that my name is Matt. It's all good.

Additional Notes
: Reese is sending me and the Missus a couple of
The Dark Knight
theatrical posters, the mere thought of which is dampening my pants as I type this.
Mix #10 - "

Mixalicious

" - by Hilbelink.
The Skinny
: A lot of fun, a lot of ska, a lot of late 90's punk bands covering late 80's new wave bands. Right up my alley.

The Highlights
: An absolutely stellar cover of 'Enjoy The Silence' by Failure, Reel Big Fish making 'Hungry Like The Wolf' hilarious, and a Save Ferris version of 'Come On Eileen' that is unapologetically one of my favorite covers of all-time. Sonic Youth's cover of 'Sexual Healing' was pretty rad, too.

By The Way
: Depeche Mode and Duran Duran covers account for 8 of the disc's 21 tracks. I also personally own 16 of the 21 tracks, thus making it impossible for me to accurately review said mix.

Additional Notes
: "
Do you have the new Depeche Mode album?
" "
Yeah...but it sucks!
"
Thanks much for reading; sound off in the comments section and enjoy your day.
TOMORROW: 5 MORE MIX-TAPE REVIEWS.
Comments:
Of course it is right up your alley, because I am pretty sure I heard about all of those bands through you back in the day when we would all go to Father Carr's to play pool and then to Taco Bell because there was no other place open except Perkins and none of us had any money.
REESE-Yay English Beat! I though of several songs from the Specials and similar bands that I should have included on my cd after I sent it out.
By the by, I love those Duran x 2 and DM covers. I do not even technically own the originals. I had to include them because they always get stuck in my head, and I want them to get stuck in your heads, too.
<< Home