Monday, July 14
CDP Mix-Tape Trade 3 Wrap Party (Part 3).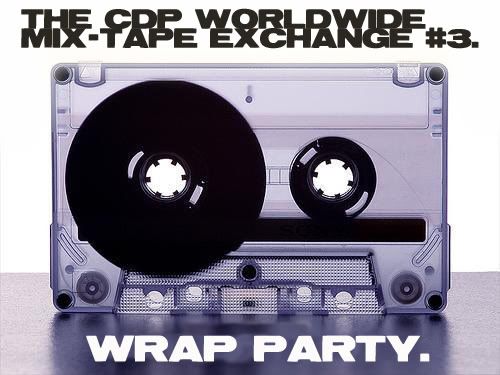 Finally, after two weeks of sifting, listening, drinking, typing and deciphering handwritten track listings, I've managed to make it through all of the Mix-Tapes that were so generously sent to me for the
CDP Worldwide Mix-Tape Exchange #3
. Thank you very much; I appreciate it.
I wanted to take a brief moment to spotlight the mixes that were sent to me, as a small way of saying thank you. Therefore, for the next couple days, I'll be doing just that. If you want to start from the beginning, you can check out
Part 1
and
Part 2
right here. Please enjoy.
Mix #11 - "

Cover Me In Covers

" - by Fiona.
The Skinny
: Top-to-bottom awesome. From modern punk, to glam, to metal, to acoustic, to showtunes, to bands that don't even really exist, Fiona's mix never ceased to surprise while constantly bringing the goods. Great job.

The Highlights
: A beautiful cover of Yo La Tengo's 'My Little Corner Of The World' that respectfully sounds like it was recorded about 80 years ago, Joey Ramone belting out 'What A Wonderful World;' a track that I like to play whenever I feel like killing myself, a token (
and extremely sexy
) take on The Cure's 'Just Like Heaven,' Scissor Sisters tearing up Pink Floyd's 'Comfortably Numb,' and the
Spinal Tap
-goes Folk trio known as The Folksmen pulling out the banjo for 'Start Me Up.'

By The Way
: Speaking of
A Mighty Wind
, before I began shooting my 2004 mockmentary titled
72 Hours
, I showed the film to my cast for inspiration. It didn't help, and the project was permanently shelved weeks later. I'll sell the rights for a flat fee of $60,000. E-mail me.

Additional Notes
: Much like Heather's mix (
see below
), the layout and packaging was top-notch. She sent me a handwritten postcard from her San Francisco homestead, a photograph and a nicely laid-out jewel case. And for the record, I never tire of receiving photos of cute
CDP
fans.
JT
, I'm looking in your general direction...
Mix #12 - "

Covers

" - by Heather.
The Skinny
: Another eclectic mix, another batch of complete winners from Heather. Every time I do a Mix-Tape Trade, I'm always amazed at how similar my musical tastes are to others, and yet, I'm always completely blown away by the new things that they introduce to. I love doing this for that reason alone.

The Highlights
: The classic 10,000 Maniacs cover of 'Because The Night' by Patti Smith, an absolutely out-of-nowhere cover of 'Chick Habit' by April March that pogo'd my socks off (
I secretly love that kind of music; Pizzicato Five is pretty much the soundtrack to

CDP

Headquarters
), the Save Ferris ska cover of 'Come On Eileen' that I considered the Greatest Cover Song I'd Ever Heard from 1997 to 2001, the make out-tastic Nada Surf take on OMD's 'If You Leave,' and the Dashboard Confessional sing-along goodness of 'Screaming Infidelities' by Joanna Pacitti.

By The Way
: Man, that Bangles cover of 'Hazy Shade Of Winter' really is badass.

Additional Notes
: Without question, Heather sent me the most beautifully laid-out Mix Tape for the second time in a row. Complete with a lovely, handwritten postcard, an incredible track listing booklet and even a photograph or two, I was stunned and moist-panted when I opened up the package. She actually has inspired me to be more proactive about mailing things back to fans that are so creative in their packages. I need to go stock up on postcards and glitter
immediately
.
Mix #13 - "

Under The Covers

" - by Emily Mills.

The Skinny
: Funny, sexy, nerdy, deep, intellectual and talented. These qualities not only describe a certain Miss Emily Mills, but they also perfectly describe her humbling Mix-Tape.

The Highlights
: A rousing opener by the Ditty Bops, Tori Amos taking on 'Smells Like Teen Spirit,' and for the first time, allowing me to enjoy the song, Jose Gonzales' haunting The Knife cover of 'Heartbeats,' Minor Threat tearing through 'Steppin' Stone,' and Emily's old middle school band punking up the Sherry Lewis sing-along, 'The Song That Never Ends.' Her middle school band sounded better than my high school band, which upsets me to the point of drinking.

By The Way
: Women are super-complicated and I will never fully understand them for as long as I walk this Earth. Emily's mix reminded me of that indisputable fact.

Additional Notes
: I'm a big fan of Emily's handwriting. A lot of people seem to admire my descriptive-yet-robotic style, but Ms. Mills might have me beat in this category. Kudos.
Mix #14 - "

One Hour Under The Covers

" - by Cargirl.
The Skinny
: I always look forward to Cargirl's mix-tapes. She always does a good job of turning me onto what 'the kids' are listening to, as well as mining the influences that inspired the bands in the first place. This one is no different, with superstars and unknowns rubbing elbows while covering timeless tracks. Damn, this Mix Trade was a good idea, wasn't it?

The Highlights
: The
Juno
'y Sonic Youth cover of the Carpenters 'Superstar,' Quietdrive's take on 'Time After Time' that I actually put on my
own
mix, Jonathan Coulton's 'Baby Got Back' cover that reminds me that Mr. Coulton is a genius (
'Shop Vac' is my favorite
), and a string quartet cover of Arcade Fire's 'Rebellion' that would have put me in tears were I not such an emotionally sound person. Screw it; it made me all misty. Oh, and T.V. Carpio's cover of 'I Want To Hold Your Hand' that once again makes the argument that the Beatles tune could very well be the greatest pop song of all-time.

By The Way
: I didn't realize that Cargirl was such a big Ataris fan. Not only did I used to be in a cover band that could play about a dozen of their songs (
'San Dimas' was my favorite to destroy on the drum kit
), but I remember seeing them at a concert in Green Bay that was attended by no more than twenty people. It was a darn good time.

Additional Notes
: The track listing for Cargirl's mix was written longhand on stationary from the Washington D.C. Hilton, where she happened to be staying at the time. I found that intriguing for whatever reason. I like the way pens feel on hotel stationary; I sometimes jot things down for no reason when I stay there.
Mix #15 - "

Cover Song Mix-Tape

" - by E-Rich.
The Skinny
: Singer/songwriters taking on timeless standards and solid pop hits; this mix brings all killer and no filler.

The Highlights
: Ram Jam's cover of 'Black Betty' that I've always enjoyed more than I've led people to believe, Cake's amazing version of 'I Will Survive' (
one of my personal favorite covers
), Damien Rice's haunting acoustic cover of Radiohead's 'Creep,' Ray LaMontagne's take on Gnarls Barkley's 'Crazy,' and the Lemonheads bringing the house down with 'Mrs. Robinson.'

By The Way
: The Rufus Wainwright cover of 'Hallelujah' is on par with Jeff Buckley's, hands down.

Additional Notes
: Blank jewel case, straight to-the-point track list, great musical tastes, no screwing around. I like the way that E-Rich does business; he has nothing to prove.
Thanks for reading; sound off in the comments section and enjoy your day.
TOMORROW:
The
CDP
Mix-Tape Trade 3 Wrap Party comes to a close, as I review my own mix, along with mixes by the Missus, Kate and a
six-disc
behemoth by Smedley.
LATER:
The very first photo tour of the All-New
CDP
World Headquarters!
Comments:
Your reviews have reminded me of how much I need to expand of my listening. It has truly been an eye opening experience.
As of late, my listening has been somewhat limited to: Queen, The Darkness, Pulp, The Living End, Five Iron Frenzy, and Morrissey. These are all well and good, but they are at the top of my list simply because they are within arm's length. I need to get out more.
<< Home