Tuesday, July 15
CDP Mix-Tape Trade 3 Wrap Party (Part 4).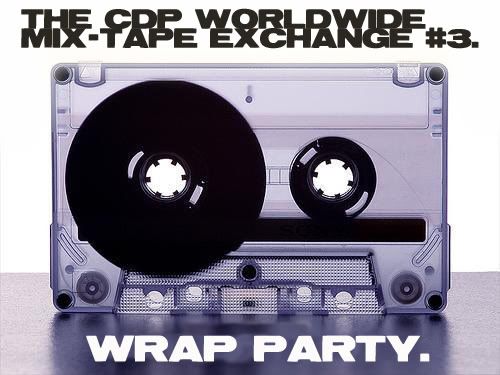 Finally, after two weeks of sifting, listening, drinking, typing and deciphering handwritten track listings, I've managed to make it through all of the Mix-Tapes that were so generously sent to me for the
CDP Worldwide Mix-Tape Exchange #3
. Thank you very much; I appreciate it.
I wanted to take a brief moment to spotlight the mixes that were sent to me, as a small way of saying thank you. Therefore, for the last week, I've been doing just that. If you want to start from the beginning, you can check out
Part 1
,
Part 2
and
Part 3
right here. Please enjoy.
Mix#16 - "

Back To The 80's

" - by The CDP.
The Skinny
: Some of my favorite 80's songs covered by modern punk, ska, electronic and emo bands. Nothing life-changing here; just a good time.

The Highlights
: Polysics complete dissection of The Knack's 'My Sharona,' Saves The Day tackling the Descendents 'Cheer,' Reel Big Fish tearing through 'Take On Me,' and the Dance Hall Crashers live version of Tom Petty's 'American Girl.'

By The Way
: My mix has not been delivered to its recipient yet. She was supposed to show up at Headquarters about a month ago, but schedules have been conflicting. I'll see her on Friday, however, when we're camping out in line for
The Dark Knight
premiere.

Additional Notes
: I included a bonus EP featuring non-80's covers of songs like 'My Generation,' 'Hey Jealousy' and 'I Will Survive.' If I were ranking it against the 18 other mixes I've had the pleasure to review, I'd place it about #9.
Mix #17 - "

The Missus Cover Mix

" - by The Missus.
The Skinny
: Some of the Missus' favorite bands covering a slew of tracks that I have, for the most part, never heard of.

The Highlights
: Zoinks! handling the theme song to 'Greatest American Hero,' Carter Peace Mission covering the Dead Milkmen's 'The Thing That Only Eats Hippies,' and Japanese group Water Closet performing one of my favorite covers of all-time in the ALL classic, 'Can't Say.'

By The Way
: Zoinks!
Stranger Anxiety
album is quite possibly one of the greatest pop-punk albums ever recorded. It's worth a listen on iTunes if you're a fan of mid 90's catchy goodness with halfway-decent lyrics.

Additional Notes
: I didn't listen to a second of the Missus' mix for this review. That's what happens when you've been a couple for almost nine years. We've got it down to 98% non-verbal communication at this point.
Mix #18 - "

Pin-Ups

" - by Kate Carillo.
The Skinny
: I remember Kate's last mix having a great theme and an overall sweeping mood of emotion, and this one is no different. From one track to the next, she managed to take a bunch of seemingly random cover songs and organize them into a journey of sorts, and I think she did a bang-up job of it.

The Highlights
: Ben Folds and Rufus Wainwright absolutely
tearing up
a live version of Wham's 'Careless Whisper,' Johnny Cash taking on 'The Mercy Seat,' freaking
Rockapella
(remember
Where In The World Is Carmen Sandiego?
) doing a cover of 'Sixteen Tons,' and Biffy Clyro doing a disjointed and manic send-up of Weezer's 'Buddy Holly.' Any songs that I didn't mention were equal parts trippy, sexy and more-or-less awesome.

By The Way
: Kate typically has the funniest liner notes of anyone that sends me Mix-Tapes. She should write more funny stuff online.

Additional Notes
: Dave Grohl's cover of 'Tiny Dancer' showed up on no less than three different mixes, making it one of the most popular covers of the entire Mix-Tape Trade. No arguments here, as I hadn't heard it before this point, and it's changed my life for the better.
Mix #19 - "

Cover Me This, Cover Me That

" - by Smedley.
The Skinny
: There's absolutely nothing skinny about this mix. Smedley sent me a
6-disk
monolith of sound that's heavy in the 60's and 70's, but pretty much encapsulates an entire historic section of classic bands covering classic songs by other classic bands. I feel like I should have spent $99 ordering this collection from Time/Life at three in the morning.

The Highlights
: I'll be completely honest with you. I received this collection two days ago, and there was absolutely no way I was going to get through it in time to write a decent review. All I can do is hope that Smedley shows up on here and explains it for himself, because I don't think I'll be doing it justice. It's going to take me two weeks to sift through all this music.

By The Way
: Some people send me a handwritten track listing with descriptive notes. Smedley sent me a six-tab Excel spreadsheet. He seriously gave me about 140 songs that I didn't have for absolutely free, and I'm still a little stunned about the whole thing. I almost feel like I owe the man money. He truly went above and beyond, and his ego-free knowledge of music history rivals mine times about a hundred, and I even went to
school
for music history.

Additional Notes
:
Damn
.
Thanks for reading; sound off in the comments section and enjoy your day.
TOMORROW: HOW YOU CAN WIN AN OFFICIAL THEATRICAL POSTER FROM

THE DARK KNIGHT

!
Comments:
I am also still working through the six discs of deliciousness. And I would like to add that the final disk is Smedley's own covers. (I believe that is correct.) That dude knows how to rock!
And I must also say that this was a great start for me in the official exchanges. Whoever has me for the next has a lot to live up to. :)
<< Home