Wednesday, July 2
"Put That In Your Blog, Barbecue Boy!"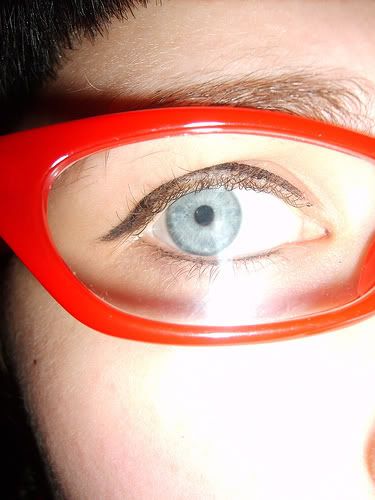 Chapter 1 - 'Ladies Night.'
I want to send out a sincere thanks and gentle kiss on the neck to the
26,000
of you that visited the
CDP
in the month of June. This was a new record for
theCDP.net
, and I'm extremely appreciative and terrified. If I were lucky enough to meet all of you in person, I'd assuredly run the other way, certain that a full-scale zombie attack was imminent. I might even shoot a few of you in the head.
Apart from that, if just a small portion of you were to subscribe to my feed, join my Facebook group and say hello in the comments section, I'd be a happy and visibly semi-erect man. Thanks in advance.
Moving on, I also think that we've officially reached the gender tipping point here, with women triumphantly outnumbering men in terms of traffic and overall communication with yours truly. I credit this statistic mostly to my sensitivity, approachability,
Pac-Man
memorabilia collection and alluring musk.
Furthermore, I've taken a passing glance at the lion's share of my female fanbase, and I've got to say that the
CDP
, without question
,
has the most attractive and intelligent audience in the entire Blogosphere. Proverbial horn-rimmed glasses and pixie cuts as far as the eye can see. Thanks for spending time with me, even though you're probably only doing it as a joke to crack your friends up. I've been there a time or two; just try to let me down easy at the bowling alley, and driving me home would be nice, too.
Chapter 2 - 'Lump Sum.'
This week, I received some extra cash from my place of employment after finally settling on a budget, approved backpay and long-overdue raises. Where is the money going, you might ask? Well:
1.
$39.90 to renew the
CDP
domain for another two (2) years, virtually guaranteeing that you can depend on
theCDP.net
for all of your entertainment needs until at least July of 2010. After that, all bets are off, and I'm selling to the highest bidder. The concept of the
CDP
becoming a hardcore porn site after I relinquish ownership is too funny not to pass up.
2.
$200.90 on two (2) new tires.
As you many recall
, you need to have decent tires if you want to properly minimize your death potential behind the wheel of an automobile. Imagine that.
3.
$87.00 for six (6) tickets to
The Dark Knight's
IMAX premiere on Friday, July 18. I don't think I recall
ever
being so excited for the release of a film. Leave it to Christoper Nolan to create something brilliant where there was once the rubble and faded glory of the
Batman
franchise. What few reviews I've seen so far proclaim the film as nothing short of perfect.
4.
$37.00 for one (1) bottle of
Jameson
1780 12-Year Whiskey.
Dee-lish
. I've noticed that, unlike every other digestible liquid on Earth, there are no Nutrition Facts on liquor bottles. Hell, a snifter of Maker's Mark might be bursting at the seams with vitamins, for all we know.
5.
$50.00 for two (2) months worth of 'casual day stickers' at the office. I'll pay top-dollar for the privilege of throwing my khakis into the closet for the remainder of the Summer, and what's more, all the money goes towards the office barbecue. You literally cannot go wrong.
6.
The remainder goes towards paying off the
bar
I purchased when we moved into the all-new
CDP
Headquarters, and probably a
mini-fridge
to compliment it. Walking to the kitchen to retrieve materials that will be walked over to the bar for preparation seems a bit counterproductive, and I'm all about efficiency when it comes to hosting a party and mainlining poison into my esophagus.
Money spent; disaster averted.
Chapter 3 - 'Pink Sweater.'FACT:
A pink sweater will instantly make
any
woman appear more attractive, no exceptions. Alternative theories will not be explored, and all anti-pink sweater criticism will be ignored.
Chapter 4 - 'Link Party.'
Here's what's going on around the horn in the
CDP Network
.
1.
Pointless Banter
is giving away concert tickets.
2.
Jesse Russell
remembers the Dead Milkmen.
3.
The Lost Albatross
fights for James Madison Park.
4.
Nicole Hilbelink
gets bit by a dog. Seven times.
5.
Be The Boy
celebrates Crappy House Day.
6.
The Slackmistress
continues her Nerd Crush competition.
7.
Vintage Caveman
recalls his Nerd Crush.
8.
Bruce Dierbeck
gets gored by a deer. Almost.
9.
Reese
cleans up her apartment.
10.
Pork Tornado
gets engaged.
Cut it. Print it. Run with it. I'm outta here. Enjoy your day.
Comments:
BRUCE
- I've been linking you in the sidebar for awhile now, it just took me a bit to work up the ambition to update your blog's name.
I did a GIS for 'Pink Sweater,' and that cat was the first thing to pop up. The more I look at it, the more adorable it is.
HILBELINK
- Nut Rolls are pretty amazing, I gotta say.
No problem on the link, by the way. It should draw literaly dozens of extra hits your direction.
REESE
- You've linked to the
CDP
and you comment frequently, so you're hereby in the
CDP Network
. Easy as that, kids.
How have you seen
The Dark Knight
three times? Was this via illegal measures? I gotta know.
MAUS
- Sorry about that. It was a long time a-comin'. I think we got a raise simply because we have to live in Wisconsin to work there.
<< Home